Other Customers
Have Also Viewed:
STARDUSTER TOO SA300
See Below for Parts, Pricing, and Ordering
From $0.00 to $39600.00





Click on the Part Number for Expanded Kit Components

Enter the quantity desired of each item in the Buy column.



Description
PN
Price
Buy
Sub-Total
STARDUSTER TOO SA300 INFO PACK
01-00596
N/A
STARDUSTER TOO SA300 PLANS
01-00424
$363.00
STARDUSTER AILERON FILLETS
01-00436
$614.00
STARDUSTER TOO COCKPIT COWLING
01-00437
$592.00
STARDUSTER TOO SA300 NOSE BOWL
01-00438
$204.95
STARDUSTER TOO TDECK W/ HDREST
01-00439
$676.00
STARDUSTER TOO WHL PNTS 600X6
01-00440
$332.00
STARDUSTER TDECK SA300 & SA750
01-00485
$438.00
O-235-N2C ENGINE 4 STARDUSTER
01-00491
$39600.00
O-320-D1A ENGINE 4 STARDUSTER
01-00494
$31718.00
IO-320-D1B ENGINE 4 STARDUSTER
01-00495
$39387.00
O-360-A1A ENGINE 4 STARDUSTER
01-00496
$36223.00
STARDUSTER AILER FILLET LEFT
01-00502
$153.75
STARDUSTER AILER FILLET RIGHT
01-00503
$153.75
STARDUSTER TOO COBANE STRUTS
01-00560
$882.00
STARDUSTER TOO I STRUTS
01-00561
$915.00
STARDUSTER SINGLE PLACE SPRUCE SPAR KIT
02-08200
$1042.00
STARDUSTER TOOSPAR KIT
02-08300
$1525.00
STARDUSTER TOO 4130 TUBING KIT
03-15700
$6532.00
TAILWHEEL (SEE NOTES)
05-01084
$470.00
TAILWHEEL CONNECTOR SPRING KIT (SEE NOTES)
05-01086
$50.50
STARDUSTER LNDG GEAR MATER. KT
05-01087
$1185.00
STARDUSTER TOO HORIZ TAIL ASSY
05-01090
$1535.00
STARDUSTER TOO FUSEL. MAT. KIT
05-01092
$1837.00
MATERIALS KIT WINGS (SEE NOTES)
05-01096
$6711.00
STARDUSTER TOO TIE ROD SET W/T
05-01211
$7400.00
FUEL TANK STARDUSTER I (MAIN)
05-19700
$746.00
FUEL TANK STARDUSTER I -INVERT
05-19710
$889.00
FUEL TANK STARDUSTER I (WING)
05-19720
$636.00
FUEL TANK STARDUSTER II (MAIN)
05-19800
$1342.00
FUEL TANK STARDUSTER II INVERT
05-19810
$1443.00
FUEL TANK STARDUSTER II (WING TANK)
05-19820
$1352.00
BUNGEE CORD (SEE NOTES)
06-00173
$41.50
STARDUSTER EXHAUST SYSTEM 6CYL
08-00901
$914.00
STARDUSTER TECHNICAL TIPS
13-02417
$50.75
1" STARDUSTER PIN
13-02434
$15.50
STARDUSTER PATCH SMALL
13-02436
$15.85
STARDUSTER DECAL
13-02676
$21.70

Current Total
Click Add to Cart to add them to your shopping cart
or Add to Wishlist to store them for ordering later.
This is the best-known biplane across the country. It is a two-place machine, large enough for two and baggage, fast enough for cross country if you want to really enjoy life, and without question the prettiest biplane ever built. It is rated +/- 6 G, so most aerobatics can be performed. Powered with engines from 125 to 375, the 180 and 200 HP Lycoming are most popular. First flown in the 1960s, there are more than 1,000 flying. This is what flying was meant to be.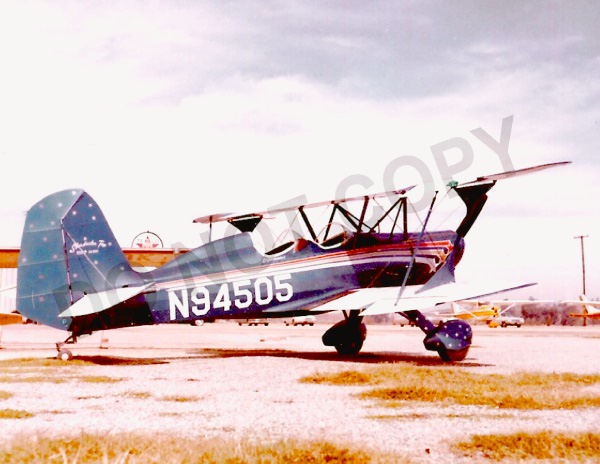 For information on purchasing this photograph contact:
Patrick Ball
epball51@gmail.com
(208)841-5733
Kit Price Without Engine: ~$16,700
Plans Price: $250
Number of Seats: 2
Building Materials: F, T, W, S
Building Time: ~2000 Hours
Standard Engine: Lycoming O-360 / 180HP
Horsepower: 160-300
Wing Span: 24'
Wing Area: 165 sq ft
Empty Weight: 1000 lbs
Gross Weight: 1985 lbs
Takeoff Distance: 700'
Landing Distance: 1000'
Cruise Speed: 130 mph
Top Speed: 170 mph
Fuel Capacity: 44 Gallons
Range: 560 miles
Turtledeck: Starduster Too Turtledeck with the distinctive "Head & Shoulders" style.
Main Inverted Tank (Includes Flop Tube & Float Sender)
Bungee Cords Requires four 1280HD bungee cord. For 6 cyl engines: four 1280HD + two 1080 cords recommended.
Tailwheel: Heavy duty double fork 6 Inch tailwheel assembly. Full swivel - steerable. 45 degree angle for 1 1/2 inch flat spring. Solid soft rubber tire with sealed bearings. Used with great success on Stardusters and Acrodusters. Lighter weight than a Scott!
Tailwheel Connector Spring Kit: Compression type connector spring kit includes - 2 Stainless Steel Springs - 2 Chains - 4 Connector Clips
Torque Tube Assembly (Includes Two Sticks)
Materials Kit: Wings ·All hardware and T-88 epoxy included. ·AFS Wood Sealer.
Threaded Rod Ends: AN490HT-10P, Threaded Rod End 5/16-24 Thread. Used with tube size 5/8" x .035


| | |
| --- | --- |
| | Overall the design is good, but the plans are of low quality. They are copies of copies and are not of top quality. In addition the plans refer to being drawn out in AutoCAD. These are not the quality that should come from a CAD printout. The other issue is there are no plans for the engine mount. This is left up to the builder to design? I was also expecting some mention of the canopy that is part of the options listed on this site, but I do not see that either. You can likely build this aircraft from these plans if you hired someone to design an engine mount. I have personally flown Starduster Toos and know them to be a wonderful airplane, I am just disappointed with the plans. |
| | |
| --- | --- |
| | They look just fine. I am not ready to install them yet so, they may or may not fit, Well see. I wish Aircraft Spruce (AS) had taken a picture of them before they sent them to me so they can post them on their website. AS is lacking in photos and product descriptions on their website - at least for Starduster Too parts. |
| | |
| --- | --- |
| | A fine, free black and white copied information packet that only cost for shipping. |
Enter the quantity desired of each item in the Buy column.