Other Customers
Have Also Viewed:
CONCORDE RG-25XC PLATINUM SERIES SEALED LEAD ACID AIRCRAFT BATTERY
Part # 11-03880

RG-25XC has the highest cranking power and capacity in the 25 Group.
Recombinant Gas - The RG® Series are low resistance, valve regulated lead acid (VRLA) batteries.

Superior starting power

Reliable essential power in the event of a generator failure

Low impedance design

Maintenance free

Constructed with non removable vent valves - no addition of electrolyte or water required

Aerobatic: Non spillable at any altitude or attitude

Factory tested to assure airworthiness

Shipped fully charged and ready to install

Manufactured with absorbed glass mat separators (AGM)

RG® Series batteries ship Hazmat Exempt

NOTE: This aircraft battery is not designed or intended for turbine aircraft engine starting applications. Warranty coverage applies to reciprocating aircraft engine starting, and standby / essential power installations.
*NOTE* - The STC for some aircraft is available at an additional cost please call 877-4-SPRUCE (777823) if applicable to your aircraft.
Our P/N

RG-25XC
Sealed, Extra Cranking

24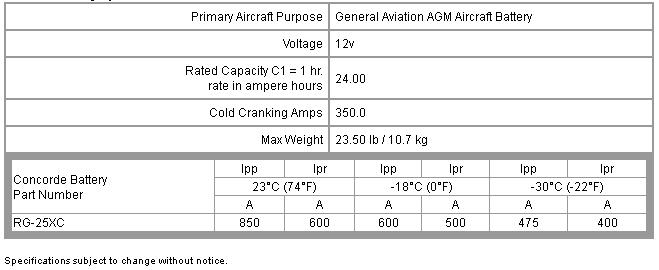 | | |
| --- | --- |
| | Approaching 7 years and still strong. If I were flying IFR it would need a capacity test. I hangar and don't let it get drained, which is easy, considering how slowly the AGM's loose charge. |
| | |
| --- | --- |
| | Failed without warning away from home after 3 years 9 months. Internal cell short resulting in a 3 volt battery. Kept the battery on a trickle charger. Cold temperatures during the trip may have been a factor. |
| | |
| --- | --- |
| | Just removed 2 of these after 12 years. Still working fine, just thought it was about time... |
| | |
| --- | --- |
| | This battery is over ten years old and has spent every day outdoors. I have never had a charger on it and it has sat for up to three months between fall and winter. It is not installed forward of the firewall and I believe this has helped with it's longevity because heat if tuff on batteries. Still turning the Skytec starter on a 160 Lyc just fine. |
| | |
| --- | --- |
| | Battery quit without any warning. Luckily, I had just arrived at my home airport...had to be towed to my hangar. Battery lasted 3 yrs. and 1 month. It was always in the hangar and never exposed to any harsh elements. This battery is no better than the standard Gill 25 battery--original equipment. |
| | |
| --- | --- |
| | Good while it lasted, but that was only for 25 months. I used a Concord vs a Gill this last time as my last Gill only lasted 18 months. Well, for the price, I think Ill switch back to Gill and just plan on replacing every 18 months. |
| | |
| --- | --- |
| | CB-25XC just died after 11+ years. about 500 hours. NO complaints, ordering another. In hanger, Houston, Texas |
| | |
| --- | --- |
| | Started off strong. Battery failed in just 14 months. We actually though it was the starter solenoid so we replaced that. Well that wasnt the problem so we pulled the battery and had a capacity test done on it. It Failed after only 204 hours of use. This was in a hangared 172M that was obviously flown often so the battery never got low until it failed completely. Which by the way it still has over 12.4 volts in it, just not the cranking amps. |
| | |
| --- | --- |
| | Great batteries - long lasting and dependable! |



What an upgrade from the two Gill batteries in my 58P Baron! The Gills kept going south with bad cells and never seemed to hold a decent charge. The Concorde sealed batteries are like getting a power boost. Even in winter.

I have the same battery in my Cessna 140 (just one, of course), and its been happy sitting for long periods for many years now. Never going back to Gill!!
| | |
| --- | --- |
| | 5 stars even with the high price tag. |
| | |
| --- | --- |
| | Very happy with this battery having the strongest reputation among competitors with higher start power! The last one removed had been in use for 9yrs! |
| | |
| --- | --- |
| | Great battery. Still going strong after several years. |
| | |
| --- | --- |
| | As usual, A/C Spruce did an outstanding job at getting the battery from their place to mine ASAP. As far as this battery is concerned, I cant say for sure, but the one it replaced was the same model and it cranked my Lycoming for 10 years. Cant complain about that. |



This battery came from the factory in my plane. During the 4th annual the mechanics helper pried off the caps and announced there was NO WATER in the battery he had
just ruined. . The replacement battery worked well but got tired after 10 years so it was replaced. Now with 5 years on my third 25XC I feel it has earned 5 stars



Been on the aircraft 18 months and so far so good. This is my first concord. Previously used Gill and they became junk. Last gill held for 12 months and one before that was only 18 months and prior to that 24 months. Hopefully the concord will continue to outlast the Gill.

It also has better cranking power from what I can tell, even after 18 months its better than a new Gill.
| | |
| --- | --- |
| | I just replaced an RG-25 battery that has been in service for 6 years with an RG-25XC and this battery is worth the money difference between the two batteries. I highly recommend a Concorde battery as a replacement to any other. Its maintenance free with great cranking power. |
| | |
| --- | --- |
| | Have used a series of these batteries in my RV6. The last one only lasted 2 years, instead of the 3-5 of previous units, the reason for only 3 stars on this review. The battery performs well on my 0-320, but the cost keeps going up, making me look into newer technologies. But overall, a good battery. |
| | |
| --- | --- |
| | Ive been using Concorde batteries for the 13 years Ive been flying my RV-8. I especially like XC for its extra cranking power. Dont change a good thing. |
| | |
| --- | --- |
| | Started to fail after 18 months, completely unusable at 24 months. This is extremely disappointing. Simply would no longer take a charge. |
| | |
| --- | --- |
| | Ordered for a fellow friend and pilot while he was away at work and he was greatly impressed that we received it the next day and dropped it in and the plane started right up!! Thanks a bunch. |
| | |
| --- | --- |
| | This is my second sealed Concorde 12v battery for my 172. First lasted about 5 years, not as long as the old serviceable battery. Don't let the Concorde get drained. Keep it charged and it will likely last a long time. I don't think they are as tolerant of deep discharge. Since I let my first one get weak, it never really recovered. |



I just bought this battery to replace the same RG-25XC that was only three years old when it wouldnt turn the starter. That battery subsequently failed a capacity test before and after a conditioning charge. This battery was maintained using a Concorde-specific Battery Minder and was never fully discharged.

Concorde usually makes the best aircraft batteries but my last experience was disappointing. Im hoping the replacement fares better.




Just replaced the old one with a new one in a Citabria 7GCAA.

The old one only lasted 10 years and 10 months.
| | |
| --- | --- |
| | Concorde batteries are hands down the best aviation battery on the market. I went through 3 Gil batteries before I purchased a Concorde. |
| | |
| --- | --- |
| | Order process went well, fast delivery. The only negative comment I have is the life of the sealed battery (third RG25XC) seem a little short. 2 1/2 years on the average with normal use, 2 to 4 starts a week. Mounting , cables, starter, alternator new or rebuilt and charging system has been checked. ??? |
| | |
| --- | --- |
| | Good battery. My last one lasted 4 years. |



My last RG-25XC lasted 7 years. I just ordered another one to replace it. When I was using a Gill Battery I was only getting 2 years out of them.
Plus with this battery I had absolutely no corrosion issues.
| | |
| --- | --- |
| | Excellent battery. I really like the extra capacity and cranking power as the battery in my 150HP conversion Cessna 150 is located aft of the baggage compartment. Being sealed means not having to worry as much about battery box corrosion. These batteries have provided very reliable service for many years. |
| | |
| --- | --- |
| | excellent, perfect replacement! |
| | |
| --- | --- |
| | Good battery! My mechanic said I should have checked out Gill brand due to price but this was the one I bought. So check out reviews on both and make an educated decision. But as for this battery it started my overhauled o320 up like a dream. But I also had new light weight skytec starter. But from what mechanic said sealed battery is the way to go. Should not have any acid overflow mess to deal with in future. Clean out battery case good with baking soda as your mechanic will suggest. Also no initial charging or pouring water to deal with. God bless! You do need wrench or socket to tighten bolts to attach battery cables. Keep size of wrench in mind. You might want to add this to your planes tool kit in case it loosens up on long trip. |
| | |
| --- | --- |
| | Delivered fast, works great |
| | |
| --- | --- |
| | Ordering, shipping, and receiving happened quickly. I did not have to wait long before the new battery was installed and I was flying again. |
| | |
| --- | --- |
| | I installed this battery in our Cessna 172 as a replacement for a 4 year old Gill battery. Perfect fit, service free. I expect many years of trouble free use. |
| | |
| --- | --- |
| | Great product, Arrive on schedule! Perfect! |
| | |
| --- | --- |
| | Worked great, fast shipping |
| | |
| --- | --- |
| | Our experience with the Concorde RG-25XC batteries has been excellent. Highly recommend this battery if you have a 12volt aircraft. We have a C310 so we use 2 wired together for the 24volt requirement. No complaints. |
| | |
| --- | --- |
| | Great batteries. Worked great in the Cessna 150. Super fast delivery. Out of the box and straight into the plane. |
| | |
| --- | --- |
| | I have been happy with the performance of the RG-25XC batteries. My previous one lasted 8 years before it was noticeable slower turning the starter. Even then, it still had more than the rated ampere hours. |
| | |
| --- | --- |
| | Delivery was close to instantaneous! Thanks! |
| | |
| --- | --- |
| | I ordered the Concorde RG 25 XC battery, and had a cell go bad, contacted Aircraft Spruce service dept and the problem was resolved quickly and had a new battery on the way. Excellent service.. |
| | |
| --- | --- |
| | Aircraft Spruce is my go-to for most things airplane. Always buy my batteries from them. |



Always thought Concord had the one any only battery and still consider it the only one. But last one, Purchased 3/18, actually started leaking and was failing. Past warranty of course but very surpirsed. The top of the battery was snowing leaking around the seams!
Still replaced with the new one but not nearly as confident as in the past.
| | |
| --- | --- |
| | Excellent battery arrived 2 days earlier than originally promised. |
| | |
| --- | --- |
| | Bench tested at 13.0 volts out of the box. No top off charge required at install. I dont know how much, if any, better the XC version is, but its cranking power is impressive. My old RG-25 was still working, but was 4 1/2 years old, starting to get weak and nearly left me stranded so I just replaced it. One thing I noticed immediately was the engine fires better and starts quicker with the higher crank rotation speed so thats nice. This is installed in a C-172L model with an O-320-E2D. |
| | |
| --- | --- |
| | The previous Concorde RG-25XC battery had given me almost 6 years of service, and was still starting the engine reliably. I thought it best to install a new battery of the same model, as the starter was turning a little slower on cold mornings. |
| | |
| --- | --- |
| | Very strong battery and it cranks and starts my O360 Lycoming with a few turns of the prop. |
| | |
| --- | --- |
| | Does what is should. Our old battery (exact same model) was 9+ years old, and the starter always had a bit of a lag to it. With this battery, it cranks up faster than Ive heard it in the 2 years Ive been with this club. There was a slight confusion with overnite shipping, where I was quoted $104, but the system tried to charge $197, but cust svc got it straightened out once I notified them. |
| | |
| --- | --- |
| | Great battery replacement. Strong and reliable. Overnight service from Aircraft Spruce is awesome! |



I purchased the RG-25XC as a replacement battery for my Citabria 7GCBC. The prior battery was also the same item and it was installed in 2/2007. I maintain the charge with a battery tender when the aircraft is inactive for periods.

Great product
| | |
| --- | --- |
| | I asked a few mechanics about the best battery to get and they all said that it would be Concord. The battery fit very nice. thanks. |


What is the difference between Concorde RG-25 and RG-25XC?
The RG-25XC has extra cranking power. It is simply a more powerful battery for any instance you need more power (bigger engine, weather, etc.)
---

What are the specifications of the RG-25XC battery? CCA?
We have added the specs to the "Specifications" tab of this web page for your review. Cold cranking amps is 350.0.
---

Can the Concorde RG-25 be used for the Cessna 150 aircraft?
Yes, this is the correct replacement battery for the Cessna 150 aircraft.
---

Will this Concorde RG-25XC battery fit my Piper PA 28-180?
Yes, RG-25 / RG-25XC replaces original battery P/N 450-030.
---

How long is the warranty on the RG 25XC?
Concorde has a limited warranty on their units. The RG25XC has a 24 month limited warranty. Details are on the Concorde web site for your review.
---

Which battery charger is recommended for the Concord RG-25XC?
P/N# 11-14349 is recommended as a battery charger/maintainer for a RG-25XC battery.
---

Is this a Concorde RG25XC a replacement for a Piper Cherokee 140?
Yes, the RG-25 and RG-25XC are common replacement batteries for the Cessna 140. Please confirm originally installed battery to be sure this will work in your specific application.
---

For orders over 500.00 the shipping is free, is there any extra charges for shipping batteries?
Our new free shipping minimum is orders over $350 to USA zip codes in the lower 48 and Alaska. There are no additional fees for batteries with free ground shipping.
---

Just want to confirm that the Concorde CB-25XC will fit into my Cessna 150G.
Yes, the RG-25XC is the recommended Concorde replacement battery for the Cessna 150G.
---

Will this battery fit a BE58 Baron?
Yes, this is on the replacement list for the Beech 58.
---

Is this battery shipped dry or filled with acid? Can it be shipped by air?
The RG-25XC is a sealed battery. It is not considered hazardous material for shipping.
---

Will the Concorde RG-25XC fit in a C-172N?
Yes, this battery fits the 172N 12 volt aircraft.
---