Other Customers
Have Also Viewed:
BEACON LIGHT CONSTANT & FAST WHITE STROBE 5W 503LM





Part # 11-12193
Note: For Experimental aircraft use only. Not FAA/PMA Approved.

NavStrobe Aircraft Beacon Light with Constant & Fast White Strobe 5W 503 LM LED's

Emitter Type: SMD 5050
Total Emitters: 27
Power: 5W
Color BIN: White
Rated Voltage: 8-30VDC
Draws 186ma @ 14.2VDC
Luminous Flux: 503LM (0 degrees), 263LM (90 degrees)
Color Temperature: 6000~6500K
2 modes: constant & fast strobe
Base Type: BA15s = Single contact with inline pins. (GE1940 & 1156)
Application: Beacon Light replacement.
Contains 1 light bulb per pack
Dimensions: 1.9 in x 0.7 in (49.0 mm x 1.8 cm)
Weight: 0.32 oz (9 g)

Turn on first: Constant lighting / Turn on second time <3s: Fast Strobe. Switch between modes in fog/cloud etc.

Application Info:
Will replace the following commonly installed bulbs: A7079B-12, A7079B-24, or any BA15S base lamp. See "Dimensional Drawing" tab to confirm dimensions will work with currently installed bulb on your aircraft.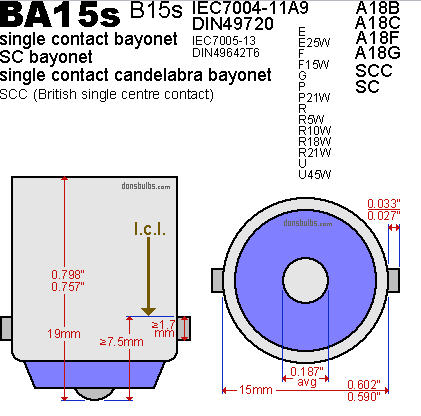 | | |
| --- | --- |
| | I installed these on one of our airplanes and they worked perfectly. They are really bright and when you toggle the light switch twice you strobe like a super bright Christmas tree. I just ordered nine more for our other planes. |
| | |
| --- | --- |
| | I hate to be a bearer of bad news, but I had high hopes for this bulb. My old fashioned rotating beacon is an ampere-hog, so I thought this would be a great replacement. First, I wasn't able to get it to flash once mounted on the vertical fin (though the flash function works fine on the bench.) Second. it makes my Comm radio so noisy on the lower end of the Comm band that squelch can't override it. Sadly I had to remove the bulb and go back to incandescent and spinning reflector Whelen. |
| | |
| --- | --- |
| | My old pulsating beacon was causing heat in the circuit due to high amperage. This bulb solved that problem. It has functioned reliably in constant and strobe modes for several months and I have not experienced any of the radio interference problems some have mentioned. Two nit picks. First it is not quite as bright as I would like, but acceptable. Second, it flashes about twice as many times between pauses as it should, in my opinion. |
| | |
| --- | --- |
| | I like it! Very bright with one-tenth the amperage draw. |


Does this beacon light have two contacts on bottom? Regarding Part # 11-12193
No, this bulb has one contact on the bottom.
---

I would like to use this on my experimental airplane. Does it require a capacitor or transformer or can I just set it up with a light socket and 14 volt wire?
These units are LED replacement bulbs, with a flash option. They do not require a power supply. Only aircraft power is required.
---