1-877-795-2278 | info@aircraftspruce.ca
Aircraft Spruce Canada
Brantford, ON Canada
Corona, CA | Peachtree City, GA
Chicago, IL | Wasilla, AK
SAME DAY SHIPPING ON ORDERS PLACED BY 2 PM | 877-795-2278
CLEVIS PINS
From $0.58 to $12.95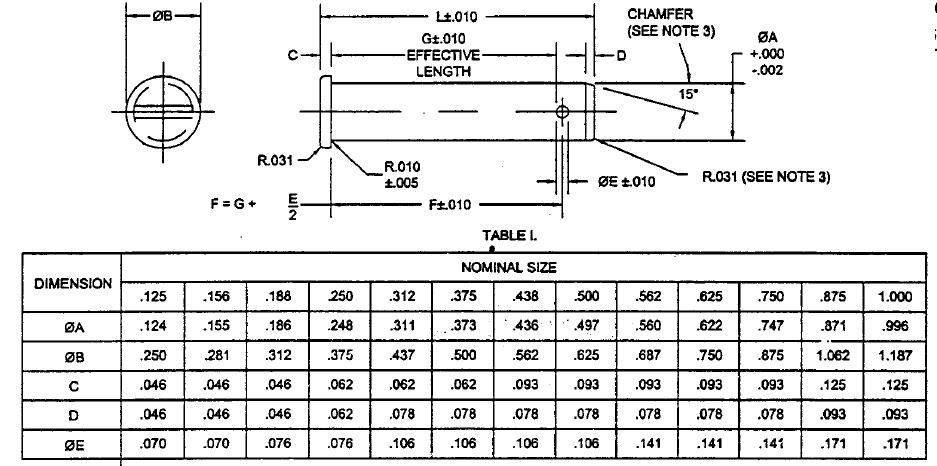 (Hover to zoom | Use mouse wheel for +/-)
Dash No.
Effective
Length
(in.)
AN392
MS20392
-1C 1/8"
AN393
MS20392
-2C 3/16"
AN394
MS20392
-3C 1/4"
AN395
MS20392
-4C 5/16"
AN396
MS20392
-5C 3/8"
-7
7/32
$0.58
$0.70
--
--
--
-9
9/32
$0.92
$0.79
$1.88
--
--
-11
11/32
$0.86
$0.83
$1.05
$3.65
--
-13
13/32
$0.64
$0.81
$0.93
$3.40
--
-15
15/32
$0.74
$0.83
$0.82
$3.65
--
-17
17/32
$0.71
$0.96
$1.08
$1.88
$3.70
-19
19/32
$0.77
$1.00
$0.77
$2.14
$3.50
-21
21/32
$0.90
$0.78
$1.31
$3.65
$3.35
-23
23/32
$0.85
$0.90
$0.96
$3.45
$3.35
-25
25/32
$0.96
$0.98
$1.73
$3.35
$11.60
-27
27/32
$0.89
$0.90
$1.21
$1.43
--
-29
29/32
$0.93
$1.26
$1.38
$3.35
--
-31
31/32
$1.32
$0.94
$1.15
$1.58
--
-33
1-1/32
$0.94
$0.75
$1.12
$4.35
--
-35
1-3/32
$0.83
$0.85
$1.00
$1.65
$4.60
-37
1-5/32
$1.35
$1.12
$1.23
$2.38
--
-39
1-7/32
$1.08
$1.09
$1.53
$1.32
--
-41
1-9/32
$1.07
$1.23
$1.32
$1.51
$2.22
-43
1-11/32
$6.55
$1.21
$1.28
$3.40
--
-45
1-13/32
$2.17
$1.05
$1.42
$1.94
$7.50
-47
1-15/32
$1.81
$0.96
$1.50
$3.75
$2.10
-49
1-17/32
$1.50
$1.80
$1.08
--
--
-51
1-19/32
$1.81
$1.35
$2.56
$1.72
--
-53
1-21/32
$1.05
$1.72
$1.69
$2.44
$7.99
-55
1-23/32
$1.19
$2.45
$1.27
--
$10.75
-57
1-25/32
$2.10
$1.80
$1.84
$6.75
--
-59
1-27/32
$4.60
$1.53
$2.25
--
$5.35
-61
1-29/32
$2.97
$2.00
$1.72
--
-63
1-31/32
$5.35
$1.95
$3.70
$12.50
$3.60
-65
2-1/32
$3.35
$2.89
$1.21
--
$5.35
-67
2-3/32
$9.50
$2.38
$3.70
--
$3.70
-71
2-7/32
--
$2.40
$2.44
--
--
-73
2-9/32
--
$4.70
$2.96
--
-75
2-11/32
--
--
$1.35
--
CALL
-77
2-13/32
--
--
$1.85
--
--
-79
2-15/32
--
$1.98
$5.40
--
--
-81
2-17/32
--
$7.50
$5.35
--
$12.95
-83
2-19/32
--
$7.50
--
--
--
-85
2-21/32
--
$2.30
$5.45
$6.80
--
-87
2-23/32
--
$6.50
--
--
--
-89
2-25/32
--
$3.95
--
$3.75
--

-91


2-27/32
--
--
--
--
--
-93
2-29/32
--
$3.55
--
--
--
-95
2-31/32
--
--
$3.35
--
--
-97
3-1/32
--
--
$7.90
--
--
Overview
Made of alloy steel per specification MIL-P-5673 and cadmium plated per QQ-P-416A, Type lI, Class 3. Provided with drilled hole for cotter pin. Used with clevis forks and in secondary controls which are not subjected to continuous operation.
Drawing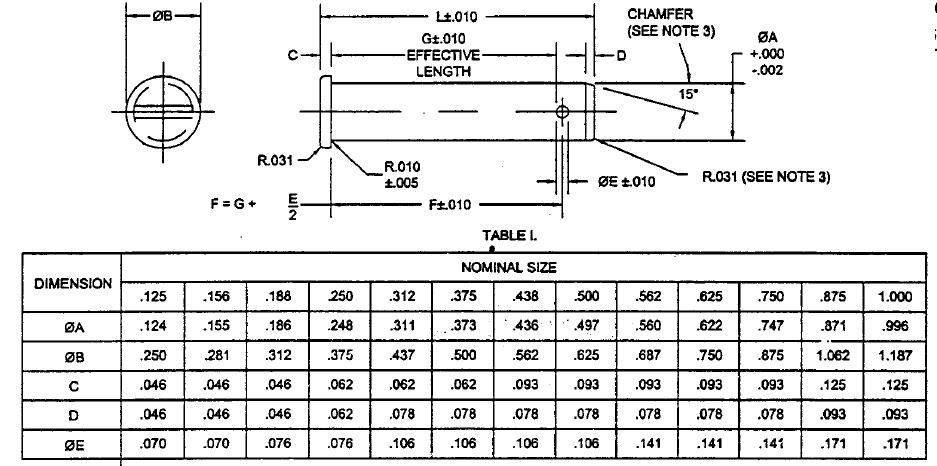 Frequently Purchased With
Reviews
Exact size for PA-28 steering horn.
Robert B
Verified Purchase

MS20392-3C73 CLEVIS PIN
October 9, 2021
Marc-antoine G
Verified Purchase

MS20392-1C7 CLEVIS PIN
September 22, 2021
Mary W
Verified Purchase

CLEVIS PIN MS20392-2C45
August 3, 2021
This was one item in a multiple hardware item order. Aircraft Spruce came through on this item plus all the other hardware, delivering them from their multiple warehouse locations in a quick fashion.
Webbco L
Verified Purchase

MS20392-2C9 CLEVIS PIN
July 7, 2021
Eagle F
Verified Purchase

CLEVIS PIN AN396-23
June 10, 2021
MS20392-3C13 CLEVIS PIN Piper PA-28 door.
Expparts
Verified Purchase

MS20392-3C13 CLEVIS PIN
June 3, 2021
Just what I ordered.
Richard
April 26, 2021
Aircraft Spruce has emailed me, asking me to write a review of this clevis pin I bought from them. But of course! The World needs a clevis pin review! I am very pleased to highly recommend to AS customers the Aircraft Spruce Clevis Pin! Note that the pin delivered to me was exactly the diameter that I had ordered and was also the very length that I had been hoping to receive. One end has a thin, flat head to keep it from passing completely through whatever it may be placed in. It is secured at its other end. My plans for this clevis pin included the idea of pinning it in place utilizing a properly curled cotter pin backed by a thin washer and, much to my pleasure, the clevis pin arrived with a hole already pre-drilled through its (non-head) end that was exactly the size I needed to accommodate the aforementioned cotter pin! As a cherry on top, the A.S. clevis pin was supplied with a very pleasing golden anodization, which is sure to inhibit rust for some time at the very least. My A.S. Clevis Pin (in conjunction with the above cotter pin and washer) now connects two important parts of my airplane together, in such a way that one is able to freely pivot relative to the other, and yet my parts are securely attached. I could not be more pleased. I whole-heartedly commend to you the Aircraft Spruce Clevis Pin, in the size of your needs, and I am certain that it will provide you with years of safe pivoting pleasure.
Keith D
April 19, 2021
These arrived in good shape and very quickly. I am very happy with Aircraft Spruce Service and prompt shippment!
William J
March 22, 2021
it is correct
Riad I
November 16, 2020
Q&A
Please note, Aircraft Spruce Canada's personnel are not certified aircraft mechanics and can only provide general support and ideas, which should not be relied upon or implemented in lieu of consulting an A&P or other qualified technician. Aircraft Spruce Canada assumes no responsibility or liability for any issue or problem which may arise from any repair, modification or other work done from this knowledge base. Any product eligibility information provided here is based on general application guides and we recommend always referring to your specific aircraft parts manual, the parts manufacturer or consulting with a qualified mechanic.
Q: I am ordering some clevis pins (AN394-21 and AN394-41). What is the size of the hole diameter for the cotter pin?
This measures out to .080" but has a +/- .010 tolerance.
Q: What is the CLEVIS PIN item # for turnbuckles AN150-32S?
You will need a AN394 clevis pin for a AN150-32S turnbuckle.
Q: Which clevis do I need that is MS20392-2C63? Thanks
AN393-63 is the correct cross reference for MS20392-2C63.