Other Customers
Have Also Viewed:
HOMEBUILDERS OIL BREATHER / SEPARATOR





Part # 10570
These 4 inch diameter reservoirs have beaded outlets for 5/8" I.D. hoses and a mounting flange for easy firewall attachment. These units are of a new, improved design and the reservoir body is now a spun aluminum bowl for optimum performance. The oil separators minimize oil loss and allow free breathing of the engine. They are recommended for experimental aircraft use only and are not STCd for any certificated aircraft.

Made in USA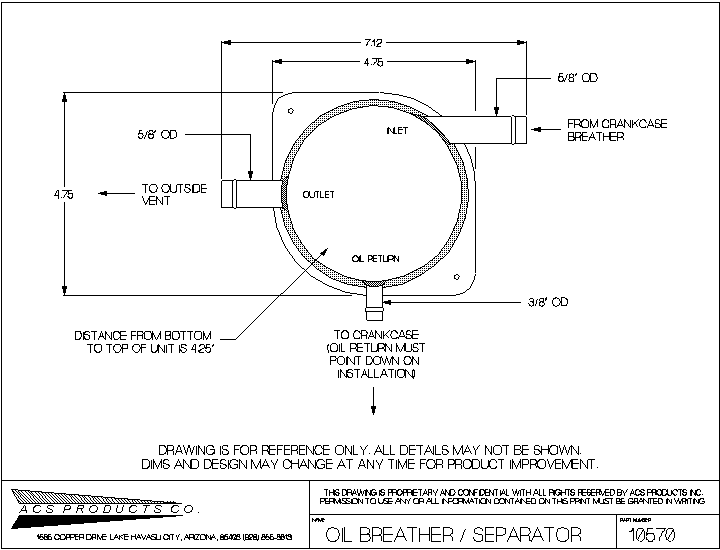 | | |
| --- | --- |
| | Nice product with quality construction. My one complaint is that the housing is not square with the mounting plate. Mine is clocked a little to the side so that in order for the 3/8 drain on the bottom to be center on the bottom it must be askewed a bit. Probably 1/4 to 3/8 off center at both mounting holes. |
| | |
| --- | --- |
| | Works well on my RV. Would be nicer if smaller. |


Do you have any installation literature on your 10570 home builders oil separator? We have one on an RV we just purchased and believe it is installed incorrectly. Thank you, Russ
We have added the installation and specification drawing to the "Specifications" tab of this web page. Please review it.
---

What is the weight of this homebuilders oil beather / separator part # 10570?
Approx. 0.50 lbs.
---