Other Customers
Have Also Viewed:
GILL® G-25 BATTERY
Make Selection(s) Below To Order
From $256.95 to $272.95

The Gill Electric Company was founded by Mr. Lawrence Gill in 1920, in Redlands, California, where the factory remains today. At that time, Gill Electric manufactured lead-acid batteries for the automotive industry. During the war years, Gill manufactured batteries for military ground vehicles and aircraft; some of these batteries are still in production today. Gill Electric improved the drycharged process which provides a fresh charged product when the electrolyte is added. Gill has become the OEM "original equipment battery" for Raytheon, Cessna, LearJet, Mooney, Piper, Ayres, Airtractor, Maule, Scheizer and others in the aviation industry and Gill continues to be the industry's choice for quality battery products.
Beech 19, 23, 24, 55, 58, 77
Beechcraft 19A, B19, 23, A23, A23A, B23, C23, A24, A24R, B24R, C24R, E33, E33A, E33C, F33. G33, 35-33, 35-A33, 35-B33, 35-C33, 35-C33A, D55, D55A, E55, E55A, 58, 58A, 58P, 58TC, G58, 77, 95, B95, B95A, D95A, E95, 95-55, 95-A55, 95-B55, 95-C55, 95-C55A
Cessna 120, 140, 150, 150A, 150B, 150C, 150D, 150E, 150F, 150G, 150H, 150J, 150K, 150L, 150M, A150K, A150L, A150M, 170, 172, 172B, 172C, 172D, 172E, 172F (USAF T-41A), 172G, 172H (USAF T-41A), 172I, 172K, 172L, 172M, 172 N, F172D, F172E, F172F, F172G, F172 H, F172K, F172L, F172M, F172N, 175, 175B, 175C, P172D, 177, 177A, 177B, 188, 188A, 188B, T188C, 310, 310B, 310C, 310D, 310F, 310G, 310H, E310H, 310I, 310J, 310J-1, E310J, 310K, 310P, 310Q, 320, 340 Commander, 112, 112TC, 112B, 112TCA
Piper: PA-60-600, (Aerostar 601) PA-60-601, (Aerostar 601P) PA-60-601P, (Aerostar 602P) PA-60-602P
Piper: PA-11, PA-36-285, PA-36-300, PA-36-375, PA-38-112, PA-46-350P
Piper: PA-11, PA-22-108, PA-22-135, PA-22-150, PA-22-160, PA-23-235, PA-23-250, PA-28-140, PA-28-150, PA-28-151, PA-28-160, PA-28-161, PA-28-180, PA-28-181, PA-28-201T, PA-28-235, PA-28-236, PA-28R-180, PA-28R-200, PA-28RT-201, PA-28RT-201T, PA- 32-260, PA-32-300, PA-32R-300, PA-32RT-300, PA-32RT-300T, PA-36-285, PA-36-300, PA-36-375, PA-38-112
Socata, S.A.: GA- 7
True Flight: AA-1, AA-1A, AA- 1B, AA-1C, AA-5, AA-5A, AA-5B
Rate (Amps): 1 hr (C1) 18, 30 min (2C) 30, 60 sec/0 deg F (CCA) 225


Model

Weight

Part No.

G-25
12 Volt
With Acid

21 Lbs. (full)
Electrolyte (2 Qts.)
11-01833

G-25
12 Volt
W/O Acid

21 Lbs. (full)
Electrolyte (2 Qts.)
11-01673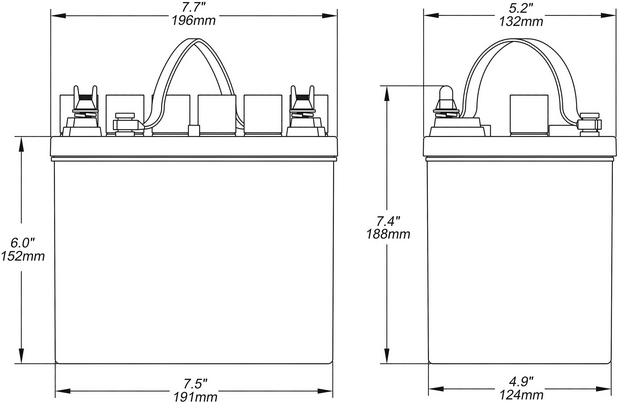 | | |
| --- | --- |
| | Bought mine 2 years ago and still going strong. I have always used Gill batteries and will continue to use them. |
| | |
| --- | --- |
| | I have always had Gill batteries. Last one was bought 6/5/11, still going fine. The one before that was 9/18/05. Had a few left on master switch issues that might have killed that one after about five years. Think I'll keep trying my luck with Gill till they prove me wrong. |
| | |
| --- | --- |
| | 3 years of good work. Batterie is realy good. Recomend |



One star for somewhat misleading description. I wanted to replace a 3 yr. old G25S sealed battery that I got from Aircraft Spruce. I ordered this and got a G25D. The add only says G25 for the Gill battery without reference to The S or D style. The Gill 25S had been discontinued but not mentioned in the description. The new G25S is now called GILL® LT 7025-20.
This should have been referenced in Spruces description.



by Precision S

01/06/2017



great



Product is excellent. Shipping was equally excellent. The battery and acid were both very well packed/protected and came when they said they would.
Easy to fill/charge battery with clear instructions.
| | |
| --- | --- |
| | I wasnt around a computer, so I ordered via phone, and they were fine folks. The battery even got there a little early, in spite of the holidays, so I cant complain! |
| | |
| --- | --- |
| | A great battery which to me over the decades is a legendary product. I have always had a good run with these ones but turn them over every year. The battery then is used in other ground based vehicles. One went over 15 years. The regulator wants more frequent checking and servicing of batteries used in planes but I already do this each month. Thanks Spruce for prompt international delivery each year. Cheers from Ric. |
| | |
| --- | --- |
| | Manufacture does not supply enough electrolyte to completely fill all batteriy inlets as specified. |
| | |
| --- | --- |
| | The battery arrived in excellent condition. it seem to be working very well, at the present time. |
| | |
| --- | --- |
| | Installed a Gill G-25 in my C-172 in May 2013, and installed a Battery Minder on it, which has been used consistently between flights. The battery is just now starting to fail after 5 yrs, 5 mos. I highly recommend both the battery and the Minder. I never had a battery last more than about 2 years before this. |
| | |
| --- | --- |
| | Arrived on time with the acid requested no problem on my end. |
| | |
| --- | --- |
| | The Gill 25 battery in my Cessna 172 lasted two years. In the last six months of its life it was weak. The aircraft is in a hangar and the battery is under continuous charge when not flown. This must be an old technology battery. The batteries in my and my wifes car is ten years old and going strong. I will be switching to another type - a sealed battery next. |
| | |
| --- | --- |
| | Good price, exact fit, and delivery was early. Very satisfied! |
| | |
| --- | --- |
| | I purcased a G-25 from Aircraft Spruce 2 years ago and it never worked well, kept losing charge now unable to crank over the engine. prior G-25 Batteries lasted 5 years before needing to be replaced, as this one does. |
| | |
| --- | --- |
| | Gill batteries have really gone down. Last battery was 12 months, before that 18 months and before that 22 months. I am running a concord now and after 18 months it still feels stronger than a Gill ever did. |
| | |
| --- | --- |
| | Fit & starts aircraft great. |
| | |
| --- | --- |
| | I change my G25 each year and this gives me a spare back up for the odd emergency. One of my old batteries was given to a neighbour who used it in his Range Rover for 15 years. The G25 is not only good for aircraft but we use them for model making activities due to the terminals and ease of operation/charging etc. |
| | |
| --- | --- |
| | Battery info was on the mark, and charged right up. In the plane and worked just like it should. The techs at Gill were also very helpful in answering all questions. |
| | |
| --- | --- |
| | Prompt one day delivery. Wish the battery would last more than 4 years though! |
| | |
| --- | --- |
| | The tsio 520's were slow starters until I installed the new G-25 batteries. Now they spin and start easy. |
| | |
| --- | --- |
| | Great product. Its a battery works well |
| | |
| --- | --- |
| | Arrived the next day. Great instructions on how to add the acid and charge. All went as planned. My last G25 lasted me 6 and a half hears in my C-172, and Im hoping this one delivers as well. |
| | |
| --- | --- |
| | Just like the last time we had to replace a battery, good service and quick delivery. |
| | |
| --- | --- |
| | Battery arrived on time dry with electrolyte separate as advertised. Decided to leave electrolyte out of battery for now with airplane not in annual at the moment, so have not used the battery yet.. |
| | |
| --- | --- |
| | Product is well known. Dependable. Easy to prepare and install. The 5 stars, however, are more associated with Aircraft Spruces easy ordering process and quick delivery of the batteries. |



Never..never.. had any good service out of the g-25. I have been using them in my c172 for 35 years.
I get 2 to 3 years use at best. They wont hold a charge for 30 days of non use.
A $39 Wal Mart battery in my riding lawnmower will effectively stay charged through the winter (7 months) in New England and start the machine in the spring with out charging.
Best of luck with your g-25



What's the advantage of ordering with acid versus without acid?
The battery requires acid. The only reason to order without the acid would be if you already have electrolyte that you can use to fill the battery.
---

Does free shipping apply to the version "with acid"?
Yes, this battery will qualify for free ground shipping to the lower 48 USA with or without acid.
---

Will I need to charge the battery, or can I just install it and go?
Gill recommends that you fill it, charge it, and then use it. If it is absolutely necessary, you can pour the acid in, wait an hour, and use it but it will hurt the longevity of the battery.
---

Hello, I put the G-25 with acid in my shopping cart and I see it says free shipping and I see in a question, someone asked if this is eligible for free shipping and you said it is, but in my shopping cart the battery is flagged with a Hazardous symbol. Is there a shipping charge for the hazardous material? Thank you.
No, these are not considered hazardous for ground shipping in the USA. These do qualify for free ground shipping and you will not incur an additional hazardous charge if you select the free ground method.
---

I ordered a Gill g25. My question is what type battery is this considered for charging purposes. I have battery type on my charger as Regular/AGM (Absorbed glass mat) or GEL?
It's a Dry-Charged Lead Acid Battery.
---

What is th weight of the standard Gill G-25 serviced and charged?
Approx 21 lbs filled.
---
Enter the quantity desired of each item in the Buy column.