Other Customers
Have Also Viewed:
GILL® G-35 BATTERY
Make Selection(s) Below To Order
From $337.00 to $361.00

The Gill Electric Company was founded by Mr. Lawrence Gill in 1920, in Redlands, California, where the factory remains today. At that time, Gill Electric manufactured lead-acid batteries for the automotive industry. During the war years, Gill manufactured batteries for military ground vehicles and aircraft; some of these batteries are still in production today. Gill Electric improved the drycharged process which provides a fresh charged product when the electrolyte is added. Gill has become the OEM "original equipment battery" for Raytheon, Cessna, LearJet, Mooney, Piper, Ayres, Airtractor, Maule, Scheizer and others in the aviation industry and Gill continues to be the industry's choice for quality battery products.
| Manufacturer | Model | PMA SUP. # |
| --- | --- | --- |
| Alexandria Aircraft | 17-30, 17-30A, 17-31, 17-31A, 17-31TC, 17-31ATC | 57 |
| American Champion | 7GCAA, 7GCBC, 7KCAB, 8KCAB | 57 |
| Beech / Beechcraft | 19, 23, 24, 33, 35, 35 Bonanza, 36, 50, 76 | 11, 57 |
| Cessna | 180, 182, 185, 188, 190, 195, 206, 207 210 Series | 57 |
| Cessna | 177, 177A, 177B, 180A, 180B, 180C, 180D, 180E, 180F, 180G, 180H, 180J, 180K, 182A, 182B, 182C, 182D, 182E, 182F, 182G, 182H, 182J, 182K, 182L, 182M, 182N, 182P, 182Q, 185, 185A, 185B, 185C, 185D, 185E, A185E, A185F, A188A, A188B, 190, 195, 195A, 195B, 206, P206, P206A, P206B, P206C, P206D, P206E, U206, U206A, U206B, U206C, U206D, U206E, U206F, U206G, 207, 207A, T207, T207A, 210, 210B, 210C, 210D, 210E, 210F,210G, 210H, 210J, 210K, T210F, T210G, T210H, T210J, T210K, T210L, T210M , T210N , T210R | 57 |
| CPAC, Inc. | 112, 112B, 112TC, 112TCA, 114, 114A | 57 |
| Globe | GC-1A, GC-1B | 57 |
| Hawker Beechcraft | 19A, B19, M19A, 23, A23, A23A, A23-19, A23-24, B23, C23, A24, A24R, B24R, C24R, E33, E33A, F33, F33A, F33C, G33, 35, 35-33, 35-A33, 35-B33, 35-C33, 35-C33A, A35, B35, C35, D35, E35, F35, G35, H35, J35, K35, M35, N35, P35, S35, V35, V35A, V35B, 36, A36, A36TC, B36TC, G36, 76 | 57 |
| Maule | M-4-180V, M-5-180C, M-5-235C, M-6-180, M-6-235, M-7-235, M-7-235A, M-7-235B, M-7-235C, M-7-260, M-7-260C, M-8-235, MT-7-235, MT-7-260, MX-7-160, MX-7-160C, MX-7-180, MX-7-180A, MX-7-180B, MX-7-180C, MX-7-180 AC, MXT-7-160, MXT-7-180, MXT-7-180A | 56 |
| Mooney | M20, M20A, M20B, M20C, M20D, M20E, M20F, M20G, M20J, M20K | 57 |
| Piper | PA-18, PA-18A, PA-18S, PA-18S"125", PA-18A"135", PA-18S"135",PA-18"150", PA-18A"150, PA-20, PA-20S, PA-20"115", PA-20S"115", PA-20"135", PA-20S"135", PA-22, PA-22-108, PA-22-135, PA-22S-135, PA-22-150, PA-22S-150, PA-22-160, PA-22S-160, PA-23, PA-23-160, PA-23-235, PA-23-250, PA-24, PA-24-250, PA-24-260, PA-24-400, PA-28-140, PA-28-150, PA-28-151, PA-28-160, PA-28-161, PA-28-180, PA-28-181 PA-28-201T, PA-28-235, PA-28-236, PA-28R-180, PA-28R-200, PA-28R-201, PA-28R-201T, PA-28RT-201, PA-28RT-201T, PA-30, PA-32-260, PA-32R-260, PA-32-300, PA-32R-300, PA-32-301, PA-32R-301, PA-32-301T, PA-32R-301T, PA-32RT-300, PA-32RT-300T, PA-34-200, PA-34-200T, PA-36-375, PA-39, PA-44-180, PA-44-180T | 57 |
| Piper | PA-18, PA-22, PA-23, PA-24, PA-25, PA-28, PA-30, PA-32, PA-34, PA-39 | 18, 57 |
Rate (Amps): 1 hr (C1) 23, 30 min (2C) 40, 60 sec/0 deg F (CCA) 250


Model

Weight
Part No.

G-35
12 Volt
With Acid

27 Lbs. (full)
Electrolyte (3 Qts.)
11-01832

G-35
12 Volt
W/O Acid

27 Lbs. (full)
Electrolyte (3 Qts.)
11-01672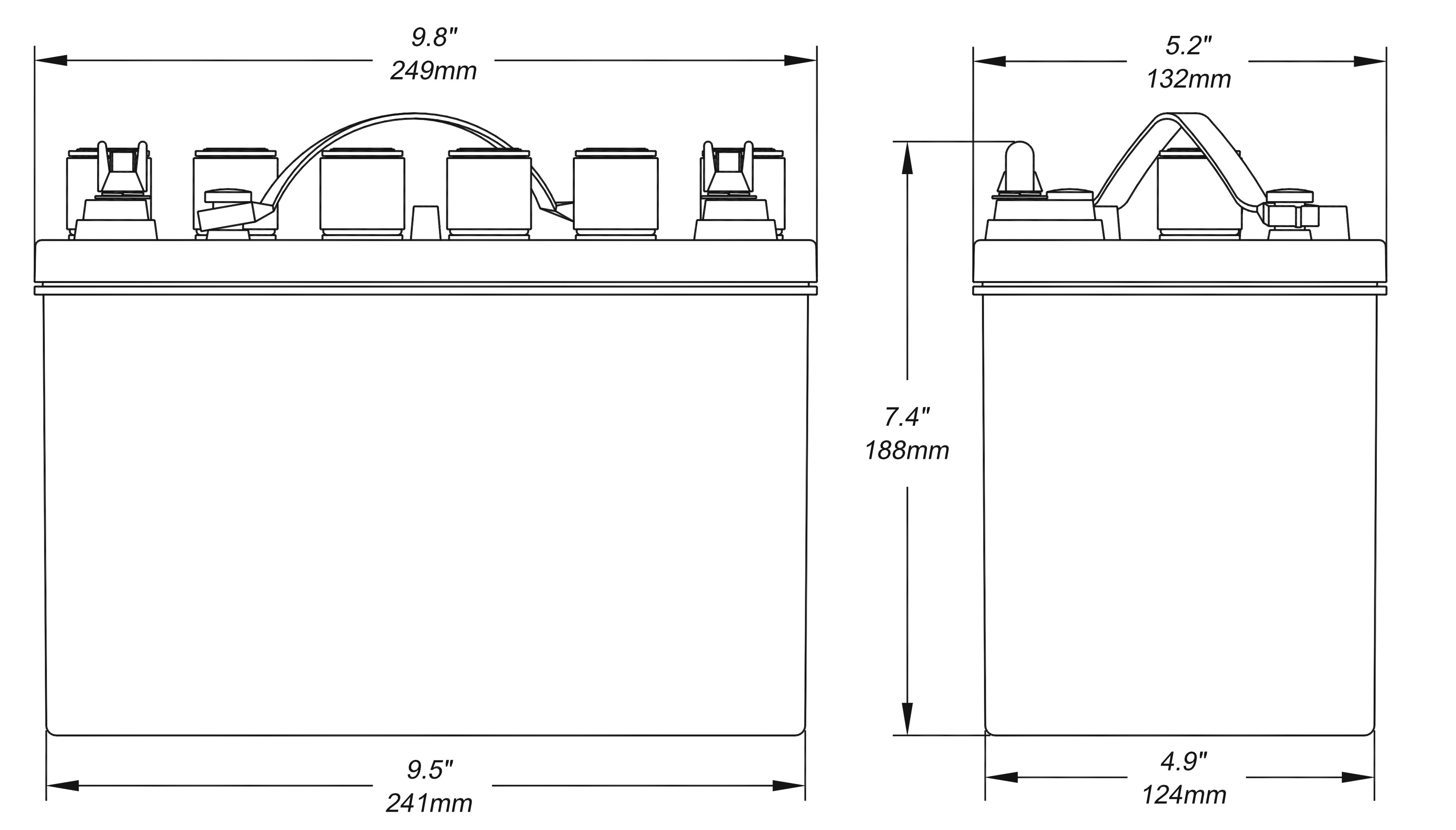 | | |
| --- | --- |
| | I always bought Gill batteries over the past 20yrs of flying and 6 airplanes. Starting about 3 or 4 yrs ago I noticed batteries that used to last 4,5 or more years were now lasting only a max of 2yrs. Despite many poor reviews I stayed loyal and bought my latest Gill 35 just before last years annual. I am now into the 14th month, just completed my second annual and it has one cell that is dead. Won't hold a charge, boils over. Piece of crap. Gill you've now lost a long time customer. Champion has lost me too with their poor quality spark plugs. |



since I have owned my Mooney, I have had 3 of these and all lasted at least 4 years. Most recent lasted 8 years !.
I fly at least once a week and used a float charger last 3 years. Lack of flying will kill any battery so that may be why some folks only get a few years out of them.
suggestion, use a float charger. got it for 5 bucks at Harbor Frt.
| | |
| --- | --- |
| | My G35 is over 4 yrs old and still working. Previous G35 was 6 yrs when replaced. Good batteries. |
| | |
| --- | --- |
| | I just performed a capacity check for a customer with a G35 battery that was installed in his Mooney M20F 1/2005. The check passed at 95.5% Using the C1 23amp and an EPV of 10 volts. I have to admit I don't normally see a battery this old with this type of capacity. |
| | |
| --- | --- |
| | part 135 operator with 6 aircraft, some last 4 years some 2, all aircraft get over 100 hours per month of hard work. about average battery life, good value. |
| | |
| --- | --- |
| | I ran a Gill G-35 in my Stearman. It would fly every few days or sometimes weeks during the warmer months and never needed a boost. It spent all winter long on a shelf in the hangar and got a trickle charge every few months when I thought of it and it performed very well for 14 long years! Best batteries ever made. Think pink! |



I agree with Skyhalk's one-star review below. I will admit I am buying another now, just due to not many other options. I know there are the gel, sealed types, but A+P says if you don't fly that much, they aren't going to last either.

I also used to get 5 years or so out of these batteries. I think I am barely at 2, and it is summer (usually I start needing jump starts in winter, when engine is cold).

I have been using a trickle charger for the last year of these two years. It's obviously not a big help with this one. Keep in mind that some peoples planes are outside with no power, though a solar charger can do the same as the plug-in - if it were to help at all to begin with.

I gave 3 stars for tech-support guy (if it's the same dude as last few batteries), to whom I asked some things about initial charge-up of the battery. The guy is great to deal with, and he is an American in San Diego, not some clueless foreigner. I hope you are still there, and I'll let you know if my battery is still hungry.
| | |
| --- | --- |
| | It's time to replace my Mooney's battery and when I removed my current Gill G-35 I was pleasantly reminded of the activation & installation date I wrote on the side of the battery with a Sharpie - 9/13/2004. Just under 11 years is pretty good. The sad thing is this battery cost me $110 in 2004 now I see it costs $200+! |
| | |
| --- | --- |
| | Everyone I know prefers a Concorde over Gill. I have used Gills in my plane for over 13 yrs. I have had one bad battery which Gill replaced with very few problems. I fly out of Mn where we have cold winters and as such I pull my battery if the plane is going to set for more than a week. I then put it one a 2 amp battery charger (car variety) and charge it overnight. The tech support at Gill says this is ok. My batteries last at least 3 yrs and I replace them regardless of their shape as batteries are one of the cheapest things we spend money on in our planes. Concordes are good batteries but I will stick to my Gill as I would replace a Concorde after 3 yrs anyway. I prefer not to be stuck somewhere over a lousy 250 bucks. |
| | |
| --- | --- |
| | Very poor battery. Leaks, rots out battery boxes and if you are really lucky, corrodes the belly of your airplane. |
| | |
| --- | --- |
| | always courteous and good service |



I changed over to Concorde this time. Last two Gills did not hold up. From reading the other comments, it appears that it is a hit or miss as to whether you get a good gill battery or a lemon.
Prior to the last two, a Gill battery would last 6 to 7 years with out any problem.
| | |
| --- | --- |
| | Second time I buy. First one lasted 5 years. No complaints. Shipping was quick. Acid and battery are in separate box, so you need to pour in a well ventilated area. Make sure you have a thick paper or card board underneath battery for first charge, it is a bit messy. Neutralize acid overflow with baking soda and clean battery before placing back in plane or you will damage your paint on belly through overflow vents. |
| | |
| --- | --- |
| | Good battery, dont get me wrong. I gave it 4 stars only because of the cheesy paper funnel included with the battery acid. Its practically impossible to fill the battery safely with this thing. You WILL spill battery acid, you WILL get it on you , you WILL damage your clothes and you MIGHT injure yourself terribly. Battery acid is scary stuff. What were they thinking?????? |
| | |
| --- | --- |
| | This review is not only for the Gill G-35 battery but for several items in the same shipment getting ready for my annual inspection. All the items arrived in good condition, packed very well and quickly processed and shipped like lightning. Thats the main reason I come back to Aircraft Spruce for all my aviation needs. |
| | |
| --- | --- |
| | I have had a number of Gill 35 since 1985. No problems. Great shipping packages never a damaged battery. My last Gill lasted eight years. The handle is a nice feature. |
| | |
| --- | --- |
| | Battery lasts about 2 years for me, however, I do let it sit in one month intervals between runs. Does the job, Aircraft Spruce was quick & efficient Thank you! |
| | |
| --- | --- |
| | The battery arrive as promised, in good condition, is charged, holding, and ready to install. I am very satisfied. |



I made a mistake ordering this battery. I promised myself years ago never to buy an open cell battery where I need to handle the acid. These kind of batteries should be discontinued. Who in the 20th century needs to fool around with battery acid? Awful. Spruce should only offer closed cell gel batteries!
Greetings, great work you Spruce guys.
| | |
| --- | --- |
| | All went well, small problem, and several days delay with a one number interred, wrong on credit card I think could have been handled easier, maybe with a phone call. |
| | |
| --- | --- |
| | Battery works as advertised and prompt delivery. |
| | |
| --- | --- |
| | This battery started giving me problems within the first year. Now after 16 mos, it won't hold a charge at all. |
| | |
| --- | --- |
| | I have to express my satisfaction at the Gill-35 Battery. It shipped dry. The little paper funnel was sufficient to use for filling the battery with electrolyte. I didnt spill a drop. I read other reviews cussing the funnel and making a mess. I had zero challenges with it. I filled the battery and put it right into my Piper Cherokee 140 Cruiser. She started strong with out charging the battery. I did see other reviews saying they had to charge their battery. Not the case with mine. It is in service and Im very pleased! Price was competitive as well. My FBO wanted to tag another $100 on to the price. I laughed and ordered it from You guys. |
| | |
| --- | --- |
| | Good price and speedy free delivery. |
| | |
| --- | --- |
| | Fast delivery and as expected. ✌️ |



great product, super fast shipping. exceeded my expectations!
THANKS!
| | |
| --- | --- |
| | great service and super fast delivery! |
| | |
| --- | --- |
| | The battery arrived in record time. Everything was just as promised. I couldn't be happier. |


What are the cold cranking amps for a G35 battery - mine is apparently failing and the local mechanic needs that information to set his testing machine to test to see if is holding a charge. Let me know. Thanks.
Per the manufacturer, this is the information they provided. 60 sec/0 deg F (CCA) 250. Regarding part number 11-01672.
---

Does the G-35 come with acid?
There are two models listed on the page in the above yellow box. Please select the "With Acid" model or the "Without Acid" model based on your preference. The are selectable in a drop down menu.
---

What is the cold cranking amperage?
Per the supplier: the cold cranking amps for the G-35 with acid is 250 CCA at 0 degrees Fahrenheit for 60 seconds.
---

What are the dimensions for the Gill G-35 battery? Looking to replace with your VRLA battery.
We have added the dimensional drawing to the "Drawing" tab of this web page. Please review them there.
---

If I order a battery with acid, does it ship wet or dry?
It will ship dry. The acid will be included in a separate bottle to for the customer to pour.
---

Is the 7035-28 battery a direct replacement for the G-35 or G-35S?
Yes, the Gill 7035-28 is a direct replacement for the Gill G-35 or G-35S batteries.
---

Will the battery be fully charged when I receive it?
No, these batteries are shipped with or without acid separately. When you receive it, you will need to pour the acid and charge. The sealed version, part number 11-11312, will ship fully charged.
---

What are the cranking amps on the G-35 battery?
Rate (Amps): 1 hr (C1) 23, 30 min (2C) 40, 60 sec/0 deg F (CCA) 250.
---

Is this Gill G-35 battery considered dangerous good in order to be air-shipped?
Without the acid this battery is not considered hazmat for air shipments. With the acid it is considered hazardous for air shipping.
---

Ive heard the term Flooded Batteries several times, so would this Gill G35 battery be considered one as it is a wet cell battery?
Yes, the Gill G-35 is a flooded (wet) battery.
---
Enter the quantity desired of each item in the Buy column.