1-877-795-2278 | info@aircraftspruce.ca
Aircraft Spruce Canada
Brantford, ON Canada
Corona, CA | Peachtree City, GA
Chicago, IL | Wasilla, AK
THE AVIATION SUPERSTORE FOR ALL YOUR AIRCRAFT & PILOT NEEDS | 877-795-2278
EARTHX ETX680 / 680C LITHIUM AIRCRAFT BATTERY
Select Model:
ETX680
ETX680C
Overview
Note: Not FAA Approved. Intended for use in experimental aircraft only.

The ETX680C lithium battery only weighs 3.9 pounds but delivers 680 cranking amps!

This battery is intended for 400ci engine size or less; 60 amp alternator/generator or less.

The ETX battery series is fully protected by an integrated battery management system (BMS) that protects the cell's from over discharge, overcharge, short circuit, temperature, plus cell balancing to ensure charge levels are equal. Additionally, the ETX Hundred series aircraft batteries have redundant electronic circuits and battery fault indication. The fault indicator can be connected into your EFIS or wired to a 12volt LED light on your control panel to alert you to the state of charge and state of health of the battery. (Please see manual for details)

Note: The difference between the ETX680 and the ETX680C is the physical size. The "C" is for the compact.
Features
The ETX Hundred series is fully protected by an integrated Battery Management System that protects the cell's from over discharge, over charge, short circuit, thermal protection and built in cell balancing to ensure charge levels are equal (balanced) 100% of the time for optimal performance
and life.
The most trusted and used lithium battery on the market. Multiple experimental aircraft manufacturers and experimental engine manufacturers such as Rotax Engines, Continental Motors, UL Power Engines and Viking Engines approve the EarthX brand.
LiFePO4 chemistry, the most abuse tolerant of all lithium battery chemistries.
Higher voltage while cranking mean faster starts.
Extremely light weight, 70-80% lighter than your lead acid battery.
4,000 charge cycle life versus 350 charge cycle life of a lead acid battery. Can last up to 8 years.
Environmentally friendly, no hazardous lead or acid, will not corrode or sulfate.
Wider operational temperature range than a lead acid battery. (-22° F to 140° F, -30 ° C to 60° C) . A lead acid's operational range is(-40° F to 113° F or -40° C to 45° C).
Vibration tested to DD-311 FAA standard.
Low self discharge rate and fast charging.
Specifications
ETX680 DRAWING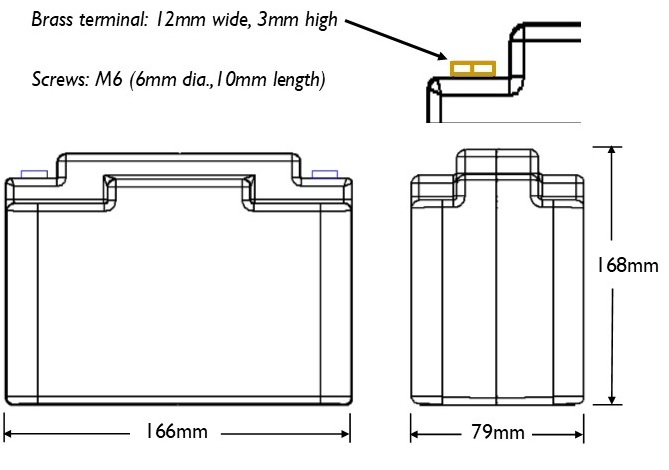 ETX680C DRAWING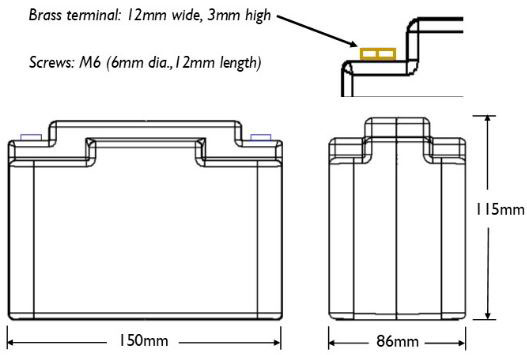 Voltage
13.2V
Capacity
12.4Ah @ I C Rate (See charts Below)
Capacity vs Temperature
25°C= 100%
0°C= 92%
-30°C= 80%
Self-Discharge Rate
<3% / month @ 25°C
Pulse Crank Amps (PCA)
680A (3 sec @ 25°C, voltage >9V
Cold Crank Amps (CCA)
320A (modified SAE test, 3 sec @ 0°F, volts > 7.2V)
Continuous Discharge Amps
100A
Standard Charge Voltage
13.9 - 14.6V
Maximum Charge Voltage
15V
Recommended Charge Voltage
5 - 15A
Max Charge Amps
60A (from vehicle charging system)
Life (Charge cycles, 80% depth of discharge)
4000 cycles @ 1°C discharge rate,
25°C 2000 cycles @ 10°C discharge rate, 25°C
Life (Years)
8 Years
Weight
ETX-680 4.1 lb (1.86Kg)
ETX-680C 3.9 lb. (1.8kg)
Dimensions
ETX-680 6.5 in (L) x 3.1 in (W) x 6.6 in (H)
166mm (L) x 79mm (W) x 168mm (H)
ETX-680C 5.9 in (L) x 3.4 in (W) x 4.5 in (H)
150mm (L) x 86mm (W) x 115mm (H)
Environmental Rating (resistance to water intrusion)
IP 66 (wash down with a high pressure washer)
Operating Temperature
-30°C to +60°C
Storage Temperature
-40°C to +70°C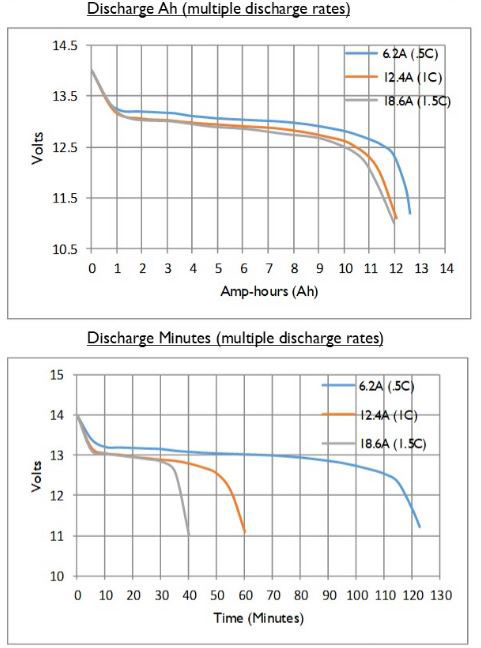 Why Choose EarthX
You will instantly remove 11+ pounds compared to the lead acid battery in your experimental aircraft! Now that is a huge weight saving.
Significant increase in cranking power. If you have been using the PC680, you will increase your CCA's from 170 to 320 and the PCA's from 520 to 680! Now that's the power to crank your engine!
Now you can easily have a backup battery and not worry about the additional weight. In fact, if you switch from a lead acid battery and add a backup battery, so you have a primary and a backup, you still have decreased your overall weight by 50%! Note that only the ETX680C/680/900/1200 have the aircraft specific BMS.
Innovative and sophisticated BMS designed and engineered with redundancy for safety, reliability, and performance. These are EXCLUSIVE features!
Videos
Accessories
Customers Also Viewed
Frequently Purchased With
Related Items
Reviews
At least 50% more RPM on starting I can sure you the BMS system saved the battery as I mistakenly left my master switch on for a day and after recharging the battery all is well
Keith S
Verified Purchase

ETX680 LITHIUM AIRCRAFT BATTERY
July 21, 2021
Installed in my RV6A.. Works great!! Talk about some cranking power, well worth the money.
Ryan
March 29, 2021
The battery fits perfectly and came quickly--havent had a chance yet to actually power something up with it, but that will come.
Donald F
December 3, 2020
Been in plane a few weeks. Power is awesome and it weighs a lot less than the dry cell. Money well spent.
Adam
November 2, 2020
Great battery. Light weight and reliable, it's worth every penny
Genavco A
July 31, 2020
Arrived as promised, very happy with the batteries performance.
George W
July 30, 2020
Only a few days in service but the cold cranking amps really are there. Replaced an Odyssey 680 battery and was able to squeeze into padded holder. Engine turns over significantly better- had become concerned about starting before. We will see about durability but for now, worth it.
Lb
February 25, 2020
Great battery at a quarter of the weight.
Phil
December 13, 2019
Amazed how light it is.
James T
August 2, 2019
Q&A
Please note, Aircraft Spruce Canada's personnel are not certified aircraft mechanics and can only provide general support and ideas, which should not be relied upon or implemented in lieu of consulting an A&P or other qualified technician. Aircraft Spruce Canada assumes no responsibility or liability for any issue or problem which may arise from any repair, modification or other work done from this knowledge base. Any product eligibility information provided here is based on general application guides and we recommend always referring to your specific aircraft parts manual, the parts manufacturer or consulting with a qualified mechanic.
Q: Does this item ETX680C ship internationally?
Yes, we can export this item.
Q: Are the EarthX ETX680 a side post connector?
These are top post.
Q: When will this EarthX battery be available for certified aircraft?
At this time, EarthX only makes the ETX-900 in TSO version. See Part# 11-18242.
Q: The catalogue shows that 680C dimensions as 5.9Lx4.5Wx3.9H but the website has the dimensions as 5.9Lx3.4Wx4.5H. What are the actual dimensions?
Per the vendor spec sheet the dims are 6.5 L x 3.1 W x 6.6 H.