Other Customers
Have Also Viewed:
AN BOLT SELECTOR
Make Selection(s) Below To Order
From $0.00 to $55.75





Thread Size:

Length:

Material:

Drill Style:

 
 
Part Number:
Hex head aircraft bolts are made of high-strength type 4037 or 8740 alloy steel (type 8740 is most commonly used). The bolts are center-less ground and threaded after heat treatment. Minimum tensile strength 125,000 PSI. Cadmium plated per specification QQ-P-416A, Type II, Class 3. Available with shank drilled for cotter pin or undrilled for stop nut application, & with or without drilled head for safety wire. Specify bolts to have undrilled shank by adding letter "A" after dash number. For bolts with drilled head add letter "H" after AN number. See illustrated examples. The length of AN aircraft bolts is measured from under the head to the end of the shank. The "grip" is the unthreaded portion of the shank. See table for conversion of length and/or grip to proper AN call-out.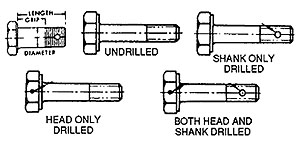 | | |
| --- | --- |
| | I am very happy to get the 8 bolts ,only wish they could have been in stock in Ontario. Still good service. |


What is the diameter tolerance on a 3/8-24 AN bolt?
The max is .374", and min .371"
---

What is the safety wire diameter recommended for the drilled version?
It depends on the application, but both .032 and .041 will fit through the hole.
---

On a drilled shank, where is the hole located in reference to the end?
Per the Tech Data Sheet, the hole location is determined from the start of the threads, on the head side, to the center of the drilled hole. AN3 = 17/64", AN4 = 5/16", AN5 = 23/64", AN6 = 7/16", AN7 = 31/64", AN8 = 39/64".
---

What is the difference between stainless and cadmium plated AN bolts?
Stainless bolts are corrosion resistant for applications where corrosion is a problem. CAD plated bolts are made of steel with CAD plating to help surface corrosion, but it can been worn or chipped off.
---

Is the nominal length listed the entire bolt (head, grip and thread) or just the grip and thread?
The nominal length is the length from under the head to the end of the shank.
---

Picture clearly shows a bolt with both head drilled and shank drilled, but bolt selector does not allow that choice?
We do offer all of the types shown, but unfortunately not in every size. For example, drilled head is not available in AN4-3 stainless, but is available in AN5-4 cadmium.
---

For the drilled shank, what is diameter of the drilled hole on AN3?
It is drilled for 1/16" cotter pin so it will be slightly larger than 1/16".
---