1-877-795-2278 | info@aircraftspruce.ca
Aircraft Spruce Canada
Brantford, ON Canada
Corona, CA | Peachtree City, GA
Chicago, IL | Wasilla, AK
SAME DAY SHIPPING ON ORDERS PLACED BY 2 PM | 877-795-2278
ASSORTMENT OF 100 CADMIUM PLATED MS24665 COTTER PINS
Overview
MS24665 cotter pins are stocked in cadmium plated steel (formerly AN380) and in passivated corrosion resisting steel (formerly AN381) in the priced sizes listed below. Other sizes available on special order. Write for quotation.
Kit Contents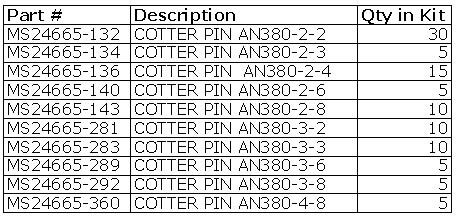 Customers Also Viewed
Frequently Purchased With
Reviews
Nice little assortment
Stephen F
Verified Purchase

COTTER PIN ASSORTMENT
August 31, 2021
I haven't used them yet but this cotter pin assortment was just what I needed to stock my hangar for those eventual needs.
Leo J
Verified Purchase

COTTER PIN ASSORTMENT
August 18, 2021
Marc-antoine G
Verified Purchase

COTTER PIN ASSORTMENT
July 14, 2021
Always a pleasure dealing with Aircraft Spruce
Peter C
May 29, 2020
Perfect to carry in your onboard repair kit for those quick repairs off airport.
Jeffrey F
December 23, 2018
Good assortment of pins. Arrived on time - No surprises, no hassles.
Gary L
December 7, 2018
nice assortment
Dave M
September 6, 2017
Good assortment. Prices could be better, but everything seems to be going up.
Jonathan W
Verified Purchase

COTTER PIN ASSORTMENT
September 23, 2021
When I ordered these, the picture showed them in a little organizer box. When it shows up in loose packaging, I went back to check and the picture had been changed. It's only $3 but jeez.
Robert H
June 24, 2015
Q&A
Please note, Aircraft Spruce Canada's personnel are not certified aircraft mechanics and can only provide general support and ideas, which should not be relied upon or implemented in lieu of consulting an A&P or other qualified technician. Aircraft Spruce Canada assumes no responsibility or liability for any issue or problem which may arise from any repair, modification or other work done from this knowledge base. Any product eligibility information provided here is based on general application guides and we recommend always referring to your specific aircraft parts manual, the parts manufacturer or consulting with a qualified mechanic.
Q: Is this an assortment of sizes or just 100 of the same cotter pin?
This kit is an assortment of sizes. We have included the kit contents with quantities in the "kit Contents" tab. Please review them there.