1-877-795-2278 | info@aircraftspruce.ca
Aircraft Spruce Canada
Brantford, ON Canada
Corona, CA | Peachtree City, GA
Chicago, IL | Wasilla, AK
THE AVIATION SUPERSTORE FOR ALL YOUR AIRCRAFT & PILOT NEEDS | 877-795-2278
CHAMPION SPARK PLUGS - REM37BY
Package Items
Single
Box of 12
Overview
In the early 1900s, small planes flew with single ignition systems powered by adapted automobile engines using Champion-brand automotive spark plugs. By the 1920s, the company had developed innovative spark plugs designed specifically for the aviation industry.

Champion Aerospace designs and manufactures Champion-brand piston-engine ignition components for both OEM and aftermarket for general aviation aircraft applications. Every spark plug manufactured has built-in design advantages that assure longer life and greater reliability.

NOTE:
Spark plugs are shipped in factory sealed plastic cases. Opened spark plug cases make the spark plugs non-returnable. Please do not open any spark plug until you are sure you have received the correct spark plugs for your application.
Specifications
| Plug Type | Thread Size | Reach | Shielding Thread | Standard Electrode | Plug Gap |
| --- | --- | --- | --- | --- | --- |
| REM37BY | 18mm | 1/2" / 1.27cm | 5/8"-24 | Twin Electrode | .016"-.021"/0.41-0.53mm |
Typical Spark Plug Number with Symbol Explanation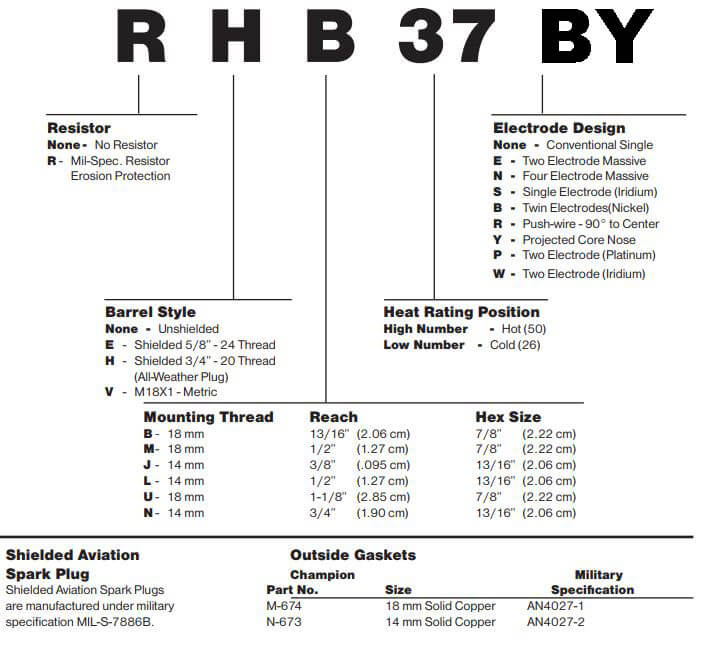 * Shielded barrel thread size. Check barrel size - 5/8x24 or 3/4x20 threads before ordering and select proper plug number, See page 236 for Sparkplug Application Table.

** The "Iridium S" sparkplugs replace the Platinum and "W" Iridium types. Increased bore diameter improves scavenging action. Greater clearance volume can accept more combustion deposits. Single Iridium electrode offers greater resistance to lead attack. Easy to clean Easy to gap
Customers Also Viewed
Frequently Purchased With
Reviews
Excellent service as always
Thomas
Verified Purchase

CHAMPION SPARK PLUG REM37BY
November 5, 2021
Solidly built, long lasting, easy gap adjustment, never had an issue.
David T
Verified Purchase

CHAMPION SPARK PLUG REM37BY
August 13, 2021
Q&A
Please note, Aircraft Spruce Canada's personnel are not certified aircraft mechanics and can only provide general support and ideas, which should not be relied upon or implemented in lieu of consulting an A&P or other qualified technician. Aircraft Spruce Canada assumes no responsibility or liability for any issue or problem which may arise from any repair, modification or other work done from this knowledge base. Any product eligibility information provided here is based on general application guides and we recommend always referring to your specific aircraft parts manual, the parts manufacturer or consulting with a qualified mechanic.
Q: Is a new copper gasket included with purchase of a champion REM37BY spark plug?
Yes, each spark plug will contain one new copper gasket.
Q: What is the torque pounds for REM37BY?
That depends on your specific engine. That information would be in your maintenance manual.