1-877-795-2278 | info@aircraftspruce.ca
Aircraft Spruce Canada
Brantford, ON Canada
Corona, CA | Peachtree City, GA
Chicago, IL | Wasilla, AK
SAME DAY SHIPPING ON ORDERS PLACED BY 2 PM | 877-795-2278
WHELEN ORION™ 650 SERIES FORWARD POSITION / ANTI-COLLISION WINGTIP LIGHTS
From $679.00 to $679.00
| Model Num. | Description | Whelen # | Part Number | Price | Buy |
| --- | --- | --- | --- | --- | --- |
| OR6501G | Green Forward Position, Anti-Collision Light Wingtip Assembly, 14 VDC | 01-0790725-01 | | $679.00 | |
| OR6501R | Red Forward Position, Anti-Collision Light Wingtip Assembly, 14 VDC | 01-0790725-02 | | $679.00 | |
| OR6502G | Green Forward Position, Anti-Collision Light Wingtip Assembly, 28 VDC | 01-0790725-11 | | $679.00 | |
| OR6502R | Red Forward Position, Anti-Collision Light Wingtip Assembly, 28 VDC | 01-0790725-12 | | $679.00 | |
Overview
The Orion 650 series products incorporate RED or GREEN Forward Position Lights as well as the WHITE flashing Anti-Collision Light function. State of the art LED circuitry is built in to eliminate the need for separate flasher boxes for operation. The footprint, and mounting, are identical to legacy Whelen products for ease of installation and retrofit. Fully FAA/TSO & STC approved.
Specifications
Drawing 90725
Weight 0.26 lbs
Current Draw 14V / 28V 0.30 / 0.15 Amps Position 0.70 / 0.35 Amps Avg. ACL
Lenses Clear Hardcoated Polycarbonate
Drawing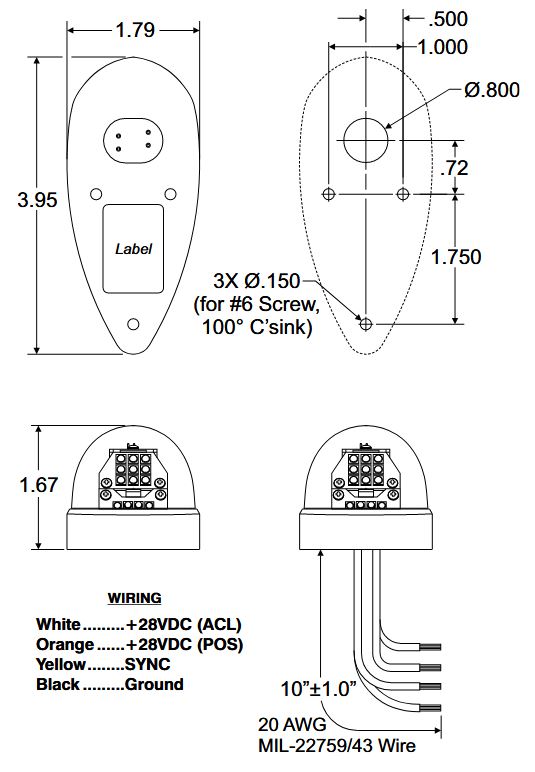 Videos
Customers Also Viewed
Frequently Purchased With
Reviews
Great product that is easy to install
Andrew B
Verified Purchase

WHELEN ORION 6501G 12V WINGTIP PTA GREEN
July 23, 2021
The Orion 650 is a great replacement for the factory fit Nav/strobe unit. Easy to install as it has the same footprint
Andrew B
Verified Purchase

WHELEN ORION 6501R 12V WINGTIP PTA RED
July 23, 2021
Q&A
Please note, Aircraft Spruce Canada's personnel are not certified aircraft mechanics and can only provide general support and ideas, which should not be relied upon or implemented in lieu of consulting an A&P or other qualified technician. Aircraft Spruce Canada assumes no responsibility or liability for any issue or problem which may arise from any repair, modification or other work done from this knowledge base. Any product eligibility information provided here is based on general application guides and we recommend always referring to your specific aircraft parts manual, the parts manufacturer or consulting with a qualified mechanic.