Other Customers
Have Also Viewed:
AVEO ROCKRACK SWITCH REPLACEMENT PARTS
See Below for Parts, Pricing, and Ordering
From $3.99 to $37.50





Enter the quantity desired of each item in the Buy column.



Steps
Description
Part No.
Price
Buy
Sub-Total
Faceplates
Red switch top with icon Avionics Master
11-06642
$11.50
-
Red switch top - Blank
11-08420
$9.50
Tab Terminals
Aveo 14 gauge Tab Terminal 12 pack
11-07833
$5.45
-
Aveo 14 gauge Tab Terminal 24 pack
11-07834
$9.50
-
Aveo 14 gauge Tab Terminal 60 pack
11-07835
$23.50
-
Aveo 14 gauge Tab Terminal 100 pack
11-08422
$37.50
Mounting Components
End Module
11-06648
$4.35
-
Middle Module
11-06649
$3.99
-
Single Module
11-06650
$7.85
-
Connector (1 per switch)
11-06651
$6.75
-
Removing Tool - 2 required to remove the switch
11-06652
$11.50

Current Total
Click Add to Cart to add them to your shopping cart
or Add to Wishlist to store them for ordering later.
The exclusive RockRack™ system from Aveo permits the pilot to build up his cockpit rockers to meet his particular needs. The pilot can make just one simple cutout for whatever number of rockers he wants, starting with a single rocker up to a complete lineup, due to the unique locking "dovetail" stacking system of the switch housings as shown in this diagram: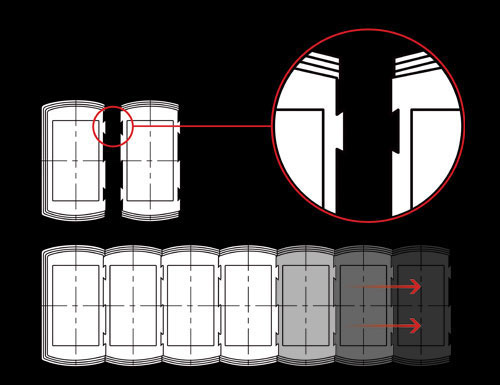 Aviation Icons backlit with LEDs
Only one cutout needed for any stack size
Integrated resistors
Quick-Connect Connectors up to 10 terminals
Ultrasonic welding seals
Removable actuator
150,000 cycle mechanical life
12 volt
12 Volts
Max amps: 20
150,000 cycles minimum mechanical life
Water & petroleum resistant according to EN61058-1
Tear resistant according to NF ISO 2409 Class 0
UV resistant according to ISO 4892-2
Gold plated contacts
LED consumption : 20mA@nominal voltage at 25º C
Meets or Exceeds All FAA & EASA Requirements




by Fcoirribarra@gmail.com

03/19/2016



| | |
| --- | --- |
| | I really liked the concept of these switches and the look, I bought a set for my RV-7A several years ago and I am just now getting around to installing them. Still in the original packaging, the left magneto switch cover is already starting to flake the paint. I also need 1 fuel pump switch cover but that can only be bought in one of the ten-pack Boeing 747 starter kits, I am thinking about painting all the covers flat black and labeling everything above the switches. I am committed having already spent the money but I am hugely disappointed with how they $5 and $10 you to death. (Thats nickel and dime you, except at aviation prices) there are less expensive options out there, these would be cool if better customization was offered. |



I have installeert several in my Impulse,
The quality of the paint is not very good.
I can not find the maximum current rating of the switches, the specifications are very poor,


Looking for the landing light switch cover
The landing light switch cover is no longer available.
---

Are these switches STC'd to be installed in a Cessna 177?
No, the Aveo rockrack switches are not approved for use in certified aircraft.
---

What is the difference between switch types:

1. on-off-on
2. on-on
3. on-(on)
4. (on)-off-(on)

The () designates momentary, ie only on when pressed. So the postions would be:
On - Off - On (3 way switch)
On - On (2 way switch)
on - (on) (2 way switch, momentary on)
(on) - off - (on) - (3 way switch, off in middle, momentary on up or down)
---