Other Customers
Have Also Viewed:
SKWOOSH COMMAND PILOT SEAT





Part # 13-12958
Reference Chart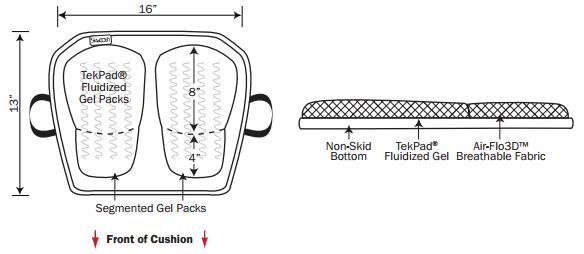 Command Pilot Comfort for Professional Pilots. Fly with the SKWOOSH™ COMMAND PILOT SEAT with AIR-FLO3D breathable fabric and experience the largest, most comfortable cushion in the SKWOOSH™ fleet. SKWOOSH™ fluidized gel cushions are more comfortable because they relieve pressure on the "sitz" bones to help maintain circulation, and reduce numbness and lower back discomfort caused by prolonged sitting.

The COMMAND PILOT SEAT fits all aircraft seats, including those with a central harness attachment. It folds so it conveniently fits in most chart cases and carry-ons. The non-skid bottom makes SKWOOSH™ stay put, ensuring no movement during use. SKWOOSH™ cushions are made in the USA and are guaranteed for performance and workmanship.
COMFORTABLE – Pressure relief gel prevents numbness and discomfort - fly longer in more comfort
CUSHIONING – TekPad® gel cradles your 'sitz' bones creating a custom fit
AIR-FLO3D – Breathable fabric - natural cool and comfortable
PORTABLE– Lightweight, compact, folds for transport & storage
LOW PROFILE – 1" thick - no change in seat position
NON-SKID BOTTOM – Anchors cushion to seat
MADE IN USA – Guaranteed workmanship – guaranteed performance
Weight: 13 oz.
Open dimensions: 16"W x 13"L x 1"H
Folded dimensions: 8"W x 13"L x 2"H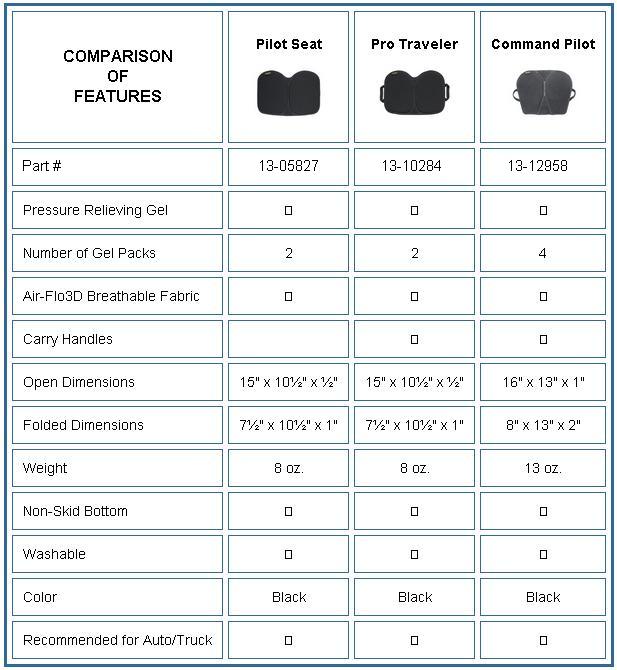 What is the difference between a pilot seat and a command pilot seat?
The differences are in the number of gel packs, open and folded dimensions, and the weight. Please see the "Model Comparison" tab for specific information.
---