Other Customers
Have Also Viewed:
GILL® LT 7035-28 SEALED BATTERY
Part # 11-11312

The 7035-28 is a "sealed lead acid battery upgrade" to the popular Gill® G-35
Maintenance Free – Shipped Fully Charged and No Electrolyte or Water Required
Non-Spillable and Proven for Aerobatic Maneuvering
2 Year Factory Warranty After Installation
Robust Starts, Higher Residual Power & Faster Re-Charge Times
First Capacity Check Not Required Until 18 Months/1800 Hours
Cost Competitive and Best Shelf Life in Lead Acid Chemistry
Advanced Valve Regulated Lead Acid (VRLA) Design
FAA/PMA Approved, TSO Authorized and Tested to DO-160E
LT® Series Batteries Are Fully Recyclable
LT® Series Batteries Ship Hazmat Exempt
Start strong with the Gill® 7035-28 for your 12V piston powered Cessna, Beechcraft, Piper, Maule, Mooney, American Champion, CPAC, and Alexandria aircraft. See the application chart to locate your aircraft and review your battery options.


| Manufacturer | Model | PMA SUP. # |
| --- | --- | --- |
| Alexandria Aircraft | 17-30, 17-30A, 17-31, 17-31A, 17-31TC, 17-31ATC | 57 |
| American Champion | 7GCAA, 7GCBC, 7KCAB, 8KCAB | 57 |
| Beech / Beechcraft | 19, 23, 24, 33, 35, 35 Bonanza, 36, 50, 76 | 11, 57 |
| Cessna | 180, 182, 185, 188, 190, 195, 206, 207 210 Series | 57 |
| Cessna | 177, 177A, 177B, 180A, 180B, 180C, 180D, 180E, 180F, 180G, 180H, 180J, 180K, 182A, 182B, 182C, 182D, 182E, 182F, 182G, 182H, 182J, 182K, 182L, 182M, 182N, 182P, 182Q, 185, 185A, 185B, 185C, 185D, 185E, A185E, A185F, A188A, A188B, 190, 195, 195A, 195B, 206, P206, P206A, P206B, P206C, P206D, P206E, U206, U206A, U206B, U206C, U206D, U206E, U206F, U206G, 207, 207A, T207, T207A, 210, 210B, 210C, 210D, 210E, 210F,210G, 210H, 210J, 210K, T210F, T210G, T210H, T210J, T210K, T210L, T210M , T210N , T210R | 57 |
| CPAC, Inc. | 112, 112B, 112TC, 112TCA, 114, 114A | 57 |
| Globe | GC-1A, GC-1B | 57 |
| Hawker Beechcraft | 19A, B19, M19A, 23, A23, A23A, A23-19, A23-24, B23, C23, A24, A24R, B24R, C24R, E33, E33A, F33, F33A, F33C, G33, 35, 35-33, 35-A33, 35-B33, 35-C33, 35-C33A, A35, B35, C35, D35, E35, F35, G35, H35, J35, K35, M35, N35, P35, S35, V35, V35A, V35B, 36, A36, A36TC, B36TC, G36, 76 | 57 |
| Maule | M-4-180V, M-5-180C, M-5-235C, M-6-180, M-6-235, M-7-235, M-7-235A, M-7-235B, M-7-235C, M-7-260, M-7-260C, M-8-235, MT-7-235, MT-7-260, MX-7-160, MX-7-160C, MX-7-180, MX-7-180A, MX-7-180B, MX-7-180C, MX-7-180 AC, MXT-7-160, MXT-7-180, MXT-7-180A | 56 |
| Mooney | M20, M20A, M20B, M20C, M20D, M20E, M20F, M20G, M20J, M20K | 57 |
| Piper | PA-18, PA-18A, PA-18S, PA-18S"125", PA-18A"135", PA-18S"135",PA-18"150", PA-18A"150, PA-20, PA-20S, PA-20"115", PA-20S"115", PA-20"135", PA-20S"135", PA-22, PA-22-108, PA-22-135, PA-22S-135, PA-22-150, PA-22S-150, PA-22-160, PA-22S-160, PA-23, PA-23-160, PA-23-235, PA-23-250, PA-24, PA-24-250, PA-24-260, PA-24-400, PA-28-140, PA-28-150, PA-28-151, PA-28-160, PA-28-161, PA-28-180, PA-28-181 PA-28-201T, PA-28-235, PA-28-236, PA-28R-180, PA-28R-200, PA-28R-201, PA-28R-201T, PA-28RT-201, PA-28RT-201T, PA-30, PA-32-260, PA-32R-260, PA-32-300, PA-32R-300, PA-32-301, PA-32R-301, PA-32-301T, PA-32R-301T, PA-32RT-300, PA-32RT-300T, PA-34-200, PA-34-200T, PA-36-375, PA-39, PA-44-180, PA-44-180T | 57 |
| Piper | PA-18, PA-22, PA-23, PA-24, PA-25, PA-28, PA-30, PA-32, PA-34, PA-39 | 18, 57 |
Voltage: 12V
Type: Sealed
Weight: 28
1 hr (C1) 28
30 min (2C) 45
Electrolyte: Not Needed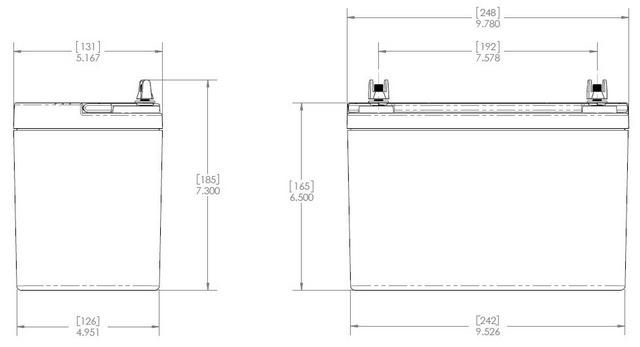 Hello,

I would like to rate on customer service from Teledyne/Gill tech support. I called and was given the cell number of the tech support rep. I wanted to know what the CCA of this battery was as it is not published. I learned that it is 450 CCA because the customer service rep, while at a tradeshow, called me back and took the time ot find out the answer from an engineer. Awesome!
| | |
| --- | --- |
| | Great battery. Spruce even covered the shipping. Got it in 5 calendar days. Spins the starter stroger than any battery I have ever had on my Cessna 182. |
| | |
| --- | --- |
| | No issues. Bolted right up, and as an A&P, it is a direct replacement due to the weight. Some of the other batteries , although stronger, are also heavier, technically requiring a modification to the weight & balance entry. Installed in a Cessna 180 and it works great. Free shipping, as well... |
| | |
| --- | --- |
| | Received battery quickly and in new condition. |
| | |
| --- | --- |
| | Direct replacement for my Cherokee 140. Slight movement in the box compared to the G-35. Watch out when tightening down the terminals as the plastic handle may prevent the terminal from seating correctly. I simply lifted the handle up tigtened the terminal and then rested the handle above them. Solid battery, my stobe light seemed way blinding during preflight and starter cranks without groan. |



Bought this to replace my Gill G35 battery that died after 4 years even with a battery tender all the time the 'plane wasn't flying. Hoping for better life out of this one.

The Aircraft Spruce team were great (as always 😊)
| | |
| --- | --- |
| | Bought this as a replacement for the same type battery that was getting weak after five years. Immediate improvement in starting power. |



Battery arrived promptly and well packaged.
Battery is supplied with threaded posts in terminals that can be replaced with bolts. Allen wrench is supplied to removed studs.
Battery was installed in a 1979 Piper Warrior with original fiberglass battery box. Using a flat washer, lock washer, and two-eared retaining nut it was found that the nut would barely thread on to the stud to fasten the battery cable. Did not attempt to raise the threaded stud to gain more threads - used thinner flat washers.
Then, when securing battery box cover, it was found that due to the increased height of the battery the cover now fit very tightly over the top of the battery, especially at the rear. Should be no battery movement at all.
I have used Gill batteries exclusively. The first two (lead acid) lasted 7 years each. I tried the previous iteration of a VR (maintenance-free) battery but it lasted less than 2 years (and the Gill rep I spoke with admitted it was not a very long-life battery). The last lead-acid battery, which this maintenance-free battery is replacing, also lasted only 2 years.



No more acid leaks! This has been a great battery think I've had it for about three years and I don't even use a charger on it and always cranks up . I live in the mid Atlantic states which gets pretty cold during the winter.

I will buy this again when I need a replacement !
| | |
| --- | --- |
| | as far as providing the needed voltage, So far so good. Battery installation was quick and easy. It fit perfect in the PA28-180 battery box with no problems |
| | |
| --- | --- |
| | As advertised and arrived fully charged. Great battery. My last one lasted over 5 years. I just wish I knew how to properly dispose of the old one. |
| | |
| --- | --- |
| | Delivered in 3 days and free shipping. Got me back in the air fast. Great service and great product. |
| | |
| --- | --- |
| | Arrived quickly and in good condition and charge. Taller than original G35 battery by 1/4 inch which prevented box top from setting evenly. |
| | |
| --- | --- |
| | Very pleased with this new sealed Gill battery. Recommended by my A&P. Solved my planes starting issues. |
| | |
| --- | --- |
| | Battery shipped promptly, and arrived ahead of the expected delivery date. It was fully charged (checked at 12.65) on arrival and dropped right into the battery box of my PA 28-161. Im back in the air. |
| | |
| --- | --- |
| | The 7035-28 sealed battery is a great alternative to the original 12v flooded battery. It has significantly greater cranking power, and I have had no clean-up issues like I had with flooded batteries. |
| | |
| --- | --- |
| | As advertised. Good price. First one, so well see how long it lasts. |



Do not buy a Concorde, this one is cheaper and is as good. The Concorde G35 I bought at a premium price lasted exactly 8 hours. Concorde Tech Support is a joke.
I think like most companies, Concorde, once they were known for a great product let quality fall. I will NEVER buy or suggest to my clients at my FBO ever buy Concorde.
I have never had a problem with Gill.
| | |
| --- | --- |
| | This Gil battery is a preemptive replacement for one I bought from Aircraft Spruce over 3.5 years ago and has given me out standing service over that time. |
| | |
| --- | --- |
| | Just received and installed new battery. Shipping time was shorter than expected and packaging was good. Cant say much about product since several years usually need to elapse for comparisons of batteries to be meaningful. Ive gotten 5 years use from previous Gill unsealed batteries and if their sealed battery does as well or better Ill be satisfied. |
| | |
| --- | --- |
| | Battery came charged but instructed to fully charge before use and that was easy enough. Great starting power. No longer nervous if it will have enough juice in it to start on hot days while doing my preflight. Very happy with this battery. |



I was charged freight on my last order which included a gill 12 volt battery'
In the past years aircraft batteries were always shipped freight prepaid'
Has the policy changed ?..
Also I was to receive your 2020 catalog with free shipping but I did not receive
it,

Thanks
| | |
| --- | --- |
| | Worked as advertised. Very strong. Just dropped into my M231K. Easier than some car batteries. |
| | |
| --- | --- |
| | Great battery but rather pricy. |



by Mid-america S

07/20/2020



Incredible service! Super speedy shipping and great price!
| | |
| --- | --- |
| | Great battery. Lots of cranking amps. |


Are the Gill 35 and 35S batteries the same size in width, height, and length? I need to replace a Gill 35 that fits in a very tight battery box. I want a Gill 35S battery, but I need to confirm that it will fit in the installed battery box. Please confirm. Howard
Yes, the G-35 and the G-35S have the same dimensions. You can confirm this by pulling up the drawing on each battery, which is referenced as an additional image. It can be difficult to see as it is white on white, but if you mouse over the image to the right of the primary image, you will see the drawing which you can then enlarge.
---

Is there a core refund for Gill Batteries?
No, there is no core fee charged at the time of purchase and no core refund after purchase. All batteries are sold as new replacements.
---

Is the new G-35S sealed battery (7035-28) still non-spillable and considered non-hazardous material for shipping?
Yes, that is correct. It is sealed and considered non-hazardous for shipping purposes.
---

Is this an AGM or GEL type battery?
Per the manufacturer: All Gill LT sealed batteries are AGM.
---

What is the cold cranking amps for a Gill 7035-28 battery?
Gill stopped measuring in cold cranking amps as this in an automotive term. They are now using IPP and IPR. IPP is rated at 1,599 amps and IPR is rated at 1,088 amps.
---

how many amps and how many cold cranking amps does this battery have?
The Gill 7035-28 battery (11-11312) is a 28 amp battery. Cold cranking is an automotive term, aircraft use IPP which is 1,599 amps.
---

Can the Gill 7035-38 battery be used as a replacement for the G35?
Yes, this can be used as a replacement for a Gill G35 battery.
---

Can the Gill 7035-28 battery replace the Concorde RG-35AXC in my 1973 Piper Cherokee Challenger? I can validate the dimensions per drawing but I cant see the terminals in drawing if they will match my aircraft like Concord battery
Yes, part # 11-11312 is a direct replacement for a RG-35AXC.
---

Which battery minder do you recommend with the Gill 7035-28 battery?
You can use P/N# 11-07742 or P/N# 11-09985 for the 7035-28 battery. See Accessories.
---

Does the Gill LT 7035-28 sealed battery come fully charged?
Yes, this battery ships fully charged.
---

Can you use any regular 12V battery charger for this Gill LT 7035-28 battery or do you need a specific charger?
It is recommended for the 7035-28 battery to be used with part # 11-09985 charger.
---
Enter the quantity desired of each item in the Buy column.