Other Customers
Have Also Viewed:
CESSNA 180 / 182 (EARLY MODELS) BAFFLES
See Below for Parts, Pricing, and Ordering
From $50.75 to $515.00





Reference Chart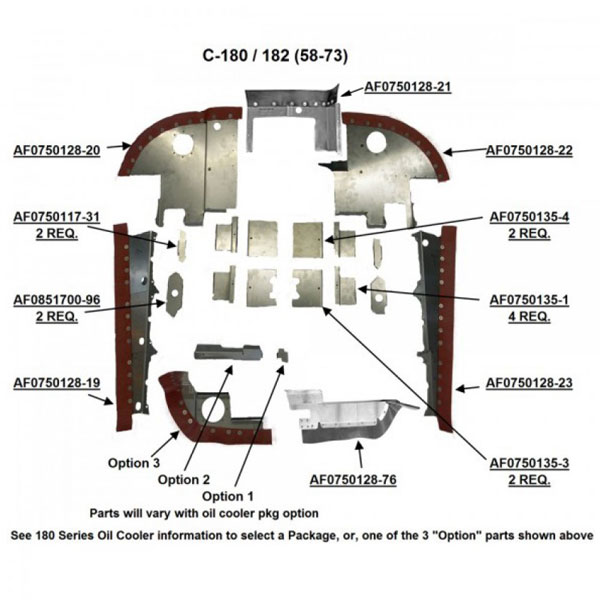 Enter the quantity desired of each item in the Buy column.



Description
Part Number
Price
Buy
Sub-Total
AF750128-20 BAFFLE COMPONENT
05-01528
$513.00
AF0750117-31 BAFFLE COMPONENT
05-01582
$78.90
AF0750128-21 BAFFLE COMPONENT
05-01531
$155.75
AF0750135-4 BAFFLE COMPONENT
05-01561
$50.75
AF0750128-22 BAFFLE COMPONENT
05-01533
$515.00
AF0750128-23 BAFFLE COMPONENT
05-01532
$211.95
AF0750135-1 BAFFLE COMPONENT
05-01536
$103.95
AF0750117-30 BAFFLE COMPONENT
05-01552
$66.75
AF0750128-19 BAFFLE COMPONENT
05-01530
$211.95

Current Total
Click Add to Cart to add them to your shopping cart
or Add to Wishlist to store them for ordering later.
These baffles are FAA/PMA approved, have the silicone seals attached, and arrive ready to install. About these baffles in general:
Baffles are made of 6061-T6 aluminum with many improvements over the original baffling.
Improvements include: stainless steel brackets where needed, hard rivet construction, half inch backing plates on seals, and an improved fit to increase engine cooling.
All engine baffles are designed to replace the factory installations and are individually interchangeable.
The baffle seals are fiberglass reinforced, high temperature silicone: black is standard.
If aftermarket components of differing dimensions have been installed, it is the installer's responsibility to adjust the baffles to fit. Sample components include: starters, alternators, exhaust, etc.
Mounting hardware is not included (nuts, bolts, screws, washers, retaining springs, and Tinnerman clips).

If purchasing a complete baffle set, please measure you oil cooler and compare to package images A, B, C, and D to select the oil cooler package required for your airplane. This will be noted at checkout.

All baffles are bare 6061-T6 aluminum unless the powder coating option is chosen. The powder coating finish is a black and grey hammertone, and available for an additional 20%.

The silicone baffle seal material can be special ordered in orange or dark blue by calling
1-877-477-7823 or by email
Eligibility:
C-182: Serial No. 34754 thru 18261426 1958-1973
C-180: Serial No. 32151 thru 53203


Do the selected baffles come with the seals pre-installed, or must the seals be ordered separately?
Yes, they come with the seals pre-installed. You can order these without the seals installed as well. They will come with the product separately along with the hardware for installation. Just make sure you mention this in the "special instructions" box after you add this to your cart.
---