Other Customers
Have Also Viewed:
WHELEN STROBE SYSTEM A429
See Below for Parts, Pricing, and Ordering
From $11.85 to $326.00





Reference Chart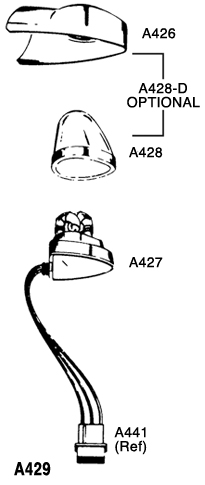 Enter the quantity desired of each item in the Buy column.



Model #
Description
Part Number
Price
Buy
Sub-Total
A426
Wingtip Strobe Lens Retainer
11-03233
$174.80
A428
Wingtip Strobe Lens
11-03236
$185.99
A428-C
Wingtip Strobe Radio Shielded Lens
11-03694
$158.75
A428-D
Wingtip Strobe Radio Shielded Lens plus A426 Retainer assy.
11-03290
$326.00
A427
Flash Tube Assembly
11-03219
$226.95
A427-M
Flash Tube Assembly with Molex Connector
11-03272
$194.75
A427-4
Rubber Pad Spacer
11-03693
$24.50
A441
AMP Connector and 3 Pins
11-03211
$11.85

Current Total
Click Add to Cart to add them to your shopping cart
or Add to Wishlist to store them for ordering later.
WHELEN STROBE SYSTEM A429

| | |
| --- | --- |
| | Works great. Must use AMP connector for Cessna SkyHawk-NOT Molex. Learned the hard way! |



The connector is well but the photo is confusing for order.
Best regards
Yves



Order was requested red UPS and arrived the next day. While it was important to have the pins and connectors as back-up, they were not needed.

JKM
| | |
| --- | --- |
| | This was the correct lens. It was necessary to call Spruce to determine that this lens was the correct lens to use as a replacement. |
| | |
| --- | --- |
| | The retainer was the correct retainer, but it was necessary to call Whelen to determine which retainer was the correct one to use as a retainer. The A429 is an older system than the newer A650 system and both look very similar. Note that there was no connecting screw included. The connection of the retainer is somewhat fragile an it is necessary to obtain the proper size and type of screw to use to fix the retainer to the assembly. If the original retainer was lost in flight that may mean that the attachment point has worn and an oversized screw may be required. |


Does the Whelen A427 come with a connector or just wires?
Yes, the A427 comes with the wire and connector attached.
---