1-877-795-2278 | info@aircraftspruce.ca
Aircraft Spruce Canada
Brantford, ON Canada
Corona, CA | Peachtree City, GA
Chicago, IL | Wasilla, AK
FREE SHIPPING ON ORDERS OVER $500 (SOME EXCLUSIONS APPLY) | 877-795-2278
WHELEN STROBE SYSTEM A650-PR / A650-PG
From $22.95 to $312.00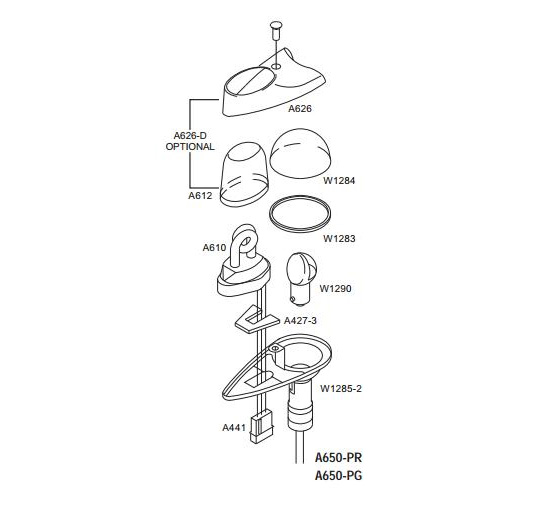 (Hover to zoom | Use mouse wheel for +/-)
| Model # | Description | Part Number | Price | Buy |
| --- | --- | --- | --- | --- |
| A626 | Retainer Lens | | $90.80 | |
| A626-D | Radio Shielded Lens Retainer Assembly | | $267.95 | |
| A612 | Magnifying Lens | | $92.75 | |
| A612-D | Radio Shielded Lens Retainer Assembly | | $241.95 | |
| W1284-G | Forward Position Light Lens (Green) | | $120.99 | |
| W1284-R | Forward Position Light Lens (Red) | | $120.99 | |
| W1284-C | Forward Position Light Lens (Clear) | | $312.00 | |
| W1283 | Forward Position Light Gasket | | $29.90 | |
| A610 | Flash Tube Assembly | | $264.95 | |
| A610-M | Flash Tube Assembly with Molex Connector | | $160.75 | |
| W1290-14 | 14 Volt Position Light Bulb | | $143.90 | |
| W1290-28 | 28 Volt Position Light Bulb | | $176.75 | |
| A427 | Flash Tube Assembly | | $311.00 | |
| A427-M | Flash Tube Assembly with Molex Connector | | $270.95 | |
| A427-4 | Rubber Pad Spacer | | $23.80 | |
| W1285-2 | Forward Position Light Base | | $210.95 | |
| A441 | AMP Connector and 3 Pins | | $22.95 | |
Overview
WHELEN STROBE SYSTEM A650-PR / A650-PG
Customers Also Viewed
Frequently Purchased With
Related Items
Reviews
Worked
Walt W
February 6, 2020
Jedrzej K
October 19, 2017
I ordered the A626, got the one with the strobe lens inserted, glued in place. (626D) It seems nice but does not match the A610 mechanism I already had so sent it back.It is oval rather than teardrop like the one I had. I also ordered a W 1290 bulb which arrived in a flimsy cardboard box and smashed by the heavier objects in the carton. Spruce replaced this quickly but it should have been packed better or separate from the Claw tie downs.
Dana G
June 9, 2017
Q&A
Q: does the part W1285-2 come with the wire pigtail that is pictured?
No, the W1285-2 is the base only, no wire pigtail.
Q: What is the difference between the A610 and the A427 strobe flash tube assembly
They are shaped differently and used with different light assemblies.