2018 AIRVENTURE OSHKOSH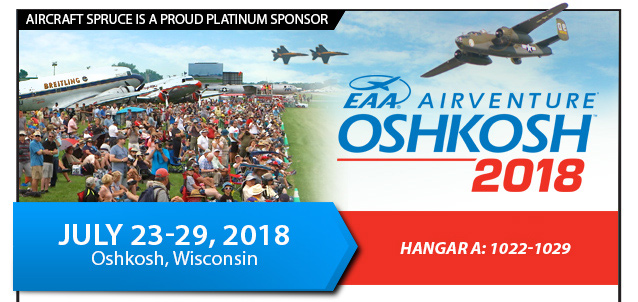 GENERAL INFORMATION

Date:
July 23-29, 2018
Group:
EAA AirVenture Oshkosh
Location:
Oshkosh, Wisconsin
Booth:
Hangar A, Booths 1022-1029
Website:
Click here

Aircraft Spruce will be at 2018 EAA AirVenture Oshkosh on July 23-29, 2018.

Visit our booth Hangar A, Booths 1022-1029 to get great discounts and meet our customer friendly Aircraft Spruce Team.

PROCESS AT OSHKOSH

This new feature is designed to make your time at our booth more efficient, leaving you more time to enjoy the rest of the show. Simply add the items to your shopping cart that you would like to order at Oshkosh. Then, select "Process at Oshkosh" as the Shipping Method. You will not be required to enter payment information, so please remember to bring payment to our booth for processing. We cannot guarantee the items on your order will be in stock at the booth, so some items may need to be shipped to you. Bring your order number to the Aircraft Spruce booth at Airventure and we can easily complete the transaction for you. Remember, this is not a pick up option, so the order will not be ready to take with you when you arrive. It simply allows you to facilitate the transaction with out sales rep at the booth by uploading the items you need into our system. We look forward to seeing you at the Aircraft Spruce Oshkosh booth.

FREE 2018-2019 CATALOG

1100+ page Aircraft Spruce color parts catalog

FREE UPS GROUND SHIPPING

Receive FREE ground shipping on orders placed at the Aircraft Spruce booth (Does not apply to oversized or hazardous goods)

AIRCRAFT SPRUCE T-SHIRT

Free Aircraft Spruce T-shirt with an order of $100+ or more!

(while supplies last, one per customer, one promo item & excludes MRP items)