Other Customers
Have Also Viewed:
TEMPEST AA48110-2 SPIN-EZ OIL FILTER
Make Selection(s) Below To Order
From $32.70 to $188.75
Package Quantity:

 
 
Part Number:
Tempest AA48110-2 Spin-EZ Oil Filter.

What's Tempest's recommendation for dealing with stuck oil filters? At your next filter change - UPGRADE to Tempest's patent-pending "non-sticking" SPIN EZ™ aircraft engine oil filters.

Tempest's SPIN EZ filters are designed to come off easy. Heat, time and pressure can extrude oil, grease, DC4® compound or similar liquid lubricants from between a filter's rubber seal and the filter mount pad - leaving the filter seemingly "bonded" to the engine's mount pad - and making it nearly impossible to remove. Tempest's proprietary SPIN EZ adhered solid seal lubricant stays where it's supposed to - between the seal and the mount pad's surface. SPIN EZ solid lubricant won't extrude or squirt out from under the seal. It prevents the bond forming environment that makes legacy filters stick.

Avoid frustration. Save time and money. No more messy DC-4 compound. No more stabbed cans. At your next filter change, UPGRADE to state-of-the-art Tempest SPIN EZ oil filters - the filter that comes off without a fight!
Product Specifications
OEM Supplier to Robinson TCM
Full Can Thickness: .019"
Base Plate Thickness: .187"
Burst Pressure: 700 psi
Media Size for -2 Filters (48103-2,48108-2, 48110-2): 311 sq. in
Media Size for Tall Filters (48104, 48109, 48111): 460 sq. in.
| Filter Model | Overall Dimensions (Nominal) | Thread Size & Type | Installation Torque |
| --- | --- | --- | --- |
| AA48110-2 | 4 3/8 H X 3 3/4 Dia. | 3/4-16 Male Thread | 16-18 Ft Lbs |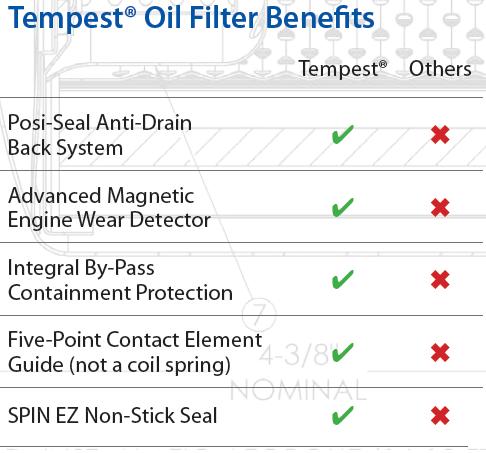 | | |
| --- | --- |
| | I am a fan of Tempest products, The oil filters with the Spin EZ filters with the pretreated gasket are really nice. It is just one less step to have to deal with. |
| | |
| --- | --- |
| | Love the magnetic filters |
| | |
| --- | --- |
| | No issues. Change oil every 40-50 hours using Aeroshell 15-50 for 12 years and 1600 hours on 0320 E2D engine. I like Tempest but have also used Champion. Personal preference and the internal magnet on Tempest makes logical sense. |
| | |
| --- | --- |
| | Its an oil filter what can I say, it fits behind the engine because it is really short, damn messy to get out of there even after the oil is drained. The Tempest ones have a magnet in them and they get out a lot of the really fine FE particles. |



by Alexander L

12/31/2018



It's a personal preference, I like Tempest spin ez. Removing oil filter made a little less effort. Change oil every 25 hrs on Exxon Mobil 20w-50 on TIO540. Oil analysis was good. Oil filter is doing its job.



Cant go wrong with Tempest Oil Filter.
Actually Ive never had any issues with Tempest products


| | |
| --- | --- |
| | Im not real sure about the EZ Spin. I torque the filter to the manufacturers specification and it still takes quite a bit of torque to get it off. I actually cant tell if it filters any worse or any better than the competition. Its definitely cheaper. |
| | |
| --- | --- |
| | Good filters for reasonable cost. |



What can I say, it's an oil filter!
It fit, it showed up on time, and it comes off without any problems. Fit my Archer great!



Have used these filters for a number of years and find them to be equal or better than Champion. I was also allowed to tour Tempest's factory in Burlington, NC last year, and I was most impressed with their very modern manufacturing process and especially their quality assurance procedures.
Bob
| | |
| --- | --- |
| | Really good deal for a six pack, especially now that I have the right part 🤪 |
| | |
| --- | --- |
| | I installed this filter per instructions, with no lubricant on the rubber gasket and torqued to 16-18 ft. lbs. 50 hours later, Im unable to unscrew it. Ive worked for two days using every tool in my arsenal and its still stuck fast. If I ever use these again, I WILL be lubricating the rubber gasket with DC-4 and only tightening to contact plus 3/4 turn. I am not happy. |
| | |
| --- | --- |
| | Our club has always been satisfied with the Tempest filters they certainly fill the task at hand. |
| | |
| --- | --- |
| | Great filter at a fair price. |
| | |
| --- | --- |
| | Great product, exceptional service |
| | |
| --- | --- |
| | Excellent, high quality filter that is carefully & deliberately packaged to avoid contamination. Take note that the installation instructions clearly state that the gasket should be clean, dry, and free of oil when spun on! |
| | |
| --- | --- |
| | Bought 2 of these 48110-2 for my O-320 based on an ACS answer to a customer question that it was the same as a Champion 48110-1 filter. I had always previously used the Champions but decided to save a couple of bucks. Bad move. The Champion rim is slightly smaller than the canister diameter and fits well while the Tempest is slightly larger. Large enough that it hits the line to the oil cooler directly under the filter. I have a straight filter adapter and the Tempest does not fit. Only if you have an angled adapter, does the Tempest fit. |
| | |
| --- | --- |
| | Order was complete and shipping was fast. Great prices and service all the way around. |


Concerning oil filters, is a Champion CH48110-1 the same as a Tempest AA48110-2. Also, can a Tempest AA48108-2 be used where a Tempest AA48110-2 is used?
The Champion CH48110-1 and Tempest AA48110-2 are the same fit and function, and interchangeable. The AA48108-2 has female threads, and the AA48110-2 has male threads.
---

Is the tempest aa48110-2 the same length as the champion ch48110-1?
Yes, these filters have the same form factor.
---