Other Customers
Have Also Viewed:
C & D CESSNA AIRCRAFT HEATERS
See Below for Parts, Pricing, and Ordering
From $9781.00 to $12720.00





Reference Chart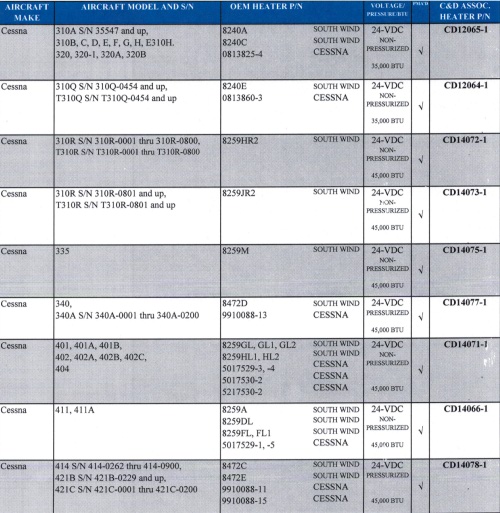 Enter the quantity desired of each item in the Buy column.



Model Number
Aircraft
Voltage/Pressure/BTU
Part Number
Price
Buy
Sub-Total
CD12065-1
310A S/N 35547 and up
310B, C, D, E, F, G, H, E310H
320, 320-1, 320A, 320B
24 VDC
Non-Pressurized
35,000 BTU
05-12002
$11299.00
CD12064-1
310P S/N 310QP-0454 and up
T310Q S/N T310Q-0454 and up
24 VDC
Non-Pressurized
35,000 BTU
05-12003
$9876.00
CD14072-1
310R S/N 310R-0001 thru 310R-0800
T310R S/N T310R-0001 thru T310R-0800
24 VDC
Non-Pressurized
45,000 BTU
05-12004
$9897.00
CD14073-1
310R S/N 310R-0801 and up
T310R S/N T310R-0801 and up
24 VDC
Non-Pressurized
45,000 BTU
05-12005
$9795.00
CD14075-1
335
24 VDC
Non-Pressurized
45,000 BTU
05-12006
$9781.00
CD14077-1
340
340A S/N 340A-0001 thru 340A-0200
24 VDC
Pressurized
45,000 BTU
05-12007
$11158.00
CD14071-1
401, 401A, 401B
402, 402A, 402B, 402C
404
24 VDC
Non-Pressurized
45,000 BTU
05-12008
$9905.00
CD14066-1
411, 411A
24 VDC
Non-Pressurized
45,000 BTU
05-12009
$10862.00
CD14078-1
414 S/N 414-0262 thru 414-0900
421B S/N 421B-229 and up
421C S/N 421C-0001 thru 421C-0200
24 VDC
Pressurized
45,000 BTU
05-12010
$12720.00

Current Total
Click Add to Cart to add them to your shopping cart
or Add to Wishlist to store them for ordering later.
The greatest technological advancements take place on the inside of C&D Aircraft Heating Units. Combustion tubes are reinforced to eliminate implosion and distortion. Flame tube and areas of high temperature are coated with C&D "Durakoat™" coating. Durakoat™ has been proven to minimize the corrosive effect of the fuel air burn.

Also incorporated in the combustion tube is a specially designed mixer assembly. Fuel and air are more efficiently mixed in this chamber, plus a new type spark plug is incorporated to ignite and burn completely all combustible gases resulting in a clean burn. And from outside the aircraft, you will also note little or no smoke from the aircraft exhaust, due to a far more efficient burn.

Upon purchase, your C&D replacement aircraft heaters come complete with a comprehensive service manual, high output electronic ignition unit, combustion air blower (which uses a long life permanent magnetic motor), electronic temperature control switches, a 25-micron fuel filter (to eliminate any fuel contamination), and for South Wind aircraft heater replacements, an electric fuel pump.

Little, if any, modification is required, and a simple logbook entry is all that's needed to complete your installation.

Recommended overhaul is 2000-hours.

A 2000-hr/4-yr manufacturers warranty is included with all C&D aircraft combustion heaters.

AD Free Janitrol & South Wind Aircraft Heater Overhauls, Repairs and Servicing: Janitrol aircraft heaters and South Wind aircraft heater overhauls, repairs and servicing for OEM equipment are available on an AD Free basis for many types of aircraft. C&D Associates provides new aircraft replacement parts that will bring your equipment up to current standards and TBO times.

C&D Aircraft Heating System Kits:
Designed for upgrading obsolete aircraft heating systems or first time installation in your aircraft, C&D Installation kits include a complete group of materials necessary to replace the obsolete system or to install for the first time. Depending on the aircraft heating system, purchase may include, heater control switch, circuit breaker, mounting brackets, electronic thermostat, reinforcement panels, wiring, fuel line, decals and the aircraft heating unit selected. Each aircraft heating system kit comes with a complete set of FAA approved installation instructions and Supplement Type Certificate data sheet or PMA approval.
FAA/PMA approved direct replacements for all aircraft combustion heating systems.
16 years and still no AD's - the industry's best record of safety and reliability.
Increased heat output/higher BTU.
Electronic temperature controls.
High-output electronic ignition.
2000-hour TBO.
Maximum efficiency - Burns with little or no exhaust smoke.
4-year/2000-hour full warranty.