Other Customers
Have Also Viewed:
SPOT X 2-WAY SATELLITE MESSENGER





Part # 11-16361
SPOT X provides 2-way satellite messaging so you can stay connected to family, friends, and colleagues whenever you're outside of cellular range, including direct communication with Search & Rescue services in case of life-threatening emergency. SPOT X even provides you with your own personal mobile U.S. number so others can message you directly from their cell phone or other SMS devices at any time.

Message
Exchange messages with any cell phone number or email address from virtually anywhere in the world.

S.O.S.
Send an S.O.S. to the 24/7 Search & Rescue center, message back and forth about the nature of your emergency, and receive confirmation when help is on the way.

Tracking
Select from 2˝, 5, 10, 30, or 60 minute tracking intervals, and let family, friends, and other adventures.

Check In
Quickly and easily let everyone know you're OK.

Post to Social
Link your Twitter account to keep your friends and family in the know wherever you go.

Compass
Built-in compass and programmable waypoints to help you navigate.


Features:
Illuminated QWERTY Keyboard
2.7" Backlit Display
U.S. Mobile Number
Impact Resistant, Dust, & Waterpoof (IP67)
Rechargeable Lithium Battery
IMPORTANT: Spot X can only be shipped within the USA and Canada.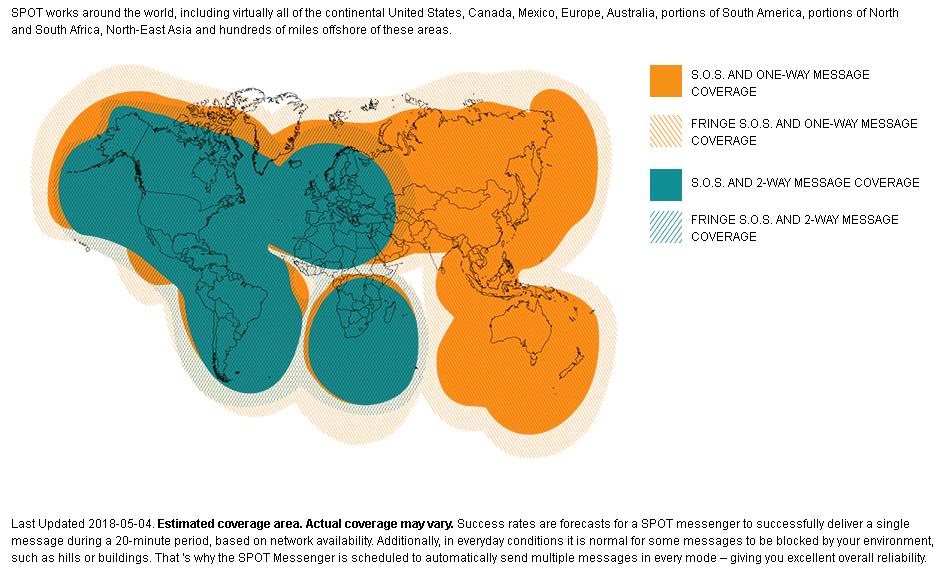 Height: 6.54" (16.61 cm)

Width: 2.9" (7.37 cm)

Thickness: 0.94" (2.39 cm)

Weight: 7.0 oz. (198.4g) with Lithium batteries

Operating Temp: -4F to 140F (-20C to +60C)

Storage Temp: -4F to 140F (-20C to +60C)

Operating Altitude: -328ft to +21,320ft (-100m to +6,500m)

Impact Resistance: MIL-STD-810G for shock, IP67 for dust

Waterproof Rated: IP67 (1 m for up to 30 Minutes and dust proof)
SPOT X Device
Strap and Carabiner
Micro USB Data/Power Cable
AC (Wall) Power Adapter
Quick Start Guide
S.O.S. Mirrored Sticker
Warranty Card
GEOS Reference Guide


Will the Spot X function in an aircraft at altitude?
Per the manufacturer, it will work but if you have a metal aircraft it can interfere with the signal of the unit.
---

Would this Spot X 2-way satellite messenger device be suitable for use on a cruise ship?
Per the manufacturer, this will work with a clear view of the sky. We have added a coverage map to the web page.
---

Does this Spot X messenger device work in the Bahamas?
Yes, the Spot X is a worldwide device.
---

How long does the Spot X hold a charge?
240 HOURS (10 DAYS) OF BATTERY LIFE IN CONTINUOUS 10 MINUTE TRACKING MODE.*
*Battery life is based on a full charge during initial device usage and ideal operating temperature of 77F with a clear view of the sky with no obstructions.
---

Is there a monthly service fee associated with the Spot X 2-way satellite messenger?
Yes, please see the 'Service Plans' tab which includes a link with
---

Can you place regular batteries in the Spot X Messenger device if you are unable to charge it?
No, it has a rechargeable lithium battery that cannot be removed or replaced.
---

Does the Spot X GPS show on the screen?
This unit has a built in compass and allows waypoints to be programmed in to help navigate. It is not a moving map.
---

What is the life time of the Spot X battery on one charge?
The battery has 240 hours of life in continuous 10 minute tracking mode. Please note that battery life is based on a full charge during initial device usage and ideal operating temperature of 77f with a clear view of the sky, with no obstructions.
---