1-877-795-2278 | info@aircraftspruce.ca
Aircraft Spruce Canada
Brantford, ON Canada
Corona, CA | Peachtree City, GA
Chicago, IL | Wasilla, AK
FREE SHIPPING ON ORDERS OVER $500 (SOME EXCLUSIONS APPLY) | 877-795-2278
CELERITY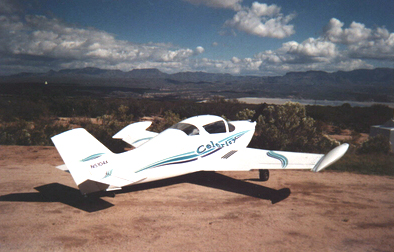 The Celerity is a high performance, 2-place side-by-side airplane with fully retractable landing gear, including the tail wheel. It can also be built as the "Marathon" with fixed tricycle gear. Designed for builders with average skills, both aircraft are constructed from wood with fiberglass covering. Six construction videos are available. Celerity cruises in the 200 mph range on 150 to 200 hp and has an operating range of more than 750 miles with fuel reserve. The wing span is 25 feet and it is just under 22 feet. Complete Celerity materials kits are available through us. Request free kit list.
---
Specifications:
Kit Price w/o Engine: ~$11,500
Plans Price: ~$295
Number of Seats: 2
Building Materials: N/A
Building Time: ~3000 HRS
Standard Engine: LYC. O320/160 HP
Horsepower: 150-180
Wing Span: 25 Ft.
Wing Area: 100 Sq. Ft.
Empty Weight: 1169 Lbs.
Gross Weight: 1825 Lbs.
Takeoff Distance: 800 Ft.
Landing Distance: 600 Ft.
Cruise Speed: 200 MPH
Top Speed: 220 MPH
Fuel Capacity: 50 Gal.
Range: 900 Miles
---
Mirage Aircraft, Inc. ,
4661 N Stallion Dr
Tucson, AZ 86314
Phone: 928-273-6802
Webpage: www.mirage-aircraft.net
Email: mirage@copper.net