Other Customers
Have Also Viewed:
GARMIN GDL® 50 PORTABLE ADS-B / GPS RECEIVER
Make Selection(s) Below To Order
From $972.00 to $1111.00





Note: For use with the Garmin Pilot App and other Garmin Portable systems only.

Note 2: GDL 50 ADS-B WILL work for traffic internationally on the second frequency, 1090ES. These receivers (all ADS-B receivers) will NOT receive FIS-B weather products outside the USA as that is a USA only system. They will not receive traffic on frequency 978 outside the USA but WILL work internationally on frequency 1090ES.
Wirelessly Link to Weather, Traffic, GPS and More
Receive subscription-free animated U.S. datalink weather¹ via ADS-B "In"
ADS-B "dual-link" traffic with TargetTrend™ and TerminalTraffic™ technology3
Wireless connectivity for display on select mobile device apps and Garmin portables
Compact device with rechargeable battery; designed to sit on aircraft glareshield
Provides GPS position data, backup attitude and more
Providing an easy-to-use and completely portable aviation datalink, the compact GDL 50 ADS-B receiver lets you access the subscription-free ADS-B weather and traffic services available in the U.S. — all while providing GPS position, speed and altitude information as well as backup attitude reference. Better still, you can use our Connext® wireless connectivity to stream this information onto multiple Garmin aviation portables (including aera® 660, aera 796 or aera 795 series) as well as iPad® tablets and mobile devices with the Garmin Pilot™ app.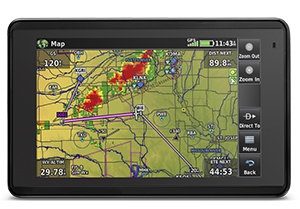 Track Aviation Weather
Featuring ADS-B "In" datalink technology, the GDL 50 receiver allows reception of subscription-free Flight Information Service-Broadcast (FIS-B) weather information. With this, your compatible devices² can display animated graphical weather plus METARs, TAFs, winds and temperatures aloft, PIREPs, NOTAMs and other features linked from ADS-B. And to help you maintain the most current weather picture, your GDL 50 receiver can queue the ADS-B weather data display while your display device is sleeping or turned off, so it automatically updates when you turn the screen back on.

Spot Potential Traffic Threats

To aid in situational awareness, GDL 50 can also receive ADS-B position reports directly from other aircraft in your vicinity. In the U.S., 2 frequencies (978 UAT and 1090 ES) are approved by the FAA for ADS-B broadcasts, so the GDL 50 series offers access to both frequencies. This allows you to see the most comprehensive view of all ADS-B "Out" equipped targets in your vicinity. Your compatible display³ will alert you by announcing traffic targets both audibly and visually. Spoken audio alerts announce "Traffic, Traffic" to get you looking right away.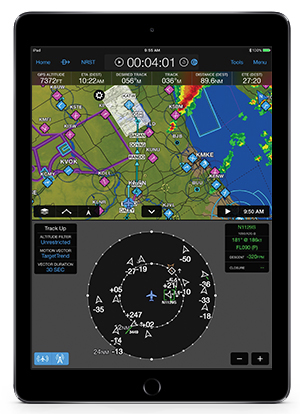 View Enhanced Traffic Features

To further extend your display's traffic monitoring capability (on compatible displays), the GDL 50 receiver also allows access to our TargetTrend relative motion tracking technology. This feature gives you a faster, more intuitive way to judge the direction and closure rate of intruding targets relative to your aircraft's position. So, rather than a fixed "snapshot" of the traffic situation, TargetTrend provides a more dynamic "velocity-based" display that shows which aircraft trajectories are most likely to converge with your own. For example, if traffic is ahead of you and traveling along the same track but at a slower rate, the motion vector would point opposite of its indicated direction of flight to show you are overtaking the traffic. The result — you're able to make faster, better target avoidance decisions.

For airport operations, TerminalTraffic technology (a part of the comprehensive Garmin suite of Terminal Safety Solutions) enables ADS-B-equipped surface targets to be displayed on your device's SafeTaxi® diagram so you can see what's happening with traffic on busy runways and taxiways. ADS-B-equipped aircraft in-flight are easily distinguished from ground vehicles and taxiing aircraft, which are displayed using distinct colors and symbols. Thus, TerminalTraffic provides a clear, real-time overview of on-surface activity in the airport environment.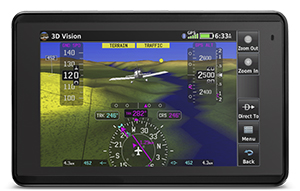 Built-in GPS and Attitude Sensors for SVX™ Display

In addition to its weather and traffic capabilities, your GDL 50 feature set includes a built-in WAAS GPS receiver. This enables GDL 50 to deliver highly accurate aircraft position, speed and altitude information to your compatible mobile device app. Also, built-in attitude sensors enable select Garmin aviation portables and apps with our SVX synthetic vision technology to serve as a backup attitude reference during your flights. With virtual terrain, obstacles, runways, horizon cues, HSI, GPS speed, altitude and more, this brings a whole new perspective to your portable navigation.

Battery Power for Hours

GDL 50 is a true go-anywhere device. A rechargeable built-in lithium-ion battery allows GDL 50 to operate for up to 8 hours on a single charge. And for operation connected to power, you can plug it into your aircraft's 12 V power outlet with the included adapter cable, or use the microUSB port positioned on the side of the receiver.

Link up with the Benefits of ADS-B

For pilots who want subscription-free U.S. datalink weather and traffic, the compact GDL 50 portable ADS-B receiver offers a versatile solution with an array of additional capabilities. And by going with Garmin, your receiver will be backed by a comprehensive 1-year warranty — and by the industry's No. 1-ranked product support team.



GDL 50 is a noncertified receive-only product. It does not provide ADS-B "Out" capability to satisfy FAA mandate requirements.
¹Not all ADS-B weather products may be available across all devices. Check your Pilot's Guide for specifics about which products are available on your device.
2Audible traffic alerting, TargetTrend and TerminalTraffic require compatible displays. Check your Pilot's Guide for specific capabilities available on your display.
3The attitude information provided by GDL 50 is not intended to be a source of attitude information for flight in instrument meteorological conditions

Apple and iPad are trademarks of Apple Inc., registered in the U.S. and other countries. The Bluetooth® word mark and logos are registered trademarks owned by Bluetooth SIG, Inc. and any use of such marks by Garmin is under license.
Compatible with G3X Touch™, aera® 660 and aera 795/796 aviation portables, the Garmin Pilot™ app on Apple® or Android™ mobile devices, and FltPlan Go.
GDL 50 can simultaneously support up to: 2 wireless display devices and 2 wired display devices.
Rechargeable lithium-ion battery allows the GDL 50 to operate for up to 8 hours on a single charge.
Physical
Unit dimensions, WxHxD: 4.9" x 1.3" x 3.4" (12.44 x 3.30 x 8.64 cm)
Weight: 0.75 lbs (0.34 kg)
Anti-slip mat (bottom of unit only)
Performance
Operating temperature: -20°C to +60°C (-4°F to 140°F)
Operating altitude: To 55,000 ft
Nominal operating velocity range: 0 – 800 kts (411 m/s)
Power input: 10 to 32 VDC, 3.5 W max.


Battery type: Lithium-ion rechargeable (built-in)
Charge temperature: Unit may not charge at extreme temperatures below 0° C (32° F) or above 32° C (90° F)
Typical battery operating time: 5 hours
Connections
18-pin power and data connector
microUSB
ADS-B MCX antenna port
GPS MCX antenna port
Wireless Connext™ (Bluetooth®)
GDL 50 portable receiver
Suction cup for cable placement
Mounting bracket
Trial subscription to Garmin Pilot™ app
Vehicle power cable
Documentation

| | |
| --- | --- |
| | There was absolutely no kind of documentation or instructions included in the packaging as stated in the included. Not Spruces fault. |



While the unit works fine and the staff at Spruce were excellent, the unit has some significant improvement opportunities. First, the documentation for the Remote versions is very skimpy. Second, there are no antennae or harnesses included (unlike the portable model) even though it's priced the same as the portable. It would be really nice, in particular, if a basic power cord could be supplied using Bluetooth, that's all I needed yet I had to come up with a 15-pin D-sub just for two wires.
The biggest frustration, though, is the size of the unit. Since it has AHRS, it needs to be mounted fairly level and pointed forward. Why not make it a two-part unit with the AHRS sensors separate and much smaller? It was a real challenge mounting it in my 2-seat tandem open-cockpit gyro. Frankly, for my needs, it's a shame there is no longer an option without the AHRS.
In hindsight, even though they're phasing it out, the GDL39 may have been the more practical one for me because of size and shape.
| | |
| --- | --- |
| | I like the product and Aircraft Spruce is always helpful if you run into issues. For the price I think Garmin should give you an option of cigarette lighter adapter or direct power connector instead of making you buy the power cable as an add on... |
| | |
| --- | --- |
| | I have the GDL50 and it works great with my IphoneX and G Pilot. Synthetic vision works! |



This thing is great. I cant believe how many aircraft I was missing. One flight with this and I will never fly without it again.

If you fly VFR I recommend getting this ASAP.
| | |
| --- | --- |
| | Really completes the functionality of the Aera 660. Has a tacky strip on the bottom to stay in place on the glareshield. I really am impressed with this combination. |
| | |
| --- | --- |
| | Awesome unit. Far superior to GDL39 due to internal battery and smaller antenna. GPS more quickly gets new position on salary up. Works flawlessly with Garmin Pilot or FltPlan Go apps. |
| | |
| --- | --- |
| | Flew with the GDL50 this weekend. Worked as described. |


Does the GDL 50 remote mounted version come with a mount and wiring harness for the aircraft? If not...what else is needed for the installation?
Per the manual this does not come with a mount or wiring harness. This has holes for hardware and it comes with a connector to make a wiring harness. You will need male BNC's for the antennas. One for GPS/WAAS and one to receive the ADS-B frequency. The GA 35 and AV-74 antennas would be good choices.
---

What is the difference between the GDL39 3D and the GDL50?
The only difference is the form factor of the units, and at this time, the GDL 50 is only compatible with Garmin portable GPS units and the Garmin Pilot app.
---

I believe there is an error in your opening note about this GDL 50R (& GDL 50,51,52). ADS-B WILL work for traffic internationally on the second frequency, 1090ES. These receivers (all ADS-B receivers) will NOT receive FIS-B weather products outside the USA as that is a US only system. They will not receive traffic on frequency 978 outside the USA. Again they WILL work internationally on frequency 1090ES.
Thank you for your note on this. We will post it for other customers to review.
---

Will the portable model Garmin GDL 50 work with ForeFlight?
Yes, per Garmin, this will work with Foreflight.
---

Will the portable GDL 50 mounted on the dash by the windscreen receive ADS weather and traffic? What I want to avoid is putting another WAAS and transponder antenna to power the GDL 50 when I mount it by the windscreen on the dash. Also can I wire it into the main buss?(my plane is a 24V buss). Your overview says 12V but the specs say 10-32V.
Yes the GDL 50 will work on glare shield without any external antennas. The only exception would be an aircraft with a heated windshield. Voltage is 10-32vdc rated.
---

Is there any monthly/annual subscription needed for the GDL 50? I am confused by one answer, it seems the GDL50only works with Garmin devices and apps and another answer says it will work with Foreflight. Can you clarify?
The GDL 50 is an ADS-B in receiver. As such, it does not require a subscription to receive and display the free FAA weather and traffic. The unit will work with Garmin devices and apps, as well as Foreflight and numerous other EFB apps.
---

Will this work with a Garmin 696? I have a GDL39 power cable, that goes to the GDL 39 and the 696. Could I use this power cable with the GDL 50?
They use the same connectors, so this will work as long as you have the most recent software for your 696.
---
Enter the quantity desired of each item in the Buy column.