Other Customers
Have Also Viewed:
ACR RESQLINK™ VIEW BUOYANT PLB WITH DIGITAL DISPLAY





Part # 11-17216
Small but resilient, the ResQLink View has been professionally engineered and tested to ensure it can withstand even the harshest elements. This buoyant Personal Locator Beacon requires no subscription for use and includes a digital display providing live status and GPS coordinates. Whether on land, at sea, or in the air, trust that the ResQLink¡¯s satellite precision and military durability, puts rescue in the palm of your hands.
No Subscription Required
GPS and Galileo GNSS
Built-In Buoyancy
Strobe and Infrared Strobe
Global Coverage
MEOSAR Compatible
Small and lightweight
5 year battery life
28 hours Operational Life**
Multi-function Clip System Included
Exclusive ACR Skins included with purchase (customize your beacon and tailor it to your lifestyle and preferred activities)
**Based on test report from accredited laboratory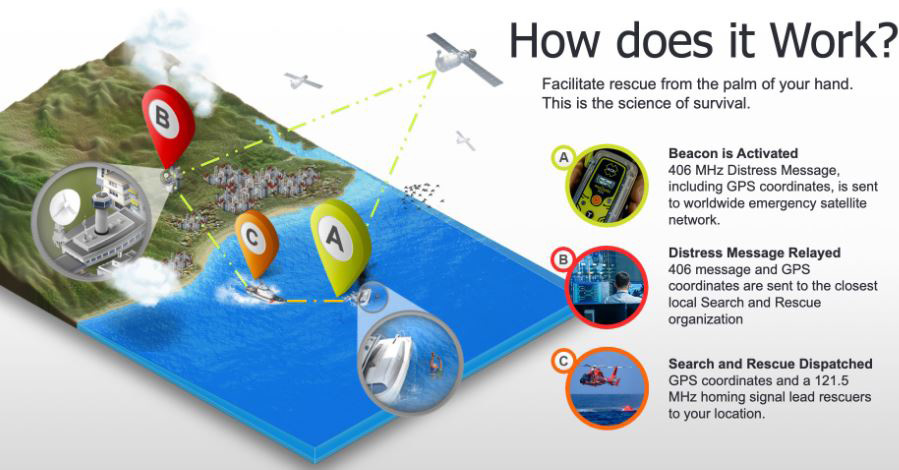 Model Number: PLB-425

Application: Hiking, camping, rock climbing, snowmobiling, skiing, fishing, boating, canoeing, kayaking, paddle boarding etc.

Size: 4.52¡± (L) x 2.03¡± (W) x 1.49¡± (D) / 11.48 cm (L) x 5.16 cm (W) x 3.78 cm (D)

Weight: 0.33 lbs (148 g)

Battery: Non-hazmat Lithium batteries (LiMnO©ü)

Class: Class 2 Operation (at -4¡ÆF / -20¡ÆC)

GPS: Multi-Constellation Receiver (GPS & Galileo GNSS)

Temperature Range: Storage: -22¡ÆF to +158¡ÆF (-30¡ÆC to +70¡ÆC) / Operating: -4¡ÆF to +131¡ÆF (-20¡ÆC to +55¡ÆC)

Battery Replacement: After 5 years or after emergency use, whichever is first.

Activation: Manual

Buoyant*: Yes

Operational Life**: 28 hours

Warranty: 5 years

Waterproof: 16.40 ft (5m) @ 1 hr., 33 ft (10m) @ 10 min.

Approvals: Cospas-Sarsat, FCC, Canada (Pending), RED (Pending), AMSA (Pending)
With three levels of integrated signal technology – GPS positioning, a powerful 406 MHz signal, and 121.5 MHz homing capability – the ResQLink View quickly and accurately relays your position to a worldwide network of search and rescue satellites. Additionally, a built-in strobe and infrared strobe facilitate nighttime, or other low visibility rescues.



Wherever your adventure takes you, whether it¡¯s a trip to the highest mountain peaks, the most undiscovered terrain, or the vastest of oceans, rest assured that the ResQLink View always activates easily. Simply deploy the antenna, press the on button, and the beacon will do the rest for you by effortlessly guiding rescuers to within 100 meters or less of your position. Enjoy added peace of mind using the integrated digital display to view live beacon status and GPS coordinates throughout the rescue process.



Due to innovative design elements, multi-function clips can be used in conjunction with the beacon, providing numerous wear ability options that address a variety of usage applications. The increased ease of incorporating the ResQLink View on your person, or with your gear, just made all your adventures not just safer, but more convenient too.



As a leader in life-saving products for both professional and recreational use, ACR provides unparalleled safety and peace of mind with the ResQLink View Personal Locator Beacon.


Are the batteries replaceable and if so, what type/size? After 5 years has it to be sent in for battery replacement?
The batteries must be replaced by the manufacturer.
---

Will this fulfill the requirement for an ELT/406 onboard my Cessna 182? I still have the old yellow 121.5 ELT which is probably worthless, though legal.
This is a personal location beacon. This does not legally replace the ELT on your aircraft.
---