Other Customers
Have Also Viewed:
NEW SURPLUS HEIM HM SERIES THREADED ROD END BEARING





Part # 06-01661
Reference Chart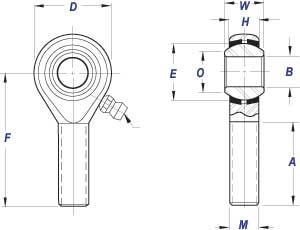 Rod Ends male threaded (HM M Series)
Outer Member: Aircraft Quality Carbon Steel, Magnetic particle inspected, with protective coating for corrosion resistnce.
Ball: 52100 Alloy Steel, heat treated, chrome plated.
Inserts: Brass, 16 size has one piece carbon steel race.
The letter "L" indicates Left Hand thread.
Attention: Subject to price & availability of Heim brand bearings, equivalent bearings may be furnished.