Other Customers
Have Also Viewed:
AN/MS O-RING KIT





Part # 05-02210
This AN/MS O-Ring Kit includes over 382 O-rings made of Nitrile Buna N 70 duro material. These rings have a temperature range of -6 to 275°F and are for use with petroleum oils and fluids.

Kit includes AN6227B series O-Rings from -1 through -30. Also includes a plastic red o-ring case.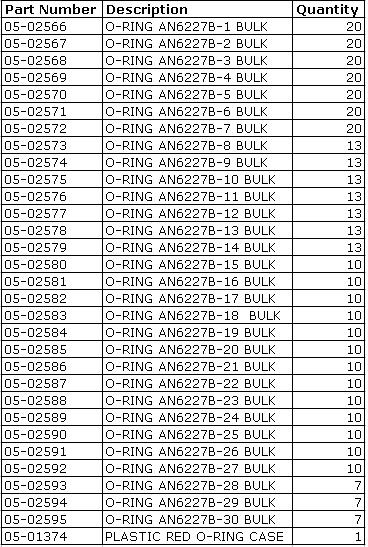 | | |
| --- | --- |
| | Great value for the money and its nice to have the organizer case. It may not be everything you need however. For example, you might need the smaller width in some sizes. Also consider whether you can use a substantial number of them before they expire. |



Excellent kit with AN MS quality rings. Don't use the cheaper kit for aircraft.
Would love Aircraft Spruce to make another kit with same sizes but smaller diameter widths, such as 014, when kit has #14, etc. This is a very big MISSING item in their inventory.



How many of each size is are in the AN/MS o-ring kit?
Please see the "Kit Contents" tab for a complete listing of which sizes are in the kit.
---

Is there a shelf life for these o-rings?
These o-rings would have a 15 year shelf life.
---