Other Customers
Have Also Viewed:
AVEO POSISTROBE XP™ TAIL / RUDDER LED LIGHT





Part # 11-07361
The PosiStrobeXP is a next generation rudder white position and strobe light. It fits almost all the standard rudder mounts of aircraft and also features an optional aluminum adapter mount plate. An extremely lightweight and low-profile design make this the light of choice for almost every aircraft rudder mount.

It is the most imitated and copied light by our competitors, but there is ONLY one PosiStrobe, don't be fooled by competitive "clones", we were the first and we are the only ones with our exclusive circuitry, advanced optics and reflectors and output performance.

The posistrobe coverage diagram shows the compliance to tail position and strobe requirements of all international aviation authorities:
Encapsulated in the exclusive AveoDiamidium™ formulation, the PosiStrobeXP is virtually unbreakable and with our exclusive aircraft lifetime warranty there is no risk to the owner that he will ever need to buy another set of wing lights again.

For Experimental Use Only
2-in-1 Position & Strobe light ideal for tail, rudder or rear facing mounts
Optics designed for FAA/ICAO/EASA requirements
9-32 volt input range
No external power supply or strobe unit, an Aveo world first
Light synchronization feature
Minimum drag profile
Unbreakable Diamidium™ encapsulation
Unmatched circuit technology
Advanced computer and goniophotometer engineered optics
Limited Lifetime Warranty - Product must be registered within 30 days of purchase Here
Dimensions (mm): 56 mm x 44.5 mm x 26 mm
Dimensions (inches): 2.19" x 1.75" x 1.02"
Weight (g): 50 g
Weight (oz): 1.76 oz
Operating Voltage Range: 9 – 32 Vdc
Power – position (peak Watts): 2.2 W
Power – strobe (peak Watts): 6.7 W (32.6 W peak)
Current – position (@12V): 0.18 A
Current – strobe (@12V): 0.56 A (2.8 A peak)
Repetition Rate of Strobe: 50 cycles per minute
Recommended size of mounting screw: M3
Supplied cable:
Reverse polarity protected NO
Over voltage protected NO
Waterproof YES
Vibration-proof YES
Shock-proof YES
Dust-proof YES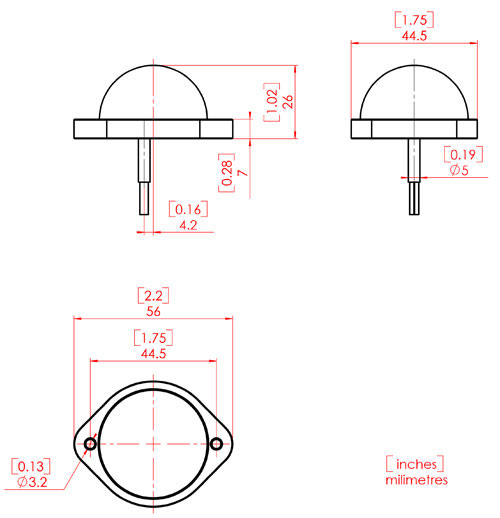 What are the dimensions of this Aveo Posistrobe XP LED Tail / Rudder light? 11-07361
We have added the dimensional drawing to the "Drawing" tab of this web page for your review. Please visit the page for complete dimensional information. We have also added the Install Manual to the "Documents" tab.
---

Does the Aveo Posistrobe XP tail / rudder LED light meet the requirements for night flight?
Yes, the Posistrobe XP meets all requirements for a tail position/strobe light. Experimental use only, for certified see part number 11-14301.
---

Does the Aveo Posistrobe lights still have lifetime warranty?
The Posistrobe XP is covered by a lifetime warranty.
---