Other Customers
Have Also Viewed:
LYNX PILOT SYSTEM HEADSET WITH LEAD





Part # 11-05394
The Pilot System headset is designed specifically for use in light aircraft and helicopters.

The headset is fitted with interchangeable leads which can be swapped easily for use in different aircraft. Leads are available for connection to a wide range of general aviation intercom equipment.

Each headset includes a specially developed electret noise cancelling microphone, an electronic speech processor and high quality speakers.

The microphone is sensitive to speech but rejects extraneous background noise whilst the speech processor modifies the voice signal to produce a clear and natural sound.

The microphone is mounted in a rubber anti-shock holder and is protected by a foam wind shield that can be removed easily for cleaning or replacement.

The headset speakers are housed in acoustically balanced enclosures which seal the headset against moisture and also allow the ear-cups to be cleaned hygienically. The speaker volume is adjustable and can be set using the built-in volume control.

The headset is noise attenuating and provides hearing protection in noise levels up to 11OdB(A).

All Lynx headsets are fitted with Silicone Gel ear seals and are fully adjustable.

Headset Colors:
Black, White, Grey, Red, Pink, Blue, Yellow or Green

Helmet Sizes:
To obtain the correct size of helmet, use a tape measure to measure the circumference of your head just above the ears. Small: 55-57cm, Medium: 57-59cm, Large: 59-61cm, Extra Large: 61-63cm. Small: 22", Medium: 23", Large: 23.5", Extra Large: 24.5".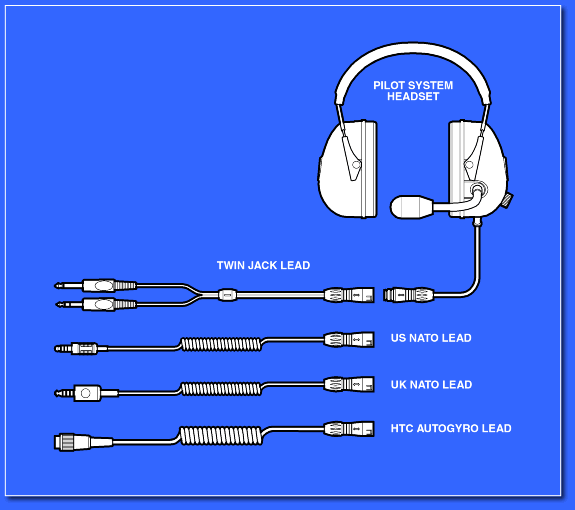 On the Lynx Pilot System Headset with lead. Does it come with the dual plugs for general aviation. Also do you still need to charge any batteries in it?
The Lynx Pilot system with lead comes with different available leads but the dual general aviation leads are the most common. All you need to do is specify that plug type on the order. This is a passive headset (the panel will power the headset and mic) and does not have batteries like the Mirco series does.
---

I want to use this headset with a Sigtronics Sport 200S intercon which is a stereo system. Will this headset work with this intercom.
Yes this will work if you order the dual GA plugs for the Lynx but we do not show the Lynx is a stereo headset so will not hear music in both hears (normal communications will be heard in both hears).
---

Can I use these headset on the mgl v6 radio?
Yes, as long as the input jack is wire correctly.
---
Enter the quantity desired of each item in the Buy column.