RV 7A AIRCRAFT BUILDING STORY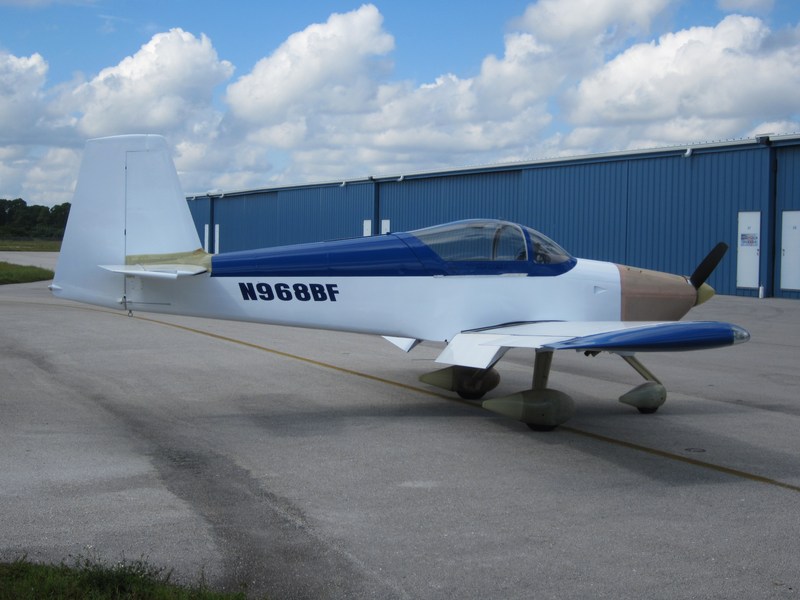 I never grew up dreaming of becoming a pilot. I do have ~2,000 hours as a USAF KC-135A navigator (1974-1978); however, until my first private pilot lesson I had been in a GA plane only 3 or 4 times.
I was in seat 1A of a Delta 757 at the Atlanta Hartsfield airport bound for Washington Reagan. Just before 0900 the pilot came on the intercom and told us all to deplane - "Now!". Yes, it was 9/11/01.
My two co-workers and I eventually made it back to Florida, dropping a young lady (stranger to us) off at her Mother's home in Jacksonville as we drove to the Melbourne area.
The next day, my wife and I were depressed about the empty skies. Within a week we had built a flag pole with accompanying lights. That 20 foot tall pole always has an American flag flying, except during hurricanes.
That week, we also determined that no one - let me repeat - no one was going to take the US skies away from us.
After much research on options, I finally joined a local flying club and took my first two lessons on July 4, 2002. Thanks again, Dan! Fortunately, I fell into the company of some EAA members who had built planes. I took a couple of fun flights (thanks Jim) then decided I wanted to build. But what? How was I going to get my wife to agree? Where was I going to get the money, tools, time, capability, skills,...?
My friend (Jim again) took my wife on a flight in his beautiful RV6. On exiting the plane, my wife walked over to me and said, "When do we start?". Wow - was I excited!
It took several spreadsheets and a few months before I decided on my "mission-type", picked the airplane model, collected enough tools, and ordered the empennage. Over the next 6 1/2 years, I planned, learned, and built; including assisting with the engine overhaul, performing the equipment selection and installation, and doing 97% of the work myself.
I began riveting on 11/23/03 and after 2,248 hours (06/22/10) the FAA unleashed me from the ground in what had become N968BF (an RV 7A). My wife was my encouragement to continue the build as I worked in the garage, then finally to the local airport.
I have since flown the aircraft about 92 hours, including a round trip from central Florida to South Central Iowa this past summer. I have not yet painted the fiberglass (cowling, leg fairings, and wheel pants); but, I will soon.
I do believe, we have helped keep the skies available to all GA pilots and have completed something few ever dream is possible and even fewer complete.
My advice, keep working on the plane — the first flight alone is well worth the time and effort.