Other Customers
Have Also Viewed:
SKWOOSH LUMBAR CRADLE





Part # 13-18497
Reference Chart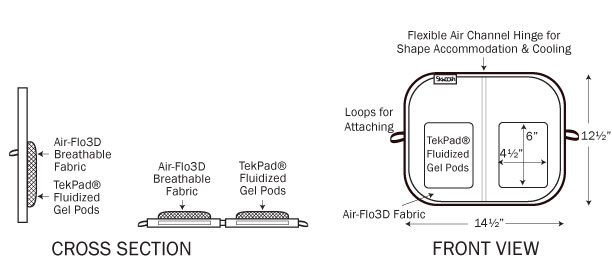 The SKWOOSH™ LUMBAR CRADLE uses a cutting edge SPLIT LUMBAR DESIGN, TekPad® FLUIDIZED GEL and AIR-FLO3D breathable fabric to provide the best in back comfort. The "gel comfort-cradle" contours and cradles the back exactly as nature intended.

TheSKWOOSH™ LUMBAR CRADLE offers the best in comfort, pressure relief and unrestricted circulation. Its unique 2 POD CRADLE DESIGN, light weight and compact size can provide relief from low back discomfort. Use the LUMBAR CRADLE in conjunction with any SKWOOSH™ cushion for more support and comfort while driving, flying and traveling. SKWOOSH™ products are made in the USA and are guaranteed for performance and workmanship.
Comfortable - Pressure relieving gel prevents numbness and discomfort
Cushioning - TekPad® Fluidized Gel cradles your back reating a custom fit
Air-Flo3D - Breathable fabric - natural cool and comfortable
Portable - Lightweight, compact and folds for easy transport and storage
SLIM DESIGN - Allows for use in cars, plane, chairs and while sleeping or lying in bed
Convenient - Includes 30" cord for attaching to seat back
MADE IN USA - Guaranteed workmanship and performance
Model# TH12LC
Weight: 8 oz.
Color: Black
Open Dimensions: 12˝"L x 14˝"W x ľ"H
Folded Dimensions: 12˝"L x 7Ľ"W x 1˝"H