Other Customers
Have Also Viewed:
ZEN PILOT BLACK COMPRESSION SOCKS FOR TRAVEL
Make Selection(s) Below To Order





Traveling can be stressful even when everything goes as planned. It's also hard on the body, particularly when long flights or road trips are involved.

Helping your body to recover is too important to ignore, especially when putting it through the physiological stressors that travel brings. Sore and tired feet and legs, poor circulation, swelling, and even blood clots are some of the risks associated with sitting for long periods of time. While the risk of developing blood clots on a flight is pretty low for most of us, that risk does increase with prolonged travel time.

This is why ZEN PILOT compression socks are a no-brainer for long plane, car or train rides. Compression socks have long been proven to help increase circulation and promote recovery.

Increasing circulation is always a good thing, but it's especially important when you travel and are exercising less. Plus, you'll reduce the risk of swelling or deep vein thrombosis (DVT) if you have to sit or stand for long periods. Wearing compression socks after travel will also help speed recovery and reduce the soreness and swelling that might have occurred after your trip.

ZEN PILOT compression socks include a true graduated compression design. This means that the amount of compression decreases as the distance to the heart decreases. This is a very important detail and not one that every compression sock or stocking can claim.

In the ZEN PILOT compression sock for example, you'll find less compression at the top of the sock than at the toe. This forces the blood to move upward back towards the heart where there is more space allowing new, fresh blood to return to your feet. This is the process of circulation and as blood moves through your extremities continually, it nourishes your muscles and helps speed recovery.

All Zen Pilot compression socks are designed and manufactured in the USA. Sure, lower cost manufacturing options are available, but domestic manufacturing allows us to have complete control over the design, manufacturing, and quality of every sock we ship.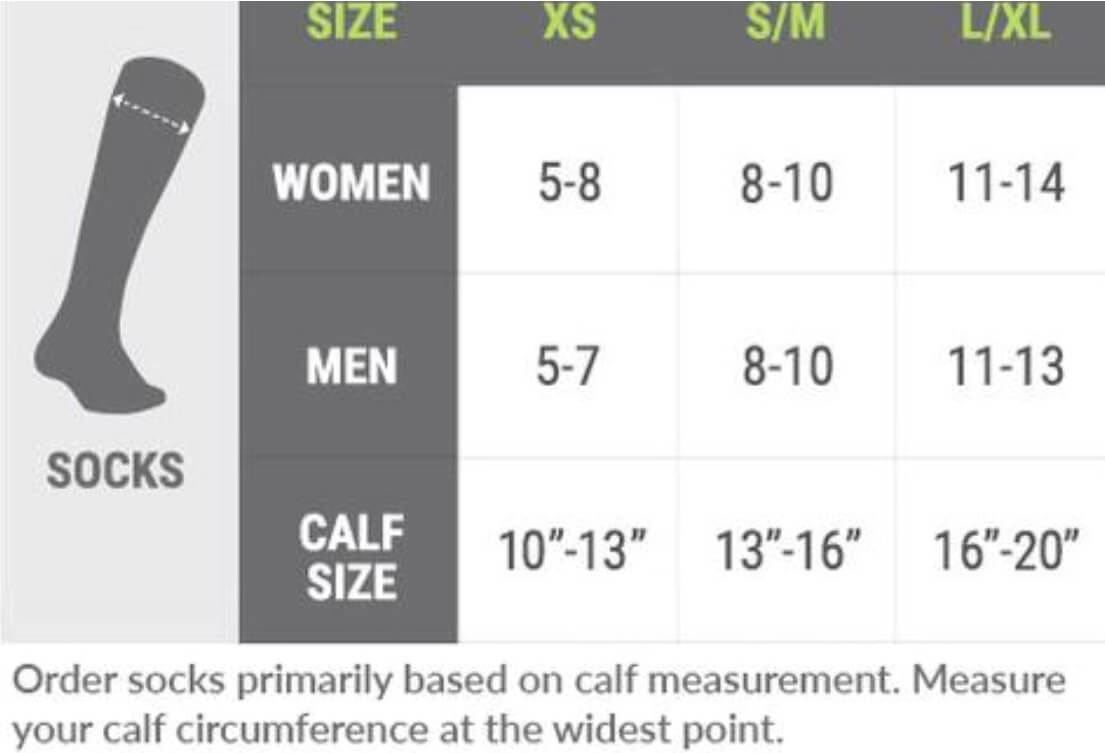 | | |
| --- | --- |
| | Excellent product. Works great. I use them often on long flights going to Europe and South American when I'll be sitting for long periods. Good quality. |
| | |
| --- | --- |
| | I have not used them much yet but so far they seem like a nice product at a reasonable price. I have a very large foot (size 15 to 16 depending on the shoe) so I ordered the largest size even though my calves are not huge. They fit and work for me and the foot is not crunched up inside the sock as it is inside so many brands of compression sock. I like them. By the way, they are solid black, they dont look like the pictured sock at all. |
| | |
| --- | --- |
| | Excellent compression sock. Very good quality. I always wear them on my long haul flights as a 777 International Captain. |


What are the type and % fibers used in these Pilot compression socks?
The yarn content is 93% nylon and 7% spandex.
---

Is there a size chart with calf and ankle measurements to help the buyer decide whether they are small, medium or large?
Yes, we have added the Size Chart tab to the web page to assist with ordering.
---

What are the sizes for the Zen Pilot compression socks in shoe size?
We have added the size chart to the website. The supplier recommends ordering the socks primarily based on calf size, not shoe size. Measure calf circumference at the widest point and refer to the chart to select the best size.
---

How thick are these Zen Pilot Compression socks? Thin and light weight or thicker and cushioned?
The compression fibers of the Marathon sock is thicker than a traditional dress sock, but it not considered a "thick" or cushioned sock. Keep in mind "sock thickness" is subjective and people may have a different opinion based on their individual taste or preference.
---

I have a big foot and don't have a heavy body weight (sz 14 with 15-1/2" calf), these won't fit, will they?
You will be right in between the medium and large. I believe the medium would be the better size for you as the foot portion should expand for your shoe size, but you are welcome to try both and return the ones that don't fit.
---

What is the compression rating of the Zen Pilot Socks?
The compression rating is 20-30 mmHg.
---