SUMMIT II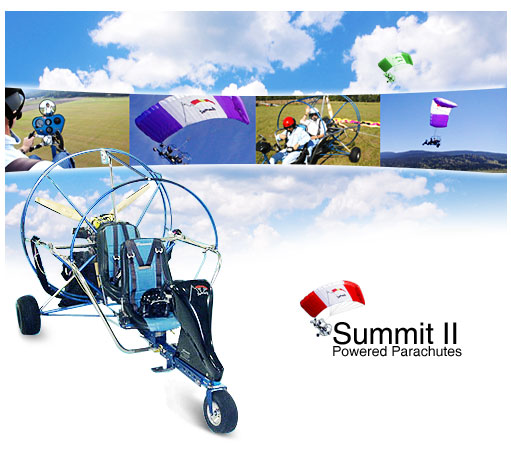 The SUMMIT II, the very first SLSA registered powered parachute in North America has some very unique features that make this design extremely strong and very stable. The Summit Powered Parachute has the 4 point canopy pick up to eliminate the pendulum effect, the tire placement to protect the propeller cage from damaging the prop, the unique true 2 seat placement for very comfortable seating and the innovative fuel seat tank . The Summit II also has exclusive foot steering and the anodized airframe which is a process that totally immerses each part, inside and out with a protective coating, contributes further to the uniqueness of this design. The Summit is an easy bolt together and economical kit that affords customers choice of both 2 stroke or 4 stroke engine including Rotax 503, Rotax 582, Rotax 912 and the HKS 700E. Each Summit II comes complete with your engine choice, engine accessories, GSC 3 blade GA propeller, Taskem EIS unit, Azusa tires and rims, full suspension with front brake and the S-Series Mustang square canopy. A list of options also allows you even more choices to tailor your kit to your tastes. Canopy color choices, engine choices, airframe color choices, option choices are made easy by viewing our website. Why buy a Summit, well here is a quick summary:
anodized airframes
plenty of engine choices – Rotax 503, Rotax 582,
Rotax 912, HKS 700 E
4 point pick up system for risers
slider foot control for canopy steering
true two place seating
beefy airframe with 4" fuselage
ground steering Dyno-Focal engine mount to best absorb vibration
Rear wheel placement to prevent prop guard impact
Parts pre-cut, pre-measured, pre-drilled for ease of assembly
No welding requir
Knowledgeable and experienced staff


---
Specifications:
Kit Price w/o Engine: ~$21,100
Plans Price: N/A
Number of Seats: 2
Building Materials: A
Building Time: ~40 HRS
Standard Engine: ROTAX 582/80 HP
Horsepower: 52-80
Wing Span: 39 Ft.
Wing Area: 500 Sq. Ft.
Empty Weight: 310 Lbs.
Gross Weight: 850 Lbs.
Takeoff Distance: 200 Ft.
Landing Distance: 50 Ft.
Cruise Speed: 26 MPH
Top Speed: 35 MPH
Fuel Capacity: 10 Gal.
Range: N/A
---
For more details on our Summit II and accessories, please contact:
Summit Aerosports Inc.

7716 Kilgore Rd Suite 2
Yale, Michigan 48097: 1-888-254-2982
info@summitaerosports.com
www.summitppc.com