1-877-795-2278 | info@aircraftspruce.ca
Aircraft Spruce Canada
Brantford, ON Canada
Corona, CA | Peachtree City, GA
Chicago, IL | Wasilla, AK
THE AVIATION SUPERSTORE FOR ALL YOUR AIRCRAFT & PILOT NEEDS | 877-795-2278
SKY ARROW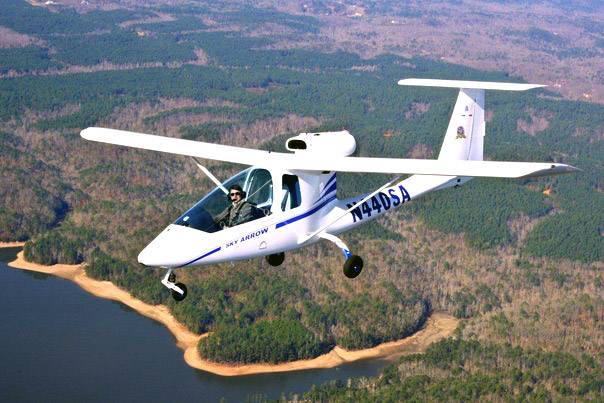 The Sleek and stylish, designed and manufactured in Italy, the Sky Arrow aircraft is definitely unique and distinctive. From recreational flying to observation or sensor-equipped aerial work, its high wing, pushing configuration with a wrap-around canopy and a roomy, super-comfortable tandem seating allows for the widest range of utilizations.
Come and find the version that suits your needs.

---
Specifications:
Kit Price w/o Engine: N/A
Plans Price: N/A
Number of Seats: 2, tanden configuration
Building Materials: C
Building Time: ~500 HRS
Standard Engine: ROTAX 912 ULS 98 HP
Horsepower: 98 HP
Wing Span: 31.5 Ft.
Wing Area: 145 Sq. Ft.
Empty Weight: 840 Lbs.
Gross Weight: 1450 Lbs.
Takeoff Distance: 890 Ft.
Landing Distance: 660 Ft.
Cruise Speed: 124 MPH(108 kts)
Top Speed: 152 MPH (132 kts)
Fuel Capacity: 29.5 Gals.
Range: 600 Miles
---
Magnaghi Aeronautica S.p.A.
Via Galileo Ferraris
76-80142 Naples Italy
Phone: +390815977111 • Fax: +0815977348
Email:
info@skyarrow.it
• Website:
www.skyarrow.it