Hummingbird 260L Helicopter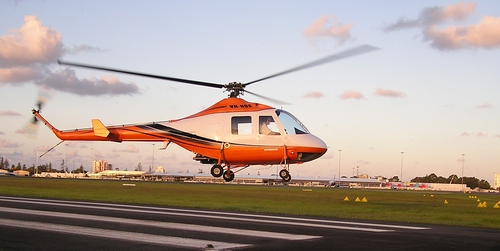 In 1991 the helicopter kit build industry was revolutionized by the introduction of the Hummingbird 260L, the world's first FAA certified helicopter to be sold in kit form. By utilizing the design from a FAA certified helicopter we are able to implement safety, reliability, and performance from years of proven flight time. The Hummingbird is a single engine, single three-bladed main rotor type helicopter, with a two blade tail rotor.

The fuselage is made of aluminum and composites. The Hummingbird is powered by a FAA approved Lycoming aircraft engine that boasts some very impressive performance numbers.

Consider these quality Hummingbird features:

Comfortable four-place cabin

Approximate 375 mile range

950 pound payload

Smooth fully articulated rotor head

Electric flight control trim system

All aluminum construction with composite components

No welding

Rotor brake

Wheels for taxiing with hydraulic brakes and shock absorbing struts

Main rotor blades are quickly removable for maintenance

Trailer transport or storage. A beautiful four-place helicopter with outstanding Payload

Long endurance

Premium comfort

It's also as easy to assemble as it is to fly
---
Specifications:
Kit Price w/o Engine: ~$143,600
Plans Price: N/A
Number fo Seats: 4
Building Materials: N/A
Building Time: ~800 HRS
Standard Engine: LYC. /265 HP
Horsepower: 265 HP
Wing Span: N/A
Wing Area: N/A
Empty Weight: 1850 Lbs.
Gross Weight: 2800 Lbs.
Takeoff Distance: N/A
Landing Distance: N/A
Cruise Speed: 100 MPH
Top Speed: 120 MPH
Fuel Capacity: 57 Gal.
Range: 375 Miles
---