1-877-795-2278 | info@aircraftspruce.ca
Aircraft Spruce Canada
Brantford, ON Canada
Corona, CA | Peachtree City, GA
Chicago, IL | Wasilla, AK
FREE SHIPPING ON ORDERS OVER $500 (SOME EXCLUSIONS APPLY) | 877-795-2278
EASY EAGLE 1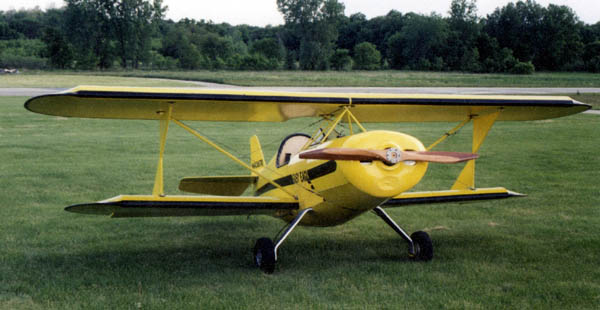 Design lines out of the past with the performance of today. With a 64 hp VW engine the Easy Eagle cruises at 100mph and has a stall speed of 45mph. The Easy Eagle features a fabric covered fully welded steel frame combined with an all wood wing. It has a one piece landing gear and fully steerable tail wheel for easy ground handling. Takeoff run and landing roll are both approximately 300ft. We supply full materials kits for Easy Eagle.
---
Specifications:
Kit Price w/o Enigine: ~$10,000
Plans Price: $65
Number Seats: 1
Building Materials: W,F,S
Builing Time: ~300 Hrs
Standard Engine: VW 1915CC/65 HP
Horsepower: 50-80 HP
Wing Span: 18.4 Ft.
Wing area: 90 Sq. Ft.
Empty Weight: 454 Lbs.
Gross Weight: 800 Lbs.
Takeoff Distance: 450 Ft.
Landing Distance: 400 Ft.
Cruise Speed: 110 MPH
Top Speed: 110 MPH
Fuel Capacity: 12 Gal.
Range: 300 Miles
---
Contact us for free kit list. For info packs, video, and plans contact:
Great Plains Aviation Supply LLC
33642 S 4505 Road
Afton, OK 74331-5553
Phone: 402-493-6507 • e-mail: info@greatplainsas.com