Other Customers
Have Also Viewed:
NEW SURPLUS HEIM HFX SERIES FEMALE THREAD
See Below for Parts, Pricing, and Ordering
From $48.60 to $70.75





Reference Chart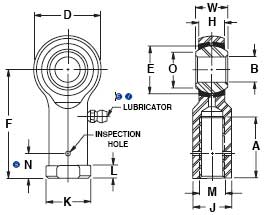 Enter the quantity desired of each item in the Buy column.



Model No.
Thread
Type
Max
Rad.
Load
Part
Number
Price
Buy
Sub-Total
HFX-5G
Right Hand
4920
04-03452
$48.60
HFX-8G
Right Hand
11920
04-03453
$70.75

Current Total
Click Add to Cart to add them to your shopping cart
or Add to Wishlist to store them for ordering later.
HFX EXTRA CAPACITY SERIES
Outer Member: 4130 OR 4340 Alloy Steel, heat treated, magnetic particle inspected, with protective coating for corrosion resistance.
Ball: 52100 Steel, Heat Treated, Chrome Plated.
Inserts: Coper alloy
The letter "L" indicates Left Hand thread.
The letter "G" indicates Lubricator.
Attention: Subject to price & availability of Heim brand bearings, equivalent bearings may be furnished.
PN
Thread
Type
B
W
H
D
F
A
M
E
O
K
N
L
Max
Rad.
Load
Wgt
HFX-5G
Right Hand
.3125
.437
.344
.875
1.375
.750
.3125-24
.625
.447
.500
.406
.187
4920
.08
HFX-8G
Right Hand
.5000
.625
.500
1.312
2.125
1.187
.5000-20
.937
.698
.875
.594
.250
11920
.29