1-877-795-2278 | info@aircraftspruce.ca
Aircraft Spruce Canada
Brantford, ON Canada
Corona, CA | Peachtree City, GA
Chicago, IL | Wasilla, AK
FREE SHIPPING ON ORDERS OVER $500 (SOME EXCLUSIONS APPLY) | 877-795-2278
NAV CANADA VTA TERMINAL CHARTS
From $15.95 to $18.95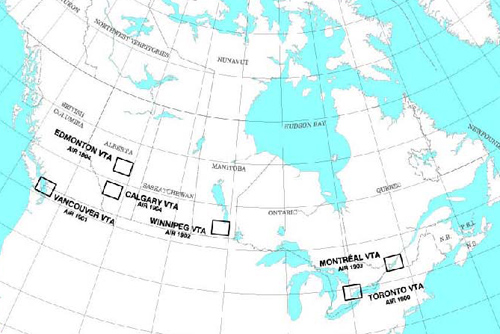 (Hover to zoom | Use mouse wheel for +/-)
| PN | Description | Expires | Price | Buy |
| --- | --- | --- | --- | --- |
| | Edmonton VTA Terminal Chart | 04/28/22 | $15.95 | |
| | Calgary VTA Terminal Chart | 04/28/22 | $18.95 | |
| | Montreal VTA Terminal Chart | 06/30/22 | $15.99 | |
| | Toronto VTA Terminal Chart | 06/30/22 | $15.95 | |
| | Winipeg VTA Terminal Chart | 06/23/22 | $15.95 | |
| | Vancouver VTA Terminal Chart | 06/23/22 | $15.95 | |
| | Ottawa VTA Terminal Chart | 06/30/22 | $16.50 | |
Overview
Terminal area charts provide detailed information in congested air traffic areas. The six charts of the series cover Toronto, Montreal, Vancouver, Winnipeg, Calgary and Edmonton. The latter two are printed back to back. All charts are at a scale of 1:250,000.
Reference Chart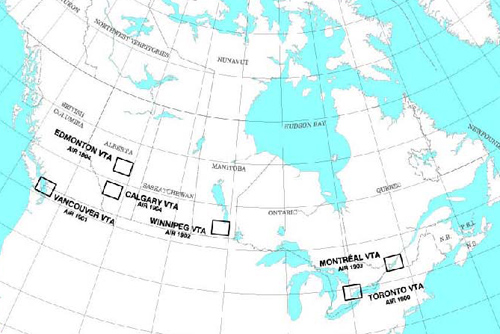 Customers Also Viewed
Frequently Purchased With
Reviews
Excellent service. Received promptly.
Nate G
July 7, 2019
Q&A
Please note, Aircraft Spruce Canada's personnel are not certified aircraft mechanics and can only provide general support and ideas, which should not be relied upon or implemented in lieu of consulting an A&P or other qualified technician. Aircraft Spruce Canada assumes no responsibility or liability for any issue or problem which may arise from any repair, modification or other work done from this knowledge base. Any product eligibility information provided here is based on general application guides and we recommend always referring to your specific aircraft parts manual, the parts manufacturer or consulting with a qualified mechanic.