1-877-795-2278 | info@aircraftspruce.ca
Aircraft Spruce Canada
Brantford, ON Canada
Corona, CA | Peachtree City, GA
Chicago, IL | Wasilla, AK
THE AVIATION SUPERSTORE FOR ALL YOUR AIRCRAFT & PILOT NEEDS | 877-795-2278
VELOCITY XL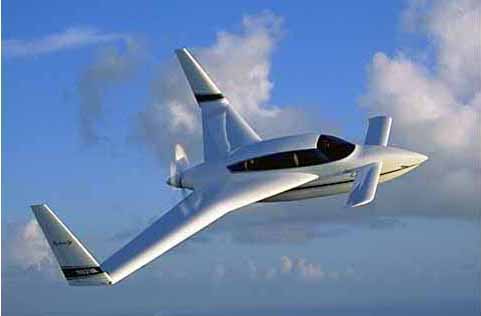 A recent addition to the Velocity line of high performance aircraft is the Elite XL. The XL – for "extra large" – combines all the great flying qualities of the canard type airplane with the largest cabin of all kit aircraft. Larger, in face, than almost all the general aviation aircraft, including most twins – shoulder to shoulder width of 47.5. Compare this to a Mooney at 42.5", the Bonanza/Baron at 42", or the popular Cessna 182 which measures 44". Longer length also allows for full size luggage in the aft baggage compartment. A larger engine is also used in the XL to provide even more performance. Expect a 200 kt cruise (230mph) on the popular and easy-to-find Lycoming IO 540, 260HP engine. Fuel burn on this engine at 65% power will yield a range of over 1300nm (1500sm), with a 30 minute reserve, using the optional 100 gallon fuel capacity (standard fuel capacity on the Elite XL is 70 gal). The XL kit, like the standard Elite & Elite LW, is available with fixed or retractgear. Two large gull wing doors are standard.
---
Specifications:
Kit Price w/o Engine: ~$46,200
Plans Price: N/A
Number of Seats: 4
Building Materials: C
Building Time: ~1500 HRS
Standard Engine: LYC. OI-540/300 HP
Horsepower: 260-300
Wing Span: 31 Ft.
Wing Area: 145 Sq. Ft.
Empty Weight: 1700 Lbs.
Gross Weight: 2800 Lbs.
Takeoff Distance: 1300 Ft.
Landing Distance: 1500 Ft.
Cruise Speed: 230 MPH
Top Speed: 240 MPH
Fuel Capacity: 70 Gal.
Range: 1200 Miles
---
For further information contact
Velocity Aircraft:
200 W. Airport Drive • Sebastian, FL 32958
Ph: (772) 589-1860