1-877-795-2278 | info@aircraftspruce.ca
Aircraft Spruce Canada
Brantford, ON Canada
Corona, CA | Peachtree City, GA
Chicago, IL | Wasilla, AK
THE AVIATION SUPERSTORE FOR ALL YOUR AIRCRAFT & PILOT NEEDS | 877-795-2278
THORP S-18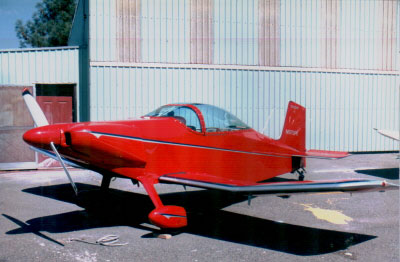 The S-18 folding wing aircraft is available as a plans or kit built aircraft. It is an all metal 2-place side-by-side aerobatic plane. The basic structure is the same as the proven T-18 Thorp with a wider and longer fuselage. Revised airfoil on the folding wing. Engines approved are 0-290 thru 0-360 allowing cruise performance from 160 to 180 mph.
---
Specifications:
Kit Price w/o Engine: ~$20,500
Plans Price: ~$350
Number of Seats: 2
Building Materials: M
Building Time: ~1900 HRS
Standard Engine: LYC. 290, 320 or 360
Horsepower: 135-180
Wing Span: 20.10 Ft.
Wing Area: 86 Sq. Ft.
Empty Weight: 1000 Lbs.
Gross Weight: 1600 Lbs.
Takeoff Distance: 900 Ft.
Landing Distance: 1200 Ft.
Cruise Speed: 180 MPH
Top Speed: 200 MPH
Fuel Capacity: 29 Gal.
Range: 540 Miles
---
For more information on the S-18
Thorp Central
4315 N Tioga Way, Las Vegas, Nv 89129
Phone/Fax: 702 232-4261 • E-mail: cubes@cox.net