1-877-795-2278 | info@aircraftspruce.ca
Aircraft Spruce Canada
Brantford, ON Canada
Corona, CA | Peachtree City, GA
Chicago, IL | Wasilla, AK
SAME DAY SHIPPING ON ORDERS PLACED BY 2 PM | 877-795-2278
MURPHY REBEL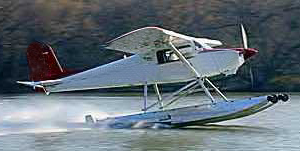 The Murphy Rebel is an all-metal, 3 seat, high wing aircraft constructed using semi-monocoupe construction techniques. Built for strength and longevity, the Rebel is designed to endure tough bush plane-like conditions with low maintenance costs. Designed by Darryl Murphy, the Rebel was designed to accommodate a variety of powerplants including the Rotax 912, Lycoming 0-235 and Lycoming 0-320. The Rebel is easily stored or trailered due to its removable wings and folding tailfeathers. The cabin is a comfortable 44" wide and provides a large wrap around instrument panel, skylights, and large doors. Pre-aligned punched holes make eliminate the need for jigs & special tools, making the Rebel a simple aircraft to build. The Rebel is at home on floats and skis as on standard wheels. We are a prime supplier of materials and components used in Rebel kits.
---
Specifications:
Kit Price w/o Engine: ~$24,739
Plans Price: N/A
Number of Seats: 3
Building Materials: F,M
Building Time: ~1000 HRS
Standard Engine: LYC. 320/160 HP
Horsepower: 80-160
Wing Span: 30 Ft.
Wing Area: 150 Sq. Ft.
Empty Weight: 950 Lbs.
Gross Weight: 1650 Lbs.
Takeoff Distance: 300 Ft.
Landing Distance: 400 Ft.
Cruise Speed: 120 MPH
Top Speed: 151 MPH
Fuel Capacity: 44 Gal.
Range: 733 Miles
---
For further information contact
Murphy Aircraft Mfg. Ltd
,
22 Baronwood Ct.,
Brampton, ON L6V 3H6
(905) 457-5238 9am - 10pm 7 days
Email:
Kits@PattersonAeroSales.com
Website:
http://www.PattersonAeroSales.com