1-877-795-2278 | info@aircraftspruce.ca
Aircraft Spruce Canada
Brantford, ON Canada
Corona, CA | Peachtree City, GA
Chicago, IL | Wasilla, AK
THE AVIATION SUPERSTORE FOR ALL YOUR AIRCRAFT & PILOT NEEDS | 877-795-2278
LANCAIR AIRCRAFT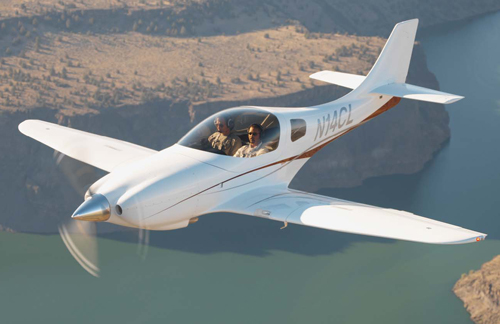 Founded in 1984 by Lance Neibauer, Lancair has become one of the most successful kit manufacturers in the world. The company manufactures a number of kit aircraft including the Lancair ES and Super ES, and the world's fastest piston-driven aircraft, the Lancair IV and IV-P. Lancair aircraft hold several world speed records as well as championships in most major cross-country air races. In July of 1999 The Legacy 2000 was introduced as the successor to the Lancair 320/360. The Legacy provides additional passenger and luggage space as well as increased performance over the previous Lancair 360. Using a 310 hp Continental IO-550-N, the Legacy achieves cruise speeds in excess of 276 mph at 8000 ft. In Sept of 2001 Lancair International flew their turbine engine powered Lancair IV-P. Lancair has now introduced their newest version of turbine power: The Lancair Sentry. This Walter powered Lancair IV is a military-style tandem seat aircraft with left-side throttle controls, and a rear hinge canopy. "The airplane performs very similar to the existing Propjet model, achieving a cruise speed of almost 400 mph! "Not only does this new Lancair kit yield blood-boiling speeds similar to the IV-P Propjet model, it also offers increased yaw stability and excellent visibility out of a newly designed rear hinge canopy.
For further information on all Lancair aircraft contact:
LANCAIR INTERNATIONAL
2244 Airport Way, Redmond, OR 97756
Phone: (541) 923-2244.
www.lancair.com