1-877-795-2278 | info@aircraftspruce.ca
Aircraft Spruce Canada
Brantford, ON Canada
Corona, CA | Peachtree City, GA
Chicago, IL | Wasilla, AK
FREE SHIPPING ON ORDERS OVER $500 (SOME EXCLUSIONS APPLY) | 877-795-2278
RAMI AV-10 COM ANTENNA
Select Bundle:
AV-10 Unit Only
AV-10 + AV-801 WAAS GPS Antenna
Overview
The AV-10 is designed for high-performance aircraft applications. It exhibits excellent electrical characteristics and incorporates an efficient aerodynamic 4-bolt mounting base. The antenna essentially matches the styling of the communication antennas currently used on most singles and light twins. The antenna is designed to operate at speeds up to 350 mph and altitudes up to 50,000 ft. It has a drag force of 2.70 lb @ 250 mph.


Specifications
Application: Airborne Communications
Frequency: 118 to 137 MHz
Impedance: 50 Ohms Nominal
VSWR: 2.0 to 1 Maximum
Polarization: Vertical
Pattern: Omni-Directional
Connector: Type "BNC" Female
Max Weight: 8 oz
Max Height: 20-1/4"
RF Power Capacity: 25 Watts
Drawing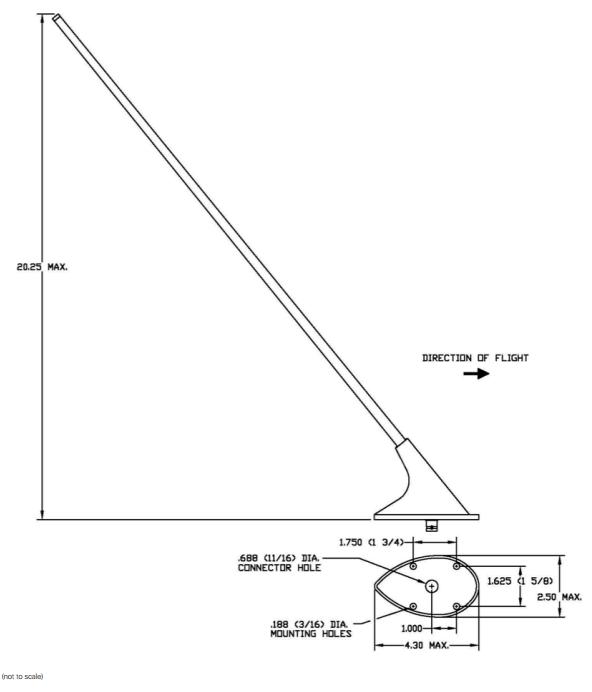 Accessories
Customers Also Viewed
Frequently Purchased With
Related Items
Reviews
nice antenna
Eric L
February 14, 2021
Prompt delivery from the USA to Australia. Properly packed for shipping and nil damage upon receipt. Product was as described.
Mark R
November 23, 2020
It seems like this is a really well-made antenna, and all the hardware to mount it was included. I looked at other models and it seems they cost a bit more, with no benefit. It is well made. I dont have an SWR meter to measure gain, but the design (I bought the straight, swept-back, fiberglass one) is good. When I walked into the FBO in Montrose, CO (KMTJ), shortly after installing this antenna, the man behind the desk said Wow, youve got a great radio....You sound better than some of the commercial jets. I had not prompted him about my radio signal. That said, the antenna is mounted on the bottom of a Zenith 701 (completely flat, aluminum bottom), so the ground-plane I have for this is unparalleled. I think this is a very good quality antenna and am very happy with it, and glad not to pay more for the same thing in another brand.
Peter B
October 8, 2020
This seems to be a well-made antenna and less expensive that virtually the same antenna from competitors. Also, it comes with all the pieces of hardware needed to install it and has an easy-to-follow diagram so it is very clear what plate / rubber gasket / etc goes where.
Peter
August 28, 2020
With my old antenna I could not pick up my AWOS in the air let alone on the ground. After installing the Rami Av-10 my reception has improved 500%. I will by buying one for my other comm radio. Thank you!
Walt B
March 15, 2020
Specs are very good, and this antenna is very well made. Comes with all necessary hardware, and matched the footprint for common Piper antenna perfectly. Looking forward to a good, long service life.
Vernon D
February 13, 2017
Q&A
Q: Do you have mounting and installation instructions available for this RAMI AV-10 Antenna?
Yes, we have added a link to the install instructions in the "Overview" tab. We have also added a drawing to the "Drawing" tab which shows the outline and the footprint. Please review them on this web page.
Q: Is the AV-10 RAMI antenna suitable for certified aircraft?
Yes, this is approved for use in certified aircraft.
Q: Can the Rami AV-10 antennae be used on composite aircraft?
Yes, but you still need a ground plane.
Q: Does this AV-10 antenna have a BNC cable connection?
This antenna has a BNC female connection on the bottom if it.
Q: With the RAMI AV-10 do you have to also the mounting kit or is the mounting hardware included?
Hardware is included with the antenna.
Q: Can I use this antenna with the FLIGHTLINE 760A PANEL MOUNT COM RADIO?
Yes, you are able to use this antenna.