Other Customers
Have Also Viewed:
CESSNA 150 BAFFLES
See Below for Parts, Pricing, and Ordering
From $15.50 to $676.00





Reference Chart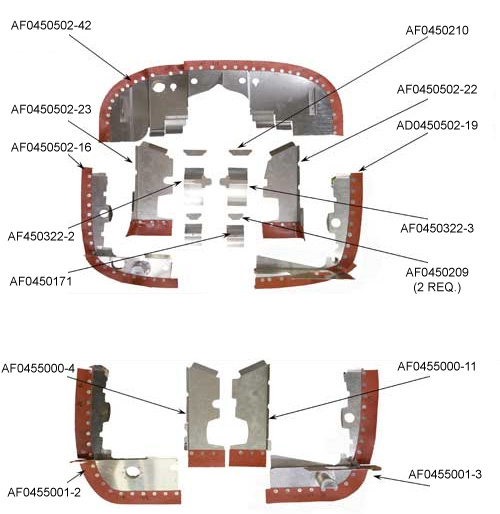 Enter the quantity desired of each item in the Buy column.



Description
Part No.
Price
Buy
Sub-Total
AF0450502-42 Baffle Component
05-01482
$676.00
AF0450502-23 Baffle Component
05-03081
$56.75
AF0450502-16 Baffle Component
05-01483
$338.00
AF0450322-2 Baffle Component
05-01484
$64.99
AF0450171 Baffle Component
05-01488
$57.75
AF0450210 Baffle Component
05-01486
$17.50
AF0450502-22 Baffle Component
05-03079
$56.75
AF0450502-19 Baffle Component
05-01489
$340.00
AF0450322-3 Baffle Component
05-01490
$64.95
AF0450209 Baffle Component
05-01487
$15.50
AF0455000-11 Baffle Component
05-03080
$56.75
AF0455001-2 Baffle Component
05-01485
$340.00
AF0455000-4 Baffle Component
05-03078
$56.75
AF0455001-3 Baffle Component
05-01491
$340.00

Current Total
Click Add to Cart to add them to your shopping cart
or Add to Wishlist to store them for ordering later.
NOTE: "AF" part numbers are Cessna P/N's All baffles are bare 6061-T6 aluminum unless the powder coating option is chosen. The powder coating finish is a black and grey hammertone. Powder coating option available for an additional 20%.
Please email or call for more details.
The silicone baffle seal material can be special ordered in
orange, dark blue or black by calling 1-877-477-7823 or by email.

Eligibility:
150: Serial No. 15072004 thru 15078506 1971-1977


What type of rivets are used in these Cessna 150 baffle set?
Per the supplier: It depends on what the rivets are for, but they are all hard rivets. They range from MS20426AD3-3 and MS20470AD3-3 to MS20470AD4-6 depending on where they are use and how many layers of material they go through. But they're all "AD" hard rivets.
---