Other Customers
Have Also Viewed:
AIRCRAFT NAV SYSTEM WITH CONSTANT + FAST STROBE 7.5W





Part # 11-11994
Note: For Experimental aircraft use only. Not FAA/PMA Approved.

Tailfin Meets FAA AC No: 20-74 requirement
Tailfin Meets TC Part V - Chapter 523, Subchapter F, 523-VLA.1393
Complete combination navigation and strobe lights for your aircraft
Emitter Types: Cree LED's

Rated Voltage: 10-30VDC

Turn on first: Constant lighting / Turn on second time <3s: Fast Strobe. Switch between modes in fog/cloud etc.

Application Info:
NavStrobe Wingtip Bulbs: Will replace the following commonly installed bulbs: W1290-14, W1290-28, T7572-12V, T7572-24V, or any BAY15S base lamp. See "Drawing" tab to confirm dimensions will work with currently installed bulb on your aircraft.
NavStrobe Tailfin Bulbs: Will replace the following commonly installed bulbs: A7079B-12, A7079B-24, or any BA15S base lamp. See "Drawing" tab to confirm dimensions will work with currently installed bulb on your aircraft.
Draws <732ma @ 14.2VDC
2 modes: constant & fast strobe
Base Type: BAY15s for wingtip & BA15s for tailfin
Application: Navigation Light replacement.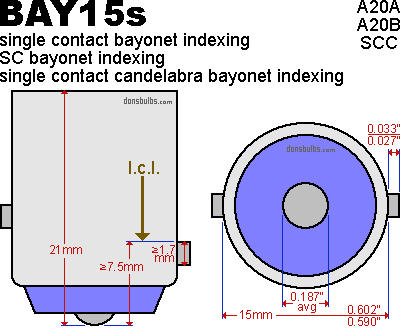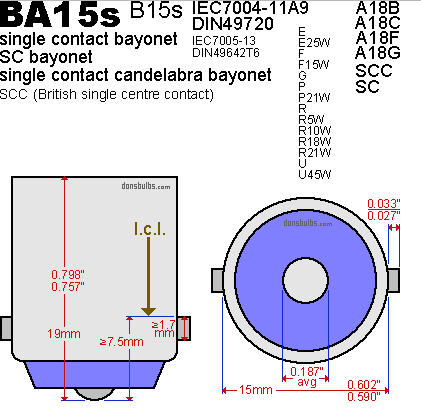 2ea. Wingtip combination navigation and strobe light (BAY15scs-10 Cree-7.5w-A-1512)
1ea. White tailfin combination navigation and strobe light (BA15sWcs-7.5w-1156)
2ea. Lens cover gaskets (Sextant A450)
1ea. Dielectric grease pouch (Sextant 31880)

| | |
| --- | --- |
| | The manufacturer of this system was at the Aircraft Spruce booth at Airventure 2015 doing demonstrations of the PMA system. I decided to try this system in my Hiperbipe. Installation took around 15 minutes. I checked the system for both modes, constant and strobe, and also checked for radio interference. All systems checked out well. So far so good. I like the increased visibility and safety due to the strobe option. I like the lower current draw of the LED bulbs. Assuming longevity, this is an excellent, economical, simple addition to any experimental aircraft. |
| | |
| --- | --- |
| | Red and green wont, flash, reliably. White tail does good. They are bright and rugged but I really wanted the flashing characteristics of their older models . |
| | |
| --- | --- |
| | Seemingly nice quality and well packaged kit. However, when turned on without engine running, they always blink and the relay under the panel clicks constantly (like old turn signals in the same vintage of truck). Further bluish white, 6000k light through the green lens appears excessively blue. Red side is fine. Aft position light is a more normal color, in the 4300k range, but is surprisingly not bright. Probably brighter than the incandescent bulb it replaced, but not terribly impressive. Probably wouldnt buy again. Contrary to the QA notes on this site, all lights are white, with left and right nav bulbs being identical. |
| | |
| --- | --- |
| | Pretty good Lighting. Flashes Well. Wish it was a little brighter however its about the same or better then the stock lights. |


Will this kit fit a Cessna 172?
No, this kit is for experimental aircraft only.
---

Does this 7.5w kit also need the clear lenses? Is there any difference in performance compared with the certified 30w sextant kit?
The 11-11994 NavStrobe kit with the 7.5w bulbs do not need the clear lens covers, since the customer will reuse the existing colored lens covers. The 7.5w kit is intended for experimental aircraft.
---

The strobe needs 12V, right? So I can eliminate the wheelen high tension power supply?
Per the manufacturer, the Aircraft Nav System With Constant Strobe 7.5w is plug and play, meaning you don't need the power supply if you already have 10-28 volts.
---

Do these Aircraft Nav System bulbs, Part # 11-11994, work on a 24V system?
Yes, these Navstrobe lights are compatible in both 12V and 24V systems.
---

Are these bulbs colored red/green or do the lenses provide the colors?
The bulbs are colored. The lenses are clear.
---