Other Customers
Have Also Viewed:
UAVIONIX ECHOUAT ADS-B OUT / IN TRANSCEIVER





Part # 11-15205
Traffic | Weather | 2020 Compliant ADS-B Out | ADS-B In

echoUAT is a remotely mounted ADS-B transceiver that provides 2020 compliance, traffic and weather to your EFIS and iPad for the same cost as ADS-B receive-only solutions.

For use in Light Sport and Experimental Aircraft.

While other companies are looking to cash in on the ADS-B mandate by selling you a new transponder and WAAS GPS, uAvionix is taking a different approach. echoUAT works with your existing avionics, allowing you to put your savings in the fuel tank and fly more.
Keep your Mode C transponder (Already have a KT76A, Narco, Garmin Mode C, Apollo, Becker, Funkwerk, Microair or Terra? With the echoUAT wireless transponder monitor, there is no need to replace your existing transponder.)
Use your existing WAAS GPS
Traffic and Weather to your existing supported EFIS
Support for popular iPad and Android Apps
Use your existing WAAS GPS
EchoUAT works with your existing WAAS GPS. Fewer antennas to mount, less equipment to install and more value from your existing panel.

Currently supported GPS:
GRT Safe-Fly 2020
Garmin 400W series
Garmin 500W series
Garmin GTN series
Avidyne ADS-B+
Donít have an existing GPS? Add uAvionix SkyFYX GPS
Free traffic and weather to your favorite app
Traffic
EchoUAT receives dual-band ADS-B traffic information. 1090ES and 978(UAT) traffic broadcasts are displayed on supported EFB moving maps, including Foreflight Mobile, relative to your aircraft position and altitude.
Receives 978MHz (UAT)
Receives 1090MHz (1090ES)
TIS-B Traffic reports of non-ADS-B equipped aircraft from FAA ground stations
ADS-R rebroadcasts of ADS-B traffic from FAA ground stations
Weather
EchoUAT receives subscription-free in-flight weather (FIS-B) directly from FAA ground stations.
FIS-B includes the following weather information:
NEXRAD radar
METARs
TAFs
AIRMETs
SIGMETs
Winds and temps aloft
PIREPs
NOTAMs
TFRs
echoUAT has built-in Wi-Fi allowing you stream ADS-B traffic and weather to the application of your choice.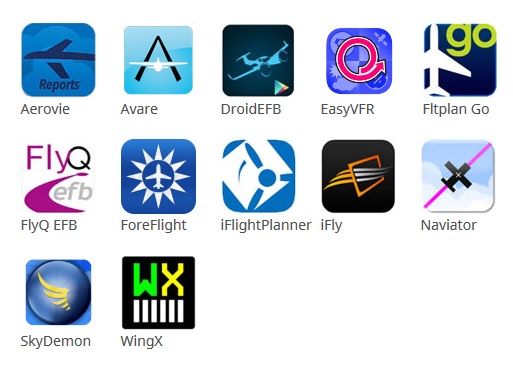 Note: echoUAT is a ForeFlight Connect approved device. ForeFlight Connect gives pilots a more efficient and enjoyable experience. This exciting integration opens enhanced communication between ForeFlight and your EchoUAT.


Will this UAVIONIX ECHOUAT transceiver provide wireless data to a Garmin Aera 796 for GPS, Traffic, Weather, etc?
No, the echoUAT will not provide data to a Garmin Aera 796. For an Aera 796, the only device that can provide that functionality is the Garmin GDL 39 or GDL 39 3D.
---

Will the EchoUAT provide information to the mini iPad with Garmin Pilot software and enable the GPS moving map and ADS-B traffic?
Though the EchoUAT is compatible with most aviation applications, Garmin Pilot uses a proprietary data format that cannot be utilized by this transceiver.
---

The echo comes with a lollipop pop antenna, could I use my existing blade type antenna and use a 2 into 1 BNC connector. In other words connect both my transponder and the Echo to the same antenna?
All avionic units require individual antennas. This is not recommended and we do not have data to support.
---

Can I use my exist Dynon GPS (WAAS enabled 2020) with the echo? Can the same GPS antenna supply both the Skyview and the echo?
There is no data showing support for the Dynon GPS within the UAvionix system.
---

Can I use the Echouat with the Aeolus-Sense 4 ADS-B for all the 2020 needs?
These two units use different software and cannot work together.
---

Will the Uavionix EchoUAT ADS-B Out transceiver display weather and traffic on garmin 530?
No, this interface is not supported.
---

Will the Echouat display ADS-B IN information on the Dynon Flightdek D-180 Super Bright EFIS?
The Echouat will only display weather and traffic on a portable device such as an iPad with an approved EFB app.
---

Does the EchoUAT come with antenna? If not, what antenna is recommended?
Yes, a monopole antenna is included.
---

Will the UAVIONIX ECHOUAT ADS-B OUT TRANSCEIVER work with Foreflight?
Yes, this device is compatible with Foreflight.
---

I have the Sentry that gives me ADS-B in traffic and weather, will this unit work for me for ads-b out?
Yes, this unit does provide ADS-B Out. You must have a mode C transponder installed as well as a WAAS GPS Source. The Sentry is not a WAAS GPS source.
---

Correction: In question about TX/WX display on D180, the answer says only EFB apps show this. This is not true. I have the echoUAT installed with my GRT HXr EFIS, and it shows TX/WX via GDL90 serial output. I believe the Dynon line should have this support as well.
Thank you for providing clarification on this. We will post this in the Q+A for other customer's reference.
---

Will the Echo UAT work with space based system in Canada?
No, this does not work in Canada.
---

Will the stratus 2S WAAS gps and adsb in work as a gps source? Using Garmin gtx327 xponder.
No it will not. You will need an acceptable GPS source such as the Skyfyx p/n:11-15215.
---

Is the Echouat ADS-B out approved to fly IFR in all US airspaces? e.g. with a Mooney TLS?
The EchoUAT is for experimental aircraft and cannot be used in certified aircraft.
---

Does the data streamed to Foreflight, FltPlanGo, etc include GPS position data? IE, for an IPAD without GPS? If it doesnt, it should (this would be very useful!).
The EchoUAT does not produce GPS on its own. It requires the Skyfyx and that will allow it to have GPS position.
---