UPAC CONVENTION 2017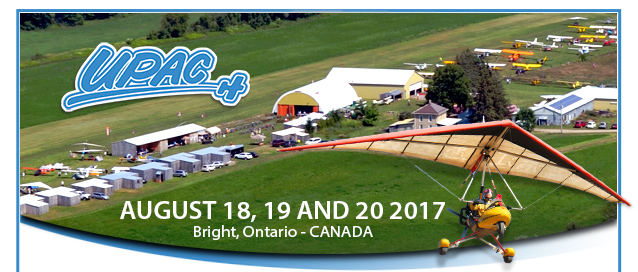 GENERAL INFORMATION

Date:
August 18, 19 and 20 2017
Group:
UPAC Convention
Location:
Bright, Ontario
Website:
Click here

Aircraft Spruce Canada will be at UPAC Convention on August 18, 19 and 20 2017.

Please visit our booth to get great discounts and meet our customer friendly Aircraft Spruce Team.

PICK-UP YOUR
ORDERS AT OUR BOOTH

Place your order online or by phone and pick up your order at our UPAC Convention booth. Orders for pick up must be placed by Thursday August 17th by noon EST and they will be brought to the show on our truck at no additional cost to you. All orders must be paid by credit card at the time the order is placed, and any products not in stock can be processed as a standard backorder following the show.

Orders for pick up at UPAC Convention are limited to small, carrier shippable products (no oversize) due to the limited space on our truck and in the booth.

Online:
For online orders, request "Pick up at UPAC" in the Special Instructions on the Shopping Cart screen.


FREE 2017-2018 CATALOG

1100+ page Aircraft Spruce parts catalog

AIRCRAFT SPRUCE LED PILOT'S FLASHLIGHT

Free Aircraft Spruce LED Pilot's Flashlight with an order of $250 or more!

(while supplies last, one per customer, one promo item & excludes MRP items)