Other Customers
Have Also Viewed:
GARMIN D2 BRAVO PILOT WATCH TITANIUM EDITION





Part # 11-14403

D2 Bravo Titanium is a premium aviation GPS smartwatch that combines contemporary design with sophisticated connectivity to bring pilots and aviation enthusiasts an elite aviator watch. With uncompromising details such as a hybrid titanium band and gunmetal bezel, sapphire lens and high-resolution color display, D2 Bravo Titanium combines the GPS wearable technology Garmin is known for with a sleek form factor suitable for activities both inside and outside of the cockpit. It also boasts new multisport activity profiles like golf and advanced fitness training, as well as the addition of Garmin Elevate™ wrist-based heart rate technology, allowing customers to measure heart rate 24/7. Additional features on D2 Bravo Titanium are also available to existing D2 Bravo customers via a free software upgrade, including the display of Terminal Aerodrome Forecasts (TAFs), integration of an automatic logbook and a customizable aviation watch face that allows customers to input the tail number of their aircraft.
Stylish, Rugged, Uncompromising Design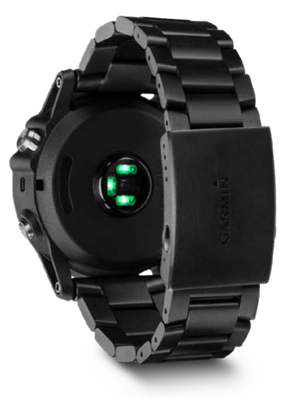 D2 Bravo Titanium pilot watch features a bold design and premium quality, including a Diamond Like Carbon (DLC) hybrid titanium band and scratch-resistant sapphire lens for enhanced durability. A sunlight-readable color display with an LED backlight allows customers to view data in most lighting environments in the cockpit. Featuring Elevate wrist heart rate technology, users can easily monitor heart rate and activity levels1. Water-rated to 100 meters, it can withstand swimming and other water activities. D2 Bravo Titanium offers up to 16 hours of battery life in GPS mode, and up to 2 weeks in smartwatch mode with 24/7 heart rate monitoring.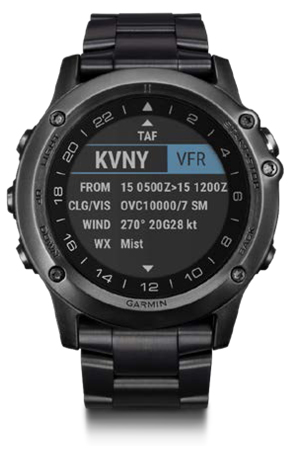 Designed for Pilots, by Pilots
A custom aviation-tailored feature set differentiates D2 Bravo Titanium from other aviator watches on the market. For example, D2 Bravo Titanium incorporates a worldwide airport database and support for up to 18 languages to meet the needs of pilots around the globe. When paired with a compatible smartphone, pilots can view aviation routine weather reports (METARs) and Terminal Aerodrome Forecasts (TAFs) in plain language, which are color-coded to indicate visual or instrument meteorological conditions (IMC). The D2 Bravo Titanium features the option to create flight plans, and includes both an altimeter with an adjustable barometric setting and a compass with an HSI and moving map. Dedicated Direct-to and Nearest buttons along the side of the bezel allow for immediate navigation commands. Similar to Garmin portables, customizable data fields include Estimated Time Enroute (ETE), Estimated Time of Arrival (ETA) and more, so customers can easily monitor the progress of their flights at a glance.

D2 Bravo Titanium pilot watch provides a preset oxygen reminder based on barometric altitude when operating at or above 12,500 feet. This also serves as a valuable back up cabin pressure monitor in pressurized aircraft. Pilot-selectable altitude alerting also notifies pilots when they reach or leave a preselected altitude. Additionally, D2 Bravo Titanium provides the option to set up supplementary vibrating alerts to serve as a reminder to perform time-sensitive operations such as switching fuel tanks in-flight.
Suitable for the Cockpit, Golf Course and Evening Out

The aesthetic appeal of D2 Bravo Titanium pilot watch offers a functional, yet stylish smartwatch for use across multiple activities and events. In addition to serving as a suitable back-up navigator in the cockpit, D2 Bravo Titanium contains multisport functions for golfing, rowing, swimming, hiking, skiing, running and more. For everyday wear, D2 Bravo Titanium incorporates activity tracking functions1, which count steps and provide a customized step goal each morning, while also counting calories and distance throughout the day. It also features a vibration move alert after 1 hour of inactivity along with sleep mode to monitor quality of rest at night. The black silicone band (pictured here) is also included with the D2 Bravo Titanium.

With the Garmin Connect™ Mobile app, customers can download more than 40,000 golf courses worldwide for precise course data and use their watch as a digital scorecard. The D2 Bravo series is also compatible with the Connect IQ™ store for endless customization options. Through Connect IQ in the Garmin Connect Mobile app, customers can download any of the free apps, widgets, watch faces or data fields to customize their D2 Bravo Titanium or D2 Bravo to suit their style and personal preferences.

Automated Logbook Sync

Automated flight logging offers pilots a convenient way to maintain a consistent log of their flights with D2 Bravo Titanium, which also automatically syncs and stores logbook data within flyGarmin.com® as well as the Garmin Pilot™ application on a mobile device. During takeoff, it detects a change in altitude, which initiates the logbook function to begin recording. Pertinent information such as date, duration, total flight time and route are automatically recorded and logged within the watch and synced across flyGarmin.com and the Garmin Pilot app with an internet connection.
Smart notifications (displays email, text and other alerts when paired with a compatible device)
Dedicated Direct-to and Nearest buttons
Worldwide airport database(s)
Baro-adjustable altimeter
Multiple time zones with Zulu/UTC
METARs, TAFs and more available with compatible internet connected device
Automated flight logging
Multisport activity profiles, including golf, running, biking, swimming, rowing, hiking, skiing and more
Elevate™ wrist heart rate technology
Step counter, sleep monitoring, heart rate-based calorie computation
Connext® capable
VIRB® XE control
Physical dimensions: 2.0" (51 mm) diameter x 0.6" (16 mm) thick (1.0" (26 mm) wide watch bands)
Display size: 1.2" (30.4mm) diameter
Display resolution: 218 x 218 pixels, transflective MIP color; sapphire lens
Water rating: 10 ATM
Built-in memory: 32 MB; available 23 MB
Weight: 5.4 oz (152.0 g), with hybrid titanium band; 3.0 oz (86.1 g), with silicone band
Battery: Rechargeable 300mAh lithium-ion
Battery life: Up to 40 hours in UltraTrac mode; up to 16 hours in GPS training mode; up to 2 weeks in smartwatch mode (with 24/7 HR monitoring)
GPS receiver: With EXO™ antenna
Compass: 3-axis
Wireless connectivity: Wi-Fi®, Bluetooth®, ANT+®
Track log: 100 hours of activity data
D2 Bravo Titanium pilot watch with hybrid titanium band
USB charging/data cable
Black Silicone watch band (replacement tools included)
AC adapter
Free 6-month trial of Garmin Pilot™
Quick Start manual




I will start that I am a big Garmin fan. The panel in my plane has many Garmin dollars in it so I was completely excited to spend the money for the D2 Titanium. Functionally the watch is everything advertised. Very light for the size, decent battery life, great APPs and Widgets.

What is disappointing is the display. As much as I try (and want) my displays to be as sharp and bright as every advert shows, this is backlit LCD and at 100% brightness is about 50% of what it needs to be. The colours are no where as sharp as the adverts show and in some conditions it is downright hard to see.

I give it three stars as the display is a major component of the device and based on all of the photos, I anticipated it to be more like an Apple watch with an active display.

I sure hope this is not a version 1.0 of the device and in six months there is a new and improved D2 with sharper/brighter display as for the money paid, this would be very disappointing.






One week later I am going to up the rating from three to four stars. I have flown seven sorties with the watch and the auto flight logging is fantastic. Technically in the air, and on the ground connected to my iPhone it is everything a pilot and smart watch user would want.

No five stars because the LED backlit LCD display can be hard to read under some conditions however I am getting used to it and keeping the watch.


I am considering purchasing this watch as a Christmas gift for a friend. Only problem is I dont know for sure that he doesnt already have one. I see your return policy is only 30 days from receipt Is it possible to extend this to 45 days to make sure we have time to return it if need be after Christmas? Also please confirm if the battery is rechargeable.
Yes, we will allow a grace period for unused equipment during the holiday season. 45 day returns will not incur a restocking fee. Yes, the battery is rechargeable on the Garmin D2 Bravo pilot watch.
---

Does the Garmin D2 Bravo watch display groundspeed?
Yes, the watch can be configured to display GPS Groundspeed data.
---
Enter the quantity desired of each item in the Buy column.