Other Customers
Have Also Viewed:
CONCORDE RG-25 SEALED LEAD ACID AIRCRAFT BATTERY
Part # 11-03879

Recombinant Gas - The RG® Series are low resistance, valve regulated lead acid (VRLA) batteries.
Superior starting power

Reliable essential power in the event of a generator failure

Low impedance design

Battery is constructed with non removable vent valves

No addition of electrolyte or water ever required for this maintenance free aircraft battery.

Aerobatic Batteries: This is a non spillable battery at any altitude or attitude

Factory tested to assure airworthiness

Shipped fully charged and ready to install

AGM Battery: Manufactured with absorbed glass mat separators

RG® Series batteries ship non-HAZMAT

NOTE: This aircraft battery is not designed or intended for turbine aircraft engine starting applications. Warranty coverage applies to reciprocating aircraft engine starting, and standby / essential power installations.
*NOTE* - The STC for some aircraft is available at an additional cost please call 877-4-SPRUCE (777823) if applicable to your aircraft.
| | | | | | |
| --- | --- | --- | --- | --- | --- |
| | | | | Our P/N | |
| | | | | | |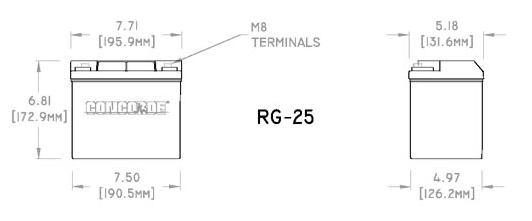 | | |
| --- | --- |
| | Lasted 26 months and almost always kept on a Battery Minder. Disappointing. |
| | |
| --- | --- |
| | We have always used a Gill. The last two Gills have died on us shortly after one year and during that time frame would have to charge it up consistently. I was always afraid of the plane not starting due to a low battery. We purchased a concord in November 2013. We have never needed to charge it. It is an extreme difference on start up in comparison to Gill. You can really just hear and feel the energy on start up. I will keep you posted but so far it is worth the extra money. We may never go back to Gill. |



I've gotten 30-34 months from the last four Concorde RG-25's in two airplanes. No warning, they just die unexpectedly. Manufacturer says they should last 5-7 years but so sad, it sucks to be you.
Also, watch the free battery shipping with Spruce. I added a foam filter element and it cost $21 in shipping!
| | |
| --- | --- |
| | My Concorde is now 4 1/2 years and about 300 hours old, and has worked perfectly the entire time. In the winter, I periodically put a cheap trickle charger (1 1/2 amps) on it, which charges for maybe half an hour before shutting off if I haven't flown for a couple of weeks. |
| | |
| --- | --- |
| | 5 years and 9 months (69 months) - still going strong. No problems. I had problems with the Gill battery brand (I used up two Gill batteries in two years). Regardless of the great performance of my Concorde battery, it may be time to replace it with another Concorde. |



Had one that lasted 2 years, 10 months. Ordering a new one and hoping for longer. (Stored it inside in the winter)

Had two Gills before and they both lasted just around 2 years each.
| | |
| --- | --- |
| | I have used Concord sealed batteries for years. The one I have now is not even 3 yrs. old and it's bad. I fly my plane weekly so it's not like the battery sits around not being used. I'm not happy about this short life cycle of this battery but I have a new one ordered and hoping it will last longer. The main reason I like this battery is that it doesn't cause the battery box to corrode. |
| | |
| --- | --- |
| | 14 yrs old and just now starting to lose voltage. Will I buy another one? No, priced out of my range. Going dry. |
| | |
| --- | --- |
| | Battery installed 12/13. Knowing plane would not be flown often, purchased battery minder (correct one) which has been connected to plane during periods of non use. Battery has started plane half a dozen times in two year span. Battery failed (short under load) 11/15. Very disappointing to pull a battery that is basically brand new in appearance to replace. |



I previously used Gill flooded batteries with mixed results. Last one lasted 5 1/2 years. (not bad) It was recommended to try the RG 25 because it needed no vent (a problem on my plane) and would last longer. It puked after 3 1/2 years. Will charge and show proper voltage until a small load is put on it then it goes to 3-7 volts. I had a battery maintainer on it most of its life. Now they say you need a special float charger. Battery Minder 12248-AA-5.
Im buying another RG 25 because of the vent issue but if there was a another good alternative I would change.
| | |
| --- | --- |
| | I have put 3 of these in my aerobatic plane and had every one go 5 years or more. Never have used a battery minder charger and only once had it not start and that was due to alternator regulator issue. Have gone as much as 6 months no charge and still started. |
| | |
| --- | --- |
| | Mine lasted 26 months as well. It was the original from my new 2014 7GCBC. Im reordering the same battery in the hopes that it was a fluke. I too always kept the battery on an inexpensive battery tender. 1 week ago the battery stopped accepting a charge altogether. I called concorde and they prorate warrant their batteries for 24 months. They did however recommend using CEC Model No. 128CEC1-AA-S5 from battery minder for their batteries. Reviews comparing Concorde to Gill are all highly in favor of Concorde as the better battery company. |
| | |
| --- | --- |
| | We exclusively recommend sealed Concorde batteries for my customers. Theyve consistently provided solid performance due to their maintenance-free design and dont cause battery box acid corrosion. We use them in our own aircraft as well. |
| | |
| --- | --- |
| | My first choice is always a Concorde battery. As a mechanic I have quit putting Gills in Aircraft. |
| | |
| --- | --- |
| | Had mine in the plane going on 9 years and about 1000 hrs. Died suddenly and reordered a new one. Cant beat 9 years of useful life. Plane was tied outside too and flown every two weeks or so. Never took the battery out in the winter either! |
| | |
| --- | --- |
| | Last concorde lasted 11 years.... Lets go for another 11! |
| | |
| --- | --- |
| | Ive noticed on the reviews batteries dying after 2 years even with tender. Ive had mine for the last 5 years. Never tended battery. Still starts and holds charge. Think maybe battery tending the concord bad idea? I do. Some getting 11 years out of their batteries. Concord please advise users on tending practice. |
| | |
| --- | --- |
| | I am just getting ready to purchase another Concord RG25 battery after almost 7 1/2 years. My old battery is just starting to show signs of weakness on initial start up but I never had a problem with it and never put it on charge or had to charge it. In fact when I left the plane stored three times during 3 winters, all I did was bring the battery indoors and then reinstall it after the winter and it was good to go. Great Battery, obviously, Im buying another! |
| | |
| --- | --- |
| | Last Concorde lasted 7+ years of abuse - never tended, sat unused for 1 year - always started my 150. Finally softly failed - slow cranking. Spruce shipped a new one to my door within 24 hours of ordering. Looking forward to another great run. |
| | |
| --- | --- |
| | Over last 15 years Ive used the RG batteries and have had superior service life and clean battery compartments. As long as the other electrical system components are serviceable these batteries should last a minimum of 5 years. I always keep ours on a battery minder when inactive, you may want to also. |
| | |
| --- | --- |
| | I just got 6 years out of my Concord RG-25 in my Grumman Tiger. It was a gentleman and telegraphed its failure by a gradual decrease in cranking power. I was still able to start the Grumman after sitting for a week, but the battery was speaking to me. I replaced it with another of the same type, and that says what I think of the battery. Much better than the flooded acid type from Gill. SC |
| | |
| --- | --- |
| | As usual same great service from Aircraft Spruce and drop in replacement for my previous battery. Last battery lasted only two years, but that was after I left a map light on and completely drained it. |



AGMs are superior Batteries, However My Luck with these is not been good average 2.5 years.
I Fly frequently and keep on a battery minder.
Trying to deciding if I should try a third and quit the battery Minder?
| | |
| --- | --- |
| | I am now replacing my RG25 after just short of 10 years. Once in awhile I will put a Battery Minder on it for a few hours if I havent been flying for a week or so. But I never leave a charger on it over night. I dont think these batteries like having any kind of charger on them for long periods. Very pleased. |
| | |
| --- | --- |
| | My 2nd RG-25 battery. Easy to install and works great. Delivery from Aircraft Spruce was free and quick. My previous RG-25 was 5 years old and still working but getting a little weak. |
| | |
| --- | --- |
| | I just replaced my 8+ year old Concorde RG-25 battery with a new one. I hope it lasts as long as my old one. The engine now starts really quick! I couldnt be more satisfied with it. |
| | |
| --- | --- |
| | Concorde batteries have always provided the best service and reliability. Several years ago I replaced the battery in our 172 with a Gill battery, A&P recommenced, and it gave up the ghost within 5 months. Company would not honor any warranty and I got a Concorde to replace it and have stuck with them ever since. |



by Christiansen V

06/15/2019



Battery arrived fully charged and ready for install. Fit perfectly. Provided all the power it was supposed to provide.



Bought this to replace the one that had been in my airplane for over 8 years.
Two day service is outstanding.



The battery showed up a couple days after ordering. Came fully charged and ready to go. I thought Id have to put it on the charger over night to get it full.

Working great.




We have been using Concorde batteries in our aircraft for the last seven years. It is important to keep a float charger connected when the aircraft is not flown daily and when installing this battery in a newly purchased aircraft, we added a fused charging pigtail. After a test flight which required two starts (we had to top the tanks), the aircraft was parked and a battery minder was routinely connected.

The next morning when the aircraft was going to be flown, the baterry was completely dead, despite a float charger being connected for nearly 18 hours. The battery was isolated from the electrical system and connected to a different float charger. After five days when the state of charge indicator would not indicate above 75%, a call was made to Concorde Battery to seek warranty advice.

The phone was answered automatically in a coherent manner. Selecting 0 immediately was answered by a comprehendable voice who redirected the call to another person who was equally concerned with identifying our problem. A suggestion was made to take the battery to a nearby distributor for evealuation or get an RMA to have it returned to the factory. Not wanting to purchase another battery while we waited to identify if this battery was damaged beyond repair, the battery was driven to the nearest distributor.

The distributor met us at their door taking the battery directly to the bench where testing revealed it was at 100% state of charge and possessed the necessary cranking amps to start an aircraft.

Weve not experienced this level or qualiuty of service in recent years and delighted we chose a Concorde Battery .
| | |
| --- | --- |
| | I ordered the battery through Amy Stinchcomb Monday morning and it arrived Tuesday by 2:00pm. I ordered other parts through Amy the next Monday and they arrived Tuesday before noon.The products were delivered without a shipping charge... A real plus. Amy, the products and the service all rated 5 stars. |
| | |
| --- | --- |
| | Ordered in the afternoon, arrived next day before noon. Great service ! |
| | |
| --- | --- |
| | fast shipment, a quality product |
| | |
| --- | --- |
| | the product arrived sober perfect, thank you very much |
| | |
| --- | --- |
| | I have purchased these over the competition because of their higher cold cranking amps. |
| | |
| --- | --- |
| | Filled order the same day. Received the next day. Great service! |
| | |
| --- | --- |
| | Great Price and Fast Shipping! |
| | |
| --- | --- |
| | Great battery, last one made it 5.5 years. Ordering from ACS was very efficient, got it two days later. |



Emailed the order...showed up in a couple of days....problem fixed.....no inconvenient trip

to buy one locally
| | |
| --- | --- |
| | As always, battery was delivered promptly. Thanks Aircraft Spruce. |
| | |
| --- | --- |
| | Concorde RG-25 last one lasted 5 years, hope this does also! |
| | |
| --- | --- |
| | Great battery .. purchased as a replacement for the current RG-25 after good experience with Concord. Very satisfied with unit and Spruce had it shipped in 2 days. |
| | |
| --- | --- |
| | Great Battery. Came delivered in excellent packaging, timeliness and with a full charge. Lycoming O-360 started right up. |



Good batteries, I have been flying concordes for 20 years or so. However they work, it is fantastic to have them sealed and not leaking battery acid fumes in an aluminum airplane.
Five stars basically.

I fly regularly, so dont have any issues with trickle chargers, etc. My only (and this is minor) complaint is that I dont ever stress the battery, it is charged regularly with a modern, properly adjusted voltage regulator in my plane, yet I am lucky to get 4 years out of one. I live in FL so perhaps it is the heat. It just seems like they should last longer.
| | |
| --- | --- |
| | Really love the idea of no acid leaks. |
| | |
| --- | --- |
| | Battery is perfect for my Cessna 150L |
| | |
| --- | --- |
| | I am very pleased with the service from Pilotshop, very dependable with the order and shipping, The battery seems to be very dependable also, time will tell on the duration, Thank You |
| | |
| --- | --- |
| | Bought 2 of these for a Cessna 310.. installed easily with no problems.. they were fully charged and started the engines right up. |
| | |
| --- | --- |
| | this battery has the cramking power I nrrded, works just fine. |
| | |
| --- | --- |
| | I needed a new Concorde RG-25 for my Alon A-2 Aircoupe. Aircraft Spruce managed to get one to me over the weekend with free shipping. I live in East Texas, and Spruce had the battery shipped from Dallas. Amazingly fast delivery and this, during the virus pandemic. |
| | |
| --- | --- |
| | Our previous RG25 lasted nearly 5 years, which seems good for the Florida heat. This battery arrived charged [OCV 12.9] and cranked well. So far so good. Great service from Spruce also, it only took 4 days from order to delivery. |
| | |
| --- | --- |
| | Fast shipping, very good product |


What are the dimensions of the Concorde RG-25 battery?
We have added a tab titled Dimensions to the web page. Please review the drawing there.
---

Are the terminals on the Concorde RG-35 Battery 5/16"?
The terminals are 8mm, which is a little larger than 5/16".
---

What is the warranty period on RG 25
The Gill RG series when used on reciprocating aircraft has a warranty of two years. When used on turbine aircraft the warranty is one year.
---

I just ordered the Concorde RG-25 battery. Should it be charged before installation?
All Concorde sealed batteries are shipped charged and ready for install.
---

Is there a core credit for returning the old battery?
No, these are sold as new, outright. There is no core charge or refund associated with the purchase.
---

Can the Concorde RG-25 be used for the Cessna 150 aircraft?
Yes, this is the correct replacement battery for the Cessna 150 aircraft.
---

Will the Concorde RG25 fit a Cessna 120?
Yes, the RG-25 is the correct battery for the Cessna C120. You could also use the RG-25XC.
---

Is the Concorde RG-25 the correct battery for a Piper PA 32- 260?
Yes, the RG-25 is listed as a replacement battery for the Piper PA 32-260, however, there are other batteries that will work for this aircraft, so Concorde recommends that you check the originally installed part #. The RG-25 is the replacement for original battery P/N 450-030.
---

What are the cranking amps of the Concorde RG25? the XCplatinum has specification sheet but this does not.
RG25 has 225 CCA.
---

I dont see the Piper PA-16 on the eligibility list for the RG-25. I currently have a Gill G25 installed so it should fit.
Yes, the RH-25 replaces the Gill G25 in application.
---

What battery tender can we use with this RG-25 battery?
The battery tenders are not meant to be used on Concorde batteries. You can use the batteryminder P/N# 11-14349 for this battery.
---

Whats the differece between the RG25XC and RG25?
The XC version has extra cranking power for use in colder climates.
---
Enter the quantity desired of each item in the Buy column.