Other Customers
Have Also Viewed:
LYNX RELAI SYSTEM HEADSET





Part # 11-05398
The Relai System headset is designed for direct connection to a hand-held portable radio and provides a single user with radio communication in high noise environments.

The headset is fitted with interchangeable Radio Modules which configure the headset for use with different makes and models of radio.

The headset includes a built-in volume control and two PTT switches to control radio transmissions. A connector is also provided to allow an additional PTT switch to be connected.

Each headset includes a specially developed electret noise cancelling microphone, an electronic speech processor and high quality speakers.

The microphone is sensitive to speech but rejects extraneous background noise whilst the speech processor modifies the voice signal to produce a clear and natural sound.

The microphone is mounted in a rubber anti-shock holder and is protected by a foam wind shield that can be removed easily for cleaning or replacement.

The headset speakers are housed in acoustically balanced enclosures which seal the headset against moisture and also allow the ear-cups to be cleaned hygienically.

The headset is noise attenuating and provides hearing protection in noise levels up to 11OdB(A).

All Lynx headsets are fitted with Silicone Gel ear seals and are fully adjustable.

Headset Colors:
Black, White, Grey, Red, Pink, Blue, Yellow or Green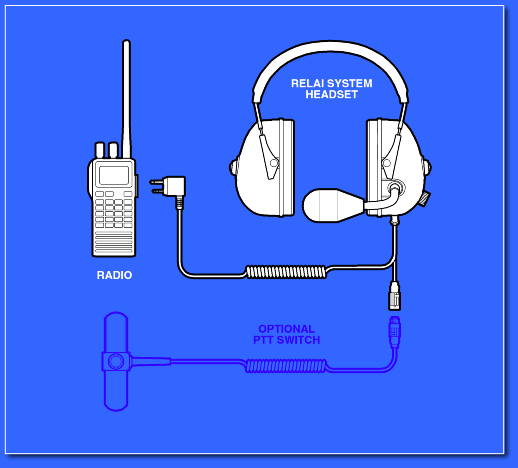 I need to know if the Lynx Relai System Headset radio has channels to communicate with VHF radio of the plane.
The Lynx Relai System Headset is capable of connecting to a variety of handheld radio models. This Lynx Relai System Headset is just the headset only. The radio is bought separately.
---

Is the real system headset compatible with an Icom A14 hand held radio? What connector or accessories do I need?
Yes, it is compatible with your radio. Once you add the item to your shopping cart, you will be asked to fill in your current radio and the system will be made to work with your radio. No additional accessories will be required.
---
Enter the quantity desired of each item in the Buy column.